Was Charlotte Brontë Married?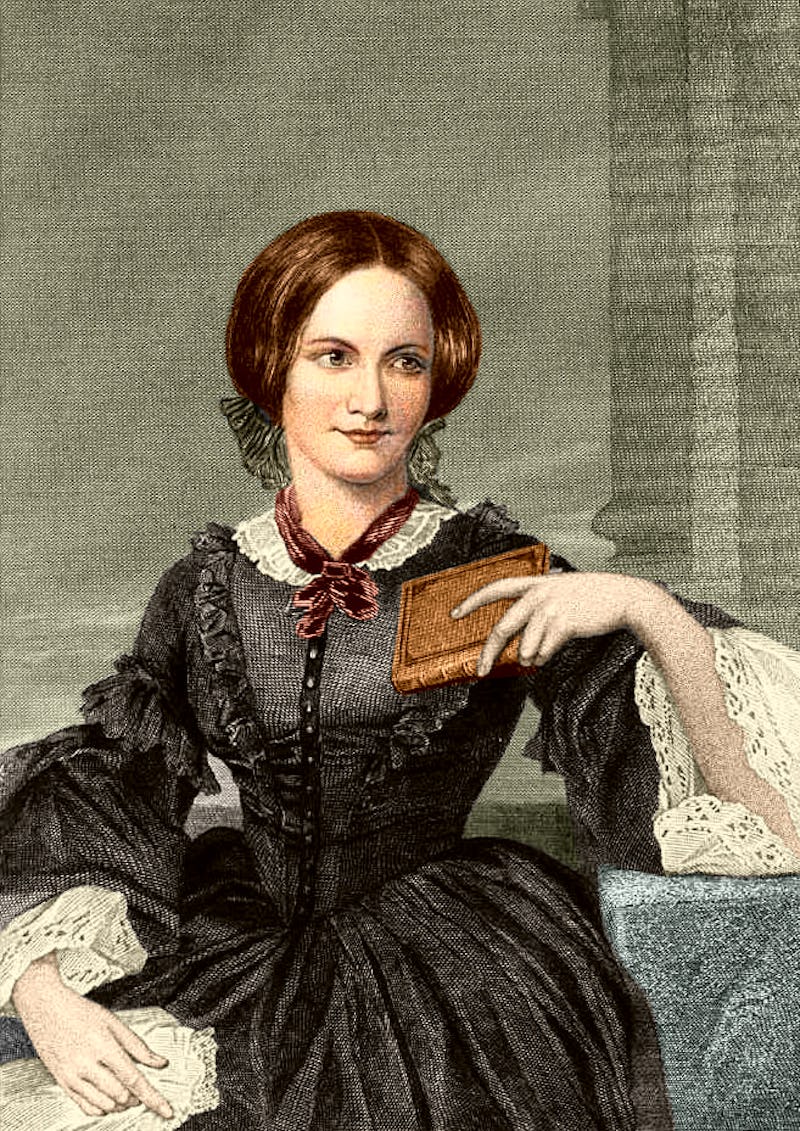 Run a quick web search of the phrase "Was Charlotte Brontë ever married?" and you'll find yourself face-to-face with a rather grainy portrait of a gentleman sporting a pair of the most gorgeously manicured mutton chops the 1850s ever knew. (Seriously, I kind of want a set of my own.) But inquiring readers want to know: who was Arthur Bell Nicholls, the man behind the mutton chops? And what was accepting his marriage proposal like for the woman who gave us the unforgettably feisty, feminist, ahead-of-her-time character of Jane Eyre?
As it turns out Brontë, whose 200th birthday anniversary is on April 21, declined a handful of marriage proposals of her own — not unlike the leading lady of her classic novel Jane Eyre . Brontë 's first rejection of marriage occurred on March 5, 1839, to the Reverend Henry Nussey — the brother of Brontë's lifelong girlfriend and pen-pal, Ellen Nussey. In the letter heard 'round the world (or, at least, the letter that's been quoted more times that I suspect Rev. Nussey would have preferred), the always-eloquent Brontë wrote: "My answer to your proposal must be a decided negative." No mixed messages there, girlfriend. The decided wordsmith went on to write:
"I have no personal repugnance to the idea of a union with you — but I feel convinced that mine is not the sort of disposition calculated to form the happiness of a man like you … You do not know me, I am not this serious, grave, cool-headed individual you suppose — You would think me romantic and eccentric — you would say I was satirical and severe. However, I scorn deceit and I will never for the sake of attaining the distinction of matrimony and escaping the stigma of an old maid take a worthy man whom I am conscious I cannot render happy."
So, you know one thing's for sure: nobody's expressed "it's not you, it's me" better than Charlotte Brontë.
But what was Brontë's relationship like with the man who ultimately made the cut? It seems the Reverend Arthur Bell Nicholls (this gal sure had a lot of clergymen proposing to her) faced some rejection of his own. Though employed as an assistant to Brontë's father, Patrick, Nicholls was still deemed unsuitable to marry his daughters — both due to his low economic status and because of Brontë's increasing literary fame (she had already published two of her three major literary works: Jane Eyre and Shirley ). Charlotte (who most historical sources claim didn't appear to be all that interested anyway) turned him down initially. But was she as ambivalent about the union as history makes her out to be? After all, Brontë's original pseudonym, Currer Bell, under which she first published Jane Eyre, unmistakably incorporated elements of Arthur Bell Nicholls's name. And it's said that Nicholls had been in love with the writer since he first arrived in the Brontë's hometown of Haworth. So perhaps the lady doth protested too much — at least at first.
Following the rejection, several of Brontë's friends, including the novelist Elizabeth Gaskell, impressed upon her the importance of settling down and getting married, lest she become an old maid — I know, the horror. But it was only when Nicholls prepared to leave missionary work in Australia that Brontë seemed to have had a change of heart, and expressed her true romantic interest in the mutton-chopped chap. Against her father's wishes, the couple began meeting in secret — enacting the real-life makings of a classic love story. Eventually Patrick Brontë relented, and the couple married in June of 1854.
Ten months later the newly-wed (and newly-pregnant) writer fell ill and died at the age of 38. Upon her death, several of Brontë's friends, including Ellen Nussey, blamed the surely-heartbroken Nicholls for causing her death by marrying such a free-spirited feminist in the first place. A dramatic tale fit for a novelist, although I'm sure readers everywhere would have loved to see decades more writing from the eldest Brontë sister.
Image: Evert A. Duyckinck, Arthur Bell Nicholls/WikimediaCommons