Sophie Will Be Important To 'The Night Manager'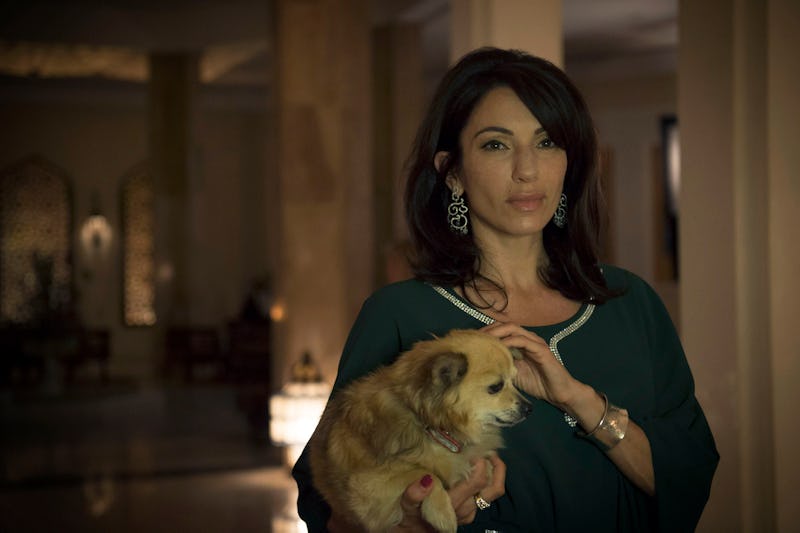 Across the pond, The Night Manager premiered in February on BBC and now it's finally our turn to watch the six-part miniseries on AMC. A contemporary retelling of John le Carré's best-selling novel, The Night Manager has all the makings of our newest small screen addiction — international espionage, beautiful settings ranging from Egypt to Switzerland to Turkey, and an amazing cast lead by the likes of Tom Hiddleston and Hugh Laurie. Although her onscreen time will be limited, there's one character who will reportedly propel the plot from beyond the grave — so, although Sophie on The Night Manager is probably not someone we should get too attached to, it can't hurt to learn a few things about her before we tune in for the premiere.
Played by French actress Aure Atika, The Guardian describes Sophie's character (who goes by the name Samira) as the "beautiful mistress to the scion of a family of moneyed Cairo thugs, Freddie Hamid." But, she's got more than just good looks going for her — Entertainment Weekly is quick to point out that Sophie is a complex character rather than simply a "tempter vixen." Plus, she and Pine are apparently kindred spirits of sorts: "[T]hey're trapped souls who desire full, righteous lives — not hollow, sell-out lives," EW also notes.
The Night Manager will be the first American TV appearance for Atika, whose IMDb page shows that she is also a writer and director — but internationally she's no stranger to the big or small screens. Atika recently played Queen Isabella in Channel 4's miniseries World Without End and she also had a starring role in the 2005 French indie film The Beat That My Heart Skipped. In fact, her onscreen credits date back to the early 1990s and show that she has appeared in a variety of French TV shows and short films.
So, what can we expect from Atika's character in The Night Manager? Despite that fact that, according to Express, Sophie meets a "bitter and bloody end" quite quickly, her legacy will live on throughout the series. We'll just have to wait and see how she'll influence the plot, but The Orlando Sentinel provides us with the teaser that, not only does Sophie make a lasting impression, but her fate is largely what drives the thriller.
America, here they come — and I'm confident that Sophie & Co. were worth the wait.
Image: BBC