Tom Hiddleston's 'Night Manager' Role Is Perfect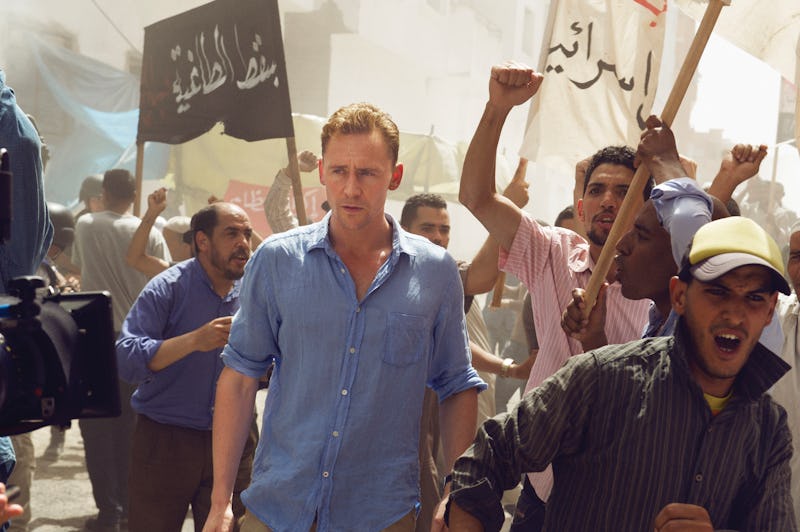 This is not a drill — Americans can finally watch the highly anticipated miniseries The Night Manager on AMC, two months after it aired to rave reviews on BBC. Even if you haven't been counting the days until the American premiere date, this is still a show to get seriously excited about thanks to its stellar cast, amazing setting, and intriguing plot. Oh, and did I mention that it stars the one and only Tom Hiddleston? If that's not enough to excite you, I simply don't know what is. Hiddleston will star as Jonathan Pine, a former soldier who works as a night porter at an Egyptian hotel after returning from Iraq. Based on the trailers, this miniseries looks very realistic — so, is Jonathan Pine from The Night Manager based on a real person?
Although a great deal of research went into The Night Manager, there's no indication that Jonathan Pine is based on one particular individual. The miniseries is a contemporary adaptation of John Le Carré's best-selling novel from 1993, which also featured a protagonist named Jonathan Pine — so it's more likely that Hiddleston's character is intended to be the 2016 version of the book character. In the novel, Pine is a former British soldier who acts as the night manager at a luxury hotel in Zurich, Switzerland.
In an interview with Bustle at the Tribeca Film Festival premiere of the show, Hiddleston and The Night Manager's director Susanne Bier explain that he put a great deal of effort into embodying his character. Hiddleston trained as a night manager in order to better understand his character's job — and he even handed out room keys to some lucky hotel clients who checked in during his training, according to Bier.
When asked how he got into the role, Hiddleston explains that he carefully studied Le Carré's writing in order to best capture the essence of the character: "There is extraordinary nobility at the heart of Pine and [his] courage comes from a place of quite righteous anger — which is anger at the cynicism of Richard Roper."
The relationship between Pine and Roper will be key to the series. Hugh Laurie's character is a "billionaire businessman" whose entire empire is built on the trade of human life. After saving the life of Roper's son, Pine will prove to be the sole weakness of this otherwise villainous character — and he'll even be welcomed into the Roper family.
Hiddleston also tells Bustle that the way Pine dresses in various phases of the series was "something I found very useful." For example, his hotel uniform was "modest and dutiful so you don't stand out and it gave me a sense of modesty and duty." He says that when the Pine began wearing his own clothes, or specific attire to go undercover, it felt different because "each of his identities was very specifically delineated in terms of what they wear."
Since Hiddleston clearly spent a great deal of time reading, researching, and getting into the mindset of his character, it seems highly unlikely that he would neglect to find details about the "real" Jonathan Pine — so it's safe to assume that the character is purely fictional. But, Hiddleston recently told Yahoo! TV that he and his character are kindred spirits: "[T]here was a lot in [Pine] that I could relate to. It was something about his moral conviction. His private soul. He's very hard — he keeps his cards close to his chest, and I think that's very true of me."
However, Hiddleston admitted to Yahoo! that he wouldn't make a very good spy because, you know, everyone would recognize him. So, I guess we've finally discovered one thing that Hiddleston can't do.
Images: Des Willie/The Ink Factory/AMC (3)