Prepare For OPI 'Alice Through The Looking Glass'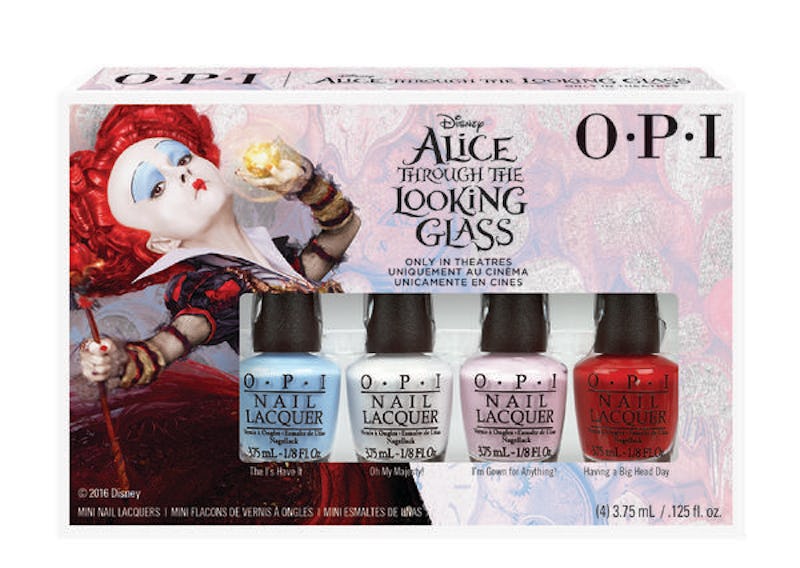 Fashion and beauty brands continue to be inspired by Disney characters. First came Lauren Conrad's Minnie Mouse line for Kohl's, then Trina Turk launched a swimwear collection inspired by Finding Dory , and now another Disney film and fashion collaboration is on the brink. OPI is launching an Alice Through The Looking Glass nail polish collection, and it perfectly captures the whimsical nature of the classic Alice In Wonderland franchise. So when does the OPI Alice Through The Looking Glass collection come out? Fortunately, you won't have to wait long to shop the playful lacquer line.
The limited edition collection, also referred to as the "Brights" collection, consists of eight vividly colorful shades (plus an extra bonus color) that are perfect for spring and summer. The range includes pastels like "The I's Have It," a powdery pale blue, and "I'm Gown For Anything," a soft lilac, mimicking those bold hues seen throughout Alice & Co.'s signature costumes, as well as glittery metallics like "What Time Isn't It?," a matte black with bits of silver, and "A Mirror Escape," a shimmery gold, which will lead you down the rabbit hole to the film's fairytale-like glitz and glamour.
Already matching these colors to outfits in your head? Good news. According to a press release, the collection launches on May 1st in salons as well as online and other retailers including Beauty Brands, beautybrands.com, Chatters, Dillard's, Regis, ULTA and ulta.com.
Let's take a look at all of the stunning shades.
1. A Mirror Escape
This glittery gold color screams party time.
2. Fearlessly Alice
An opaque, sky blue that sort of reminds me of Alice's dress.
3. Having A Big Head Day
This bold red hue mimics the colors in the Mad Hatter's signature costume.
4. I'm Gown For Anything!
This beautiful baby pink is my favorite shade in the collection.
5. Mad For Madness Sake
An electric fuchsia that pops right off your fingers.
6. Oh My Majesty!
This pearly white shade is minimalistic perfection.
7. The I's Have It
The pale pastel blue is the perfect springtime shade.
8. What Time Isn't It?
A matte black with shreds of silver serving as a great alternative to your typical glittery nail lacquer.
9. What's The Hatter With You?
If I was to take Alice Through The Looking Glass and bottle it up in a single nail color, this would be it.
Images: OPI (10)