21 Sleeve Tattoos To Inspire Your Next Macro Ink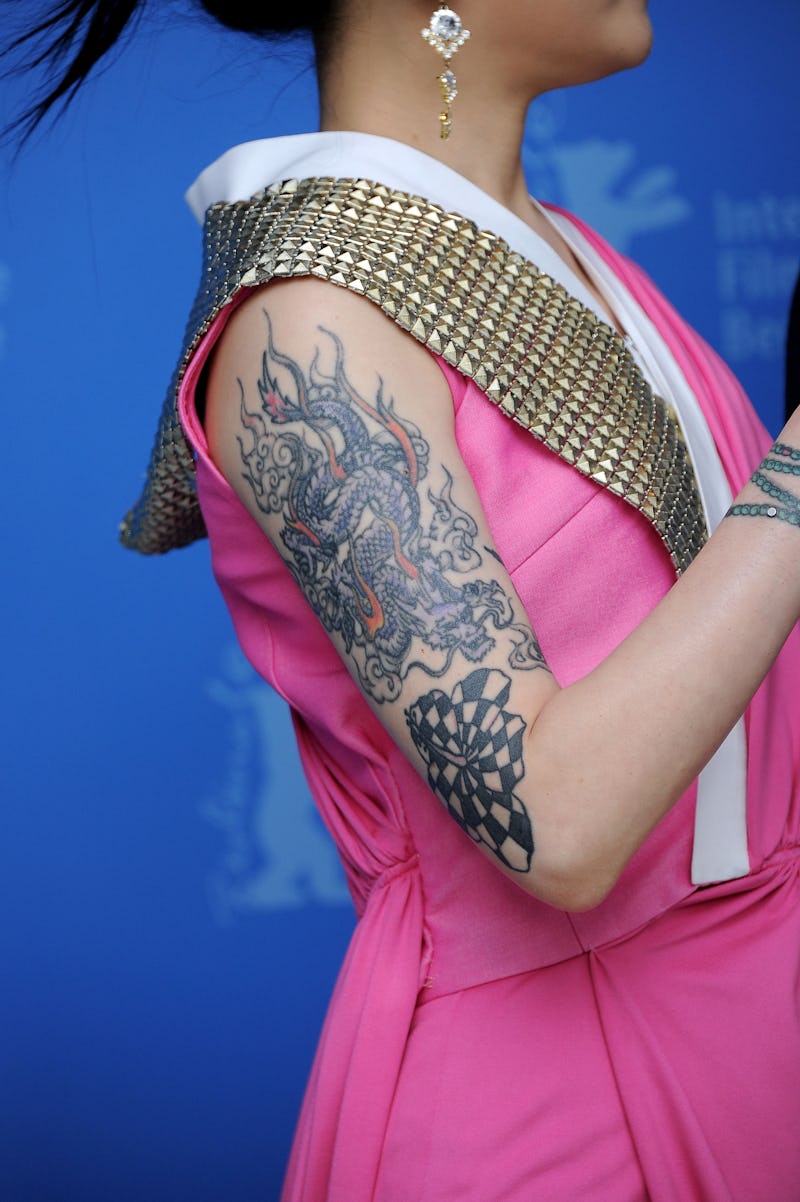 Pascal Le Segretain/Getty Images Entertainment/Getty Images
I constantly flip flop between wanting my entire body covered in tattoos and loving my untouched skin that matches that of my mother. But because I follow so many tattoo artists on Instagram, Twitter, and Facebook, I come across a lot of inspiration for sleeve tattoos that I'm just dying to copy.
Although I only have two tattoos, both minuscule, I have a Pinterest board dedicated to sleeve tattoos alone. The best part about them is that you have so many options. With that much real estate, I imagine it'd be a blast getting to pick out details and designs that inspire you and translating them to tattoo form. Tributes, animals, plants, cartoon characters: You name it. You can even go with a theme for each arm, or a mish-mash of images. The possibilities are endless. Plus, if you happen to like more than one tattoo artist, you have the space to try out a few different ones. Just remember: Always do your research. Dive into the artist's work and make sure you're into their particular style.
Tattoos are the ultimate form of self-expression. Sure, that might make them a little daunting, but that's where choosing carefully comes in. Clothes, accessories, and shoes may come and go, but your tattoos usually stay with you forever. So let's get inspired by 21 glorious sleeve tats, shall we?
1. This Floral Masterpiece
Seriously in love with the colors in this one.
2. Black And White
It may not have any color, but it's equally beautiful.
3. Some Pretty Lace
Wearing lace and having lace inked onto you are both great practices.
4. Intricacies
Hello, details!
5. For Disney Lovers
This one's definitely for you.
6. Roses
A classic never goes out of style.
7. Blinged Out
How gorgeous are the rings?
8. Space Lovers
Now that's trippy.
9. A Mix Of Flora & Fauna
These colors! *Insert eye-heart emoji here.*
10. Fun Fish
If you love the ocean, this one should be perfect.
Want more beauty tips? Check out the playlist below, and be sure to subscribe to Bustle's YouTube page for more hacks and tricks!
11. Geometric
Because patterns can be totes cool.
12. Classic Style
If your aesthetic is classic American style, this will have you covered.
13. Optical Illusions
This one should get your brain going.
14. Shadowing
I'm completely obsessed.
15. Van Gogh Enthusiasts
It's a Starry Night, indeed.
16. Line Work
I could get lost in this one for hours.
17. Just Plain Pretty
I mean, really, how beautiful is this?
18. This Hidden Lion
Hearing it roar right now.
19. Minimalist Flowers
Line work is everything.
20. For Music Lovers
I love how much the colors on this one pop.
21. The Shoulder Spill
Because why stop at just your arms?
Are you convinced yet? Sleeve tattoos may take a ton of time, dough, and thought, but once they're complete, you'll have mastered quite a feat of accomplishment.
Image: Pascal Le Segretain/Getty Images