8 Books to Read for Arab American Heritage Month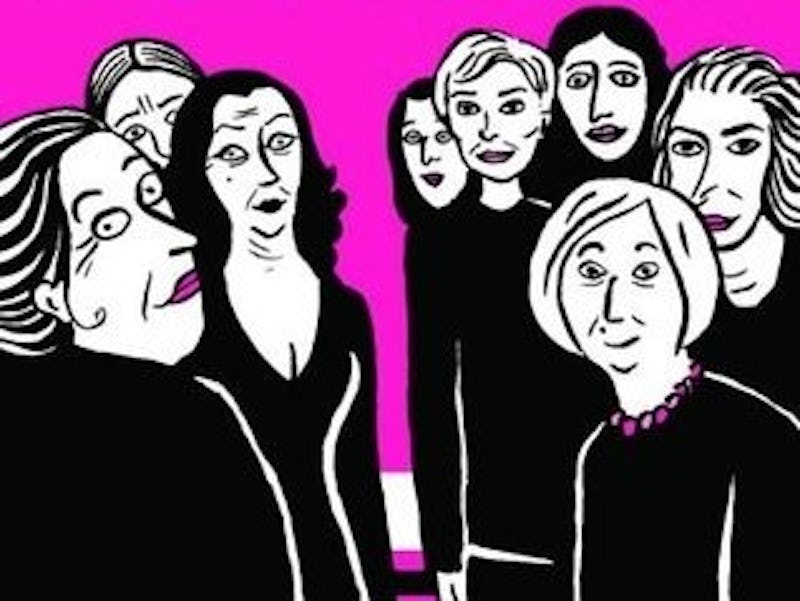 In case you didn't know it, we're right in the middle of National Arab American Heritage Month! That's right the whole month of April in the U.S. is dedicated to the celebration of Arab American history, culture, and contemporary voice. And what better way is there to celebrate while learning than with books?!
Whether you want to learn more about Arab American history or you just want to joyfully celebrate Arab American culture, books are a great way celebrate and learn at the same time. Because, let's be real, everyone could always stand to learn more about our own cultures and histories as well as those of other Americans.
Besides, there are some seriously incredible authors holding it down for Arab Americans in all genres of literature. From YA and graphic novels to poetry and nonfiction, many amazing authors, old and new, have drawn on a rich Arab American history to make brilliant contributions to literature and scholarly research. So there's a book for you no matter what your reading preference.
There are only a handful of days left in this year's Arab American Heritage Month, but the celebration doesn't have to end with April's last few days. Add these to your TBR, and read them throughout the year:
Saladin Ahmed is amazing. He gave us this brilliant, beautiful fantasy novel filled with monsters and war and magic and heroes back in 2012. Now, in 2016, we're finally getting a sequel. Four years might seem like a long time, but Ahmed struggled through crippling depression to bring us the second book in this series. I'm sure it will be well worth the wait. So while you're waiting for The Thousand and One , catch up on the first book.
If you're short on time but still want to read a painfully beautiful work of literature, I recommend Atiq Rahimi's Earth and Ashes. You'll devour it in one sitting and feel as though you feasted well. It's short, but it stays with you. It's a heartbreaking tale of a grandfather and grandson, survivors of the devastating violence of war, looking for hope after great loss.
Born in Jordan to Palestinian parents and raised in Brooklyn during the hip hop era, Suheir Hammad's story is relatively unique. Yet her experience straddling different cultures reflects the experiences of many Arab Americans. Her poetry draws on all aspects of her life — as a woman, as a brown woman, as a poet, an Arab American woman, as a human in a sometimes hostile, sometimes hopeful world. She's an incredible poet, and she writes in the language and rhythms of her multifarious experience.
An oldie but a goodie, Orientalism by Edward Said tackles the West's problematic approach to Eastern cultures. It's a smart, hard book, and a great way to check your own prejudices and reexamine your understanding of Eastern cultures — an understanding that might be colored by centuries of scholarly, popular, and literary representations of the East that are coming from purely Western perspectives.
Admit it: you've already seen this book popping up on your favorite bookstore's front table or on your book-nerdish social media timelines, and you've totally been enticed. Well... let yourself be! It's got everything you could want: a book nerd for a protagonist, ruminations on art and literature, and smart, intimate insight into a history (and its present consequences) that you might not familiar with — in this case, the Lebanese Civil War.
Using The Arabian Nights (The Thousand and One Nights) as a launching point, Dunya Mikhail builds from the frame of Scheherezade's legend to craft a collection of poems that tackle the violence tearing apart her home country of Iraq and reflect upon her own desperation to live in this reality.
Everyone knows Marjane Satrapi well enough from her hugely popular Persepolis books, but her somewhat lesser-known book, Embroideries, is also worth a read. Where Persepolis was a sort of personal history of Iran and the Islamic Revolution, Embroideries is a riotous conversation around the table with the women of the family as they go in on everything from sex to love to plastic surgery to political ideologies.
Hope and Other Dangerous Pursuits is a portrayal of the lives of four Moroccans and the hopes and despairs that lead them to risk the dangerous journey across the Strait of Gibraltar for the prospect of a better life in Spain. It is riveting and revealing.