Erin Schrode Won't Let Your Glass Ceiling Stop Her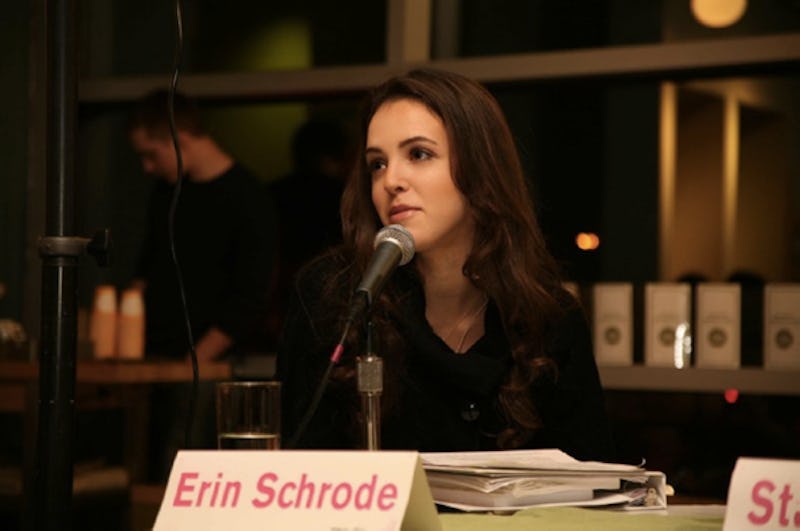 Erin Schrode remembers her father driving her home from summer camp when he told her there would soon be another president was elected. It was a shock to the then-eight-year-old Schrode, who couldn't imagine anyone but Bill Clinton in the White House. She paid close attention as the events of the 2000 presidential race unfolded, demonstrating an early interest in politics that only grew. Today, Schrode, 25, who's running to be representative of California's District 2, could be the youngest woman elected to Congress. Her fate hinges on June 7, when her constituents head to the polls for the primary.
The average age of members of Congress is 61. (Yes, that old.) Currently, the youngest member of Congress is New York Republican Elise Stefanik, 31, who was elected at age 30. (Bustle reached out to Stefanik for this article, but she did not respond.) And age isn't the only reason Stefanik — and, potentially, Schrode — stand out. In 2015, less than 20 percent of congresspeople were female.
Being young and female in such a competitive, male-dominated sphere isn't easy. Schrode in particular faces a tough battle. She's challenging incumbent Jared Huffman, who has also raised $620,000 to her $2,250. Though Schrode tells Bustle that the mainstream media has treated her with kindness and enthusiasm (just look at her interview with Marie Claire), people in public office, the nonprofit world, and social media have been less eager to embrace her.
"People have been quick to discredit me my entire life because I'm young, I'm a woman, and they assume I come from privilege," she says. "Yes, I'm 24 [her age during Bustle's interview in April]. Yes, I'm a woman. Don't vote for me because of that, but don't not vote for me because of that."
Lindy Li, a 25-year-old woman, had been running to represent Pennsylvania's 6th congressional district, but dropped out in April, just a couple of weeks before the Democratic primary. In her explanation for her withdrawal, Li cited how some of the signatures she had collected to get on the ballot were deemed void.
Li spoke to Bustle when she was still running, and made a statement that now seems oddly prescient, telling me that she would be satisfied even if she lost, because that would mean "it's going to be less crazy when the next woman comes along, because [my campaign will have taken] some of the edge off." After she dropped out, Li told Bustle, "It's really heartbreaking. I didn't drop out willy-nilly. I fought until the end."
Rachel Thomas, press secretary at EMILY's List, which supports pro-choice Democratic women running for Congress and governor posts, tells Bustle that young women face many challenges when running for office — especially financial ones: "Running for office is a significant financial undertaking, and it's a major time commitment. When women are just a few years out of college, or even in college, they may still be paying student loans or working full-time jobs, making it harder to start and grow a successful campaign. That's why organizations like EMILY's List are so critical in helping women access the networks and financial backing they need to build strong campaigns and win."
EMILY's List does not keep track of how many millennial women or men are running for Congress, but I can fast name a number of men. Democrat Alex Law of New Jersey (25), Republican Justin Fareed of California (27), Republican Rick Kozell of Florida (34), and Republican Grant Starrett of Tennessee (28) are among them.
Thomas believes that one way to get more women to run for higher office is to get them elected in local and state politics. She points to Kesha Ram, 29, a Democrat who serves in the Vermont legislature, as an example of a millennial woman making strides in state government. She is running to be Vermont's lieutenant governor, a position currently held by Phil Scott, a 57-year-old Republican. Ram tells Bustle that putting women in the political "pipeline" at the local and state level at an early age is what will help get more women elected to Congress.
"Who does this Congress like to write most of its laws about?" she asks. "Women, especially young women. It's like [former Vermont] Governor Madeleine Kunin says: 'If you're not at the table, you're on the menu.' We know that many young women don't wake up, look in the mirror, and think they could run for office. We have to be supportive. We have to create opportunity and space."
Schrode says it's been suggested to her that she should run for state or local, rather than federal, office — and sometimes, the suggestion is more in the form of criticism. "Don't you think that's setting your sights a little high? You should cut your teeth on something a little smaller." Still, she has a quick rebuff for these critics: "I'm not race-hopping here. I'm most passionate about issues at the federal level."
According to Schrode, people will deliver even blunter opinions straight to her face. One recent favorite:
"Wait 20 years and then run, sweetie"
But Schrode doesn't want to wait. She's thrilled to be running now, at the age of 24, even if it doesn't result in a victory. If she loses, she will still consider the campaign an accomplishment.
"When I first told my high school history teacher, who's been an unbelievable influence on my life, that I was running, his reaction was to say, very positively, that Abraham Lincoln ran for a lot of offices that he didn't win before he became the greatest president we ever had. He told me, 'If you're going to do this, you're going to do this.'"
Images: ErinSchrode.com (3)