Your Old Fave DCOMS Are Making A Triumphant Return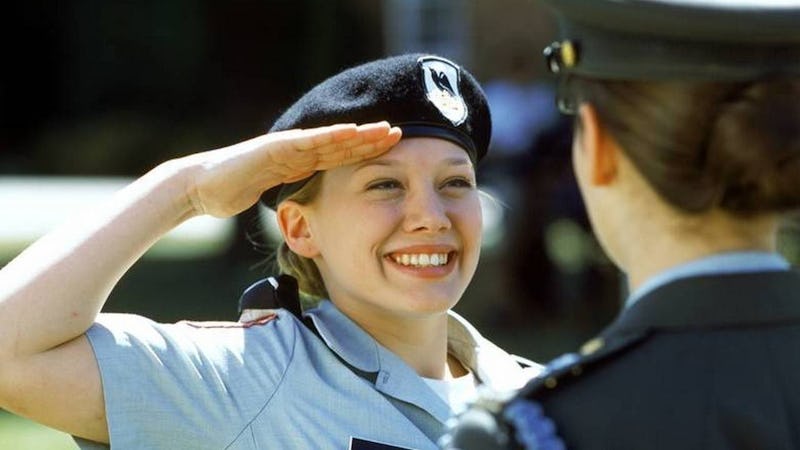 Um. ALERT ALERT ALERT. Stop whatever you're doing and get in here. It's just been announced that the Disney Channel will be airing a mega-marathon of DCOMs all through Memorial Day weekend. Yup, that's right. A "mega-marathon" of nearly every Disney Channel Original Movie that has ever ever aired. Obviously, this is a lot to process, so we'll give you a second. OK, are you done? Memorial Day is one of those holidays for which I sometimes have trouble making plans, because what are you really supposed to do unless you have a grill or a boat or live in a climate warm enough to debut your all-white-everythang outfit? But this year, it's been taken out of my hands, because we all have plans, and they're all the same plans, and those plans are staying home and catching up on our childhood with this marathon.
As a way of celebrating their 100th Original Movie, Adventures in Babysitting, which premieres this summer, Disney Channel has decided to reward us by airing as many DCOMs as they possibly can, from Friday, May 27 at 10:00 a.m. EST with Kim Possible to 3:35 a.m. on Tuesday, May 31, when Johnny Tsunami will bring us home. Stuffed in between will be 49 of your other favorites, for a grand total of 51 DCOMs in a single weekend. They're calling the event the 100th DCOM Celebration, and not only are they giving us something to celebrate, but they're also really earning that "mega-marathon" title as well. I'm impressed.
But the only reason they're stopping there is because they literally can't fit all 99 into the hours available, so the remaining movies will be airing through the first week of June, in case you have any swoons leftover that you need to get out of your system. Check out the full schedule below, and I'll see you Memorial Day weekend! Or maybe I won't see you, since we'll both be inside living our dreams.
FRIDAY, MAY 27
10:00 a.m. – Kim Possible Movie: So the Drama11:20 a.m. – Read It and Weep12:55 p.m. – Wendy Wu: Homecoming Warrior2:40 p.m. – Jump In!4:15 p.m. – Lemonade Mouth6:15 p.m. – Zapped8:00 p.m. – High School Musical 29:55 p.m. – The Cheetah Girls 211:45 p.m. – Zenon: The Zequel1:25 a.m. – Halloweentown II: Kalabar's Revenge2:55 a.m. – Twitches Too4:25 a.m. – Alley Cats Strike!
SATURDAY, MAY 28
6:25 a.m. – You Wish!8:05 a.m. – The Proud Family Movie9:50 a.m. – Quints11:25 a.m. – Horse Sense1:10 p.m. – Cow Belles2:50 p.m. – Twitches4:30 p.m. – The Even Stevens Movie6:15 p.m. – Wizards of Waverly Place: The Movie8:00 p.m. – Camp Rock 2: The Final Jam9:50 p.m. – Princess Protection Program11:30 p.m. – The Cheetah Girls: One World1:05 a.m. – Zenon: Z32:40 a.m. – Halloweentown High4:20 a.m. – The Thirteenth Year
SUNDAY, MAY 29
6:00 a.m. – Right On Track7:45 a.m. – Full-Court Miracle9:35 a.m. – Eddie's Million Dollar Cook-Off11:20 a.m. – Brink!1:10 p.m. – Double Teamed2:55 p.m. – Rip Girls4:35 p.m. – Motocrossed6:20 p.m. – Cloud 98:00 p.m. – Teen Beach 29:55 p.m. – Bad Hair Day11:40 p.m. – How to Build a Better Boy1:20 a.m. – Pixel Perfect2:55 a.m. – The Other Me4:30 a.m. – Genius
MONDAY, MAY 30
10:00 a.m. – Stuck in the Suburbs11:30 a.m. – Halloweentown1:05 p.m. – Zenon: Girl of the 21st Century2:55 p.m. – Smart House4:25 p.m. – High School Musical6:15 p.m. – Camp Rock8:00 p.m. – Descendants10:05 p.m. – Teen Beach Movie11:55 p.m. – Cadet Kelly1:50 a.m. – The Cheetah Girls3:35 a.m. – Johnny Tsunami
Images: Disney Channel; Giphy