11 Weird Ways To Heal A Pimple Overnight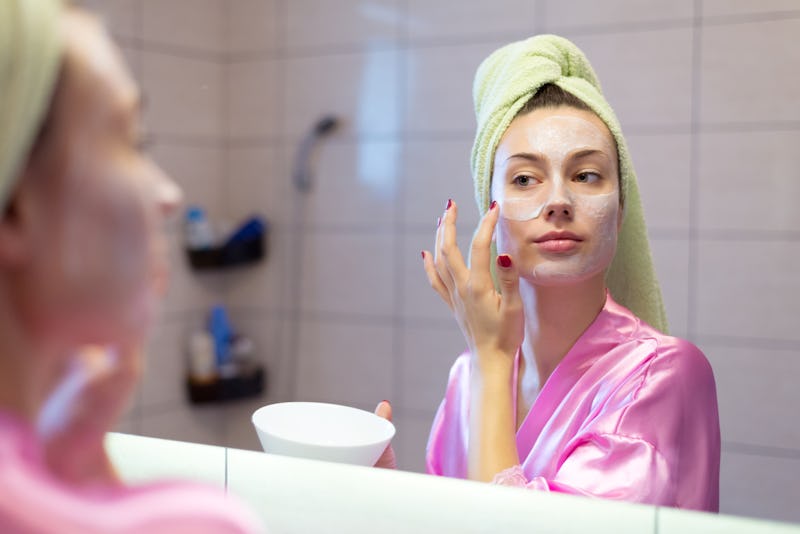 Slavica/E+/Getty Images
It's no secret that acne sucks. However, did you know that there are plenty off ways that you can heal a pimple overnight? It's true! Whether it's digging into your medicine cabinet or getting crafty with ingredients in your pantry, there are several at-home solutions for soothing redness and healing your acne spot all while you sleep. In fact, most of these are super simple, and don't require a prescription.
When it comes to treating acne, you should be aware that everyone's skin reacts differently to different topical treatments. So, before starting any new routine, be sure to consult with your doctor or dermatologist beforehand. They can give you better insight into exactly what your skin needs to fight off any acne-causing bacteria in the long run.
With that said, if you're looking for a more speedy solution for a particularly nasty pimple, then there are plenty of topical DIYs that can help to dry out the acne spot. While we have all heard that toothpaste and baking soda make an easy DIY solution, there are a few other options that you may want to consider for zapping your zits. Here are 11 weird and unexpected ways to heal a pimple overnight.
1. Steam
When it comes to healing your acne, consider steaming your skin prior to applying any treatments. According to StyleCaster.com, steam will dampen your skin and open your pores allowing your skin to be more susceptible to any topical treatments. Simply fill a bowl with hot water, and throw a towel over yourself and the bowl — instant steam facial.
2. Avocado & Yogurt Face Mask
Channel your inner DIY princess by whipping up an avocado and yogurt face mask to help heal your pimple. According to InStyle, avocados contain vitamin C (skin brightener), while also being very moisturizing to the skin. The yogurt contains probiotics as well as lactic acid that helps to exfoliate the outer layer of the skin.
3. Tea Tree Oil
If you aren't a fan of typical acne spot treatments, dermatologist David Bank told Glamour that tea tree oil is a great alternative. The oil helps to fight off acne-causing bacteria, while also improving your cell turnover rate allowing the pimple to heal faster. Be sure to use this sparingly, however, as it can be drying.
Try: Tea Tree Oil, $12, Amazon
4. Hydrocortisone Cream
Hydrocortisone Cream, $7, Amazon
Shrink your pimples fast by using an over-the-counter hydrocortisone cream. According to Allure, the cream contains a small dose of steroids that work to shrink your pimple and reduce any redness.
5. Tea Bags
Soothe a stubborn acne spot by using a cold, wet tea bag for three to five minutes. The Huffington Post reports that the tea bag will help to reduce the inflammation of the pimple, and soothe skin.
6. Eyedrops
Keep redness at bay by reaching for your eyedrops. The Huffington Post reported that the drops will help to reduce the redness surrounding the pimple.
7. Aspirin
Create your own acne spot treatment by mixing crushed aspirin with a small amount of water. According to Glamour, aspirin contains salicylic acid (a common ingredient in acne treatments), which helps to dissolve dead skin cells and unclog pores.
8. Hydrogen Peroxide
When it comes to clearing her zits fast, model Suzanne Diaz told IntoTheGloss.com that she applies a small amount of hydrogen peroxide to a cotton swab, and then dabs the dampened swab against the zit before applying her acne treatment. The peroxide helps to fight off bacteria — however, be sure to use a small amount as too much can harm the skin.
9. Advil Liquid Gels
If you're out of your favorite spot treatment, Gurl.com suggested reaching for an Advil Liquid Gel capsule. If you pop the capsule's outer layer, the liquid inside is apparently great at reducing inflammation on the skin.
10. Egg Whites
Another easy DIY acne-fighting solution is to use egg whites on your pimple. According to Teen Vogue, the egg whites will help to shrink the pimple due to the natural proteins in the egg.
11. Preparation H
Preparation H Cream, $16, Amazon
This may sound kind of crazy, but Preparation H is a great acne-fighting cream. According to Woman's Day, the cream helps to constrict blood vessels, which reduces the redness around pimples. Pat a small amount on your zit before bed, and wake up with clearer looking skin.
Pimples may suck, but they don't last forever. Fight them off by using these handy hacks to heal them overnight.
Images: Getty Images (9); Courtesy Brands; Bustle