This Is Where 'Kimmy Schmidt' Actually Lives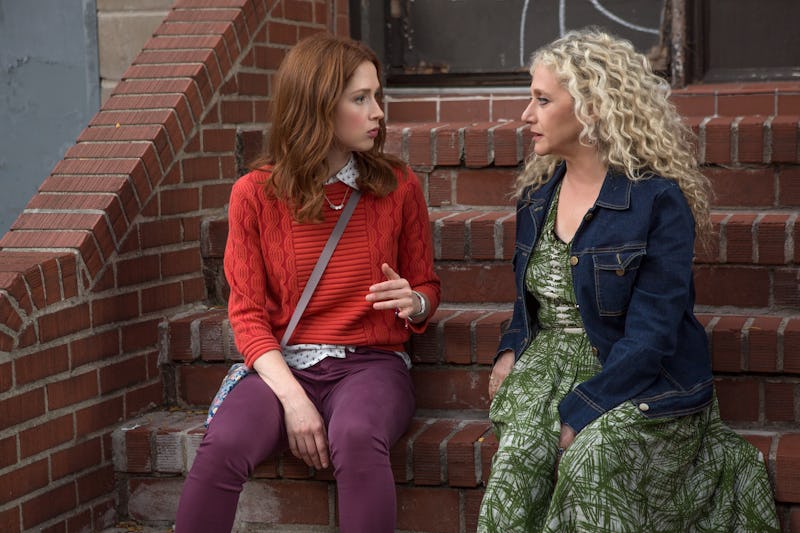 Like so many sitcoms before it, Unbreakable Kimmy Schmidt treats New York City as not only the location but as a character itself. Indeed, there would be no better setting for naive Kimmy to learn the ways of the world, as New York encompasses every walk of life within a few square miles. Since much of Season 2 transpires on Kimmy's block, fans of the show might be wondering which neighborhood Kimmy Schmidt lives in within the city. It turns out that Kimmy is just your average Brooklynite at heart.
According to DNAinfo.com, which is a "blog about New York neighborhoods," various cast members were spotted around Brooklyn's Greenpoint neighborhood during the filming of Season 2. To be exact, according to DNA Info, the exterior of the apartment is located on Freeman street. in between West street and Eagle street. Ellie Kemper, who plays Kimmy Schmidt, told New York magazine that her brightly colored costumes didn't attract the attention of any of the fellow Greenpoint inhabitants, because "everyone dresses like that here."
While Unbreakable Kimmy Schmidt may be the most recent show to be shot in the boroughs, there are several series that deserve recognition for their New York City roots.
Girls
Hannah is Kimmy's neighbor! According to NewYork.com, Hannah's apartment is located on India street in Greenpoint. While there are a few Manhattan locales mentioned, the ladies from Girls spend a lot of time in Brooklyn, according to NewYork.com, frequenting hotspots such as Spoonbill and Sugarfoot bookstore on Bedford to Peter Luger Steakhouse in Williamsburg.
Broad City
Although many of the places that Abbi and Ilana go to are never explicitly stated, Abbi Jacobson's hand drawn map, provided by Vulture, lends some insight into where the gals spend their time. It seems as though Ilana and Jaime's apartment is also located in Brooklyn. The girls also spend some quality time in the Upper East Side, where Ilana babysits, as well as the East Village during the episode "St. Mark's Place."
Jessica Jones
Though Jessica Jones' apartment is located in the ominously named Hell's Kitchen in the show, the exterior of her apartment is actually uptown on W 101 street, according to Untapped Cities. According to the site, her friend Trish has her loft in TriBeCa and Kilgrave's apartment was actually the most expensive one in the city in 2013. Not too shabby.
Vinyl
While the series takes place in 1970s, modern locations in NYC featured prominently in the series. Some, such as Max's Kansas City, were re-created, but actual places like Electric Lady Studios in Greenwich Village have been showcased.
New York City is undoubtedly one of the best places to feature in TV, so let's hope shows like Kimmy Schmidt never stop filming here!