There's Been A Few American Women On Money Before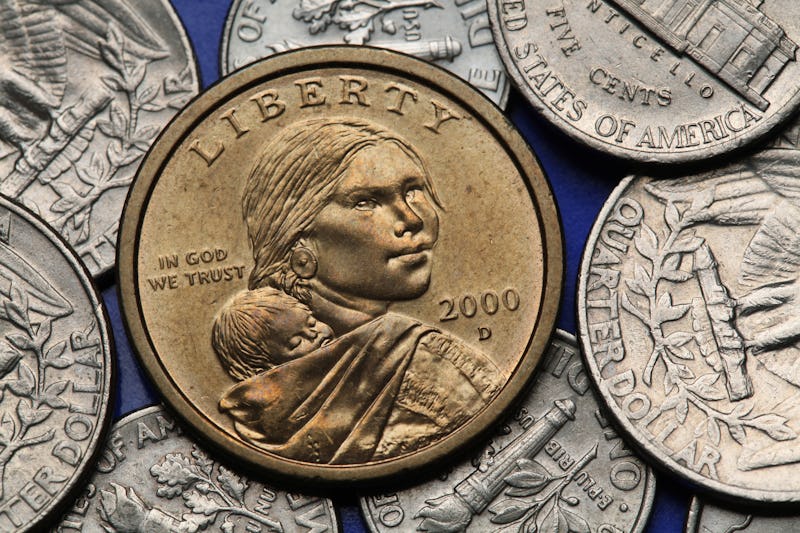 On Wednesday, some big news broke about the state of American money. Not about economic health or buying power, to be clear, but about what our money looks like. Treasury Secretary Jack Lew announced that Harriet Tubman will replace Andrew Jackson on the front of the $20 bill, a move that's been met with a great deal of excitement from political progressives and advocates for representation. And if you're wondering how often American women have been pictured on money, you probably won't be surprised — it's a painfully limited history, with Tubman being the first woman in more than 100 years to grace American paper money.
As Brian Resnick expertly detailed for The Atlantic in June 2015, when all the news was indicating that it would be Alexander Hamilton who'd be bumped from the $10 bill to make way for Tubman, she's just the third woman to ever appear on paper U.S. currency, and just the second to be on the front of the bill. The only other woman on the front of paper money was Martha Washington, who appeared on a run of silver dollar certificates in the late 1800s, and whose husband George, notably enough, served as the very first president of the United States.
There is one other woman who's appeared on paper cash, and that's Pocahontas, though she wasn't on the front — she appeared on the back of a $20 bill as part of a baptism scene. As such, Tubman will not be the first woman of color to grace American currency, but she will be the first black woman ever so pictured, and the first to be on the front. Needless to say, when you further consider her heroic life as a pioneering abolitionist and humanitarian, there's a real significance to that.
Now, if you include coins, what with those occasionally unique limited-runs and so forth, the list expands somewhat. In fact, if you're old enough or lucky enough, you've probably run into at least a couple of these examples before. The most prominent are undoubtedly Susan B. Anthony and Sacagawea, both of whom graced $1 coins throughout the 20th and 21st centuries. And, as Jan Dizon detailed for the Tech Times last June, there are also several limited-run and commemorative coins that have featured different women throughout history, including Helen Keller, Queen Isabella of Spain, Eunice Shriver, and the First Ladies of the United States.
None of that will be nearly as visible, lasting, or meaningful a tribute as Tubman arriving on the $20 will be, however. Even though she's not the very first woman to ever appear on U.S. currency, she will be the first woman to land on a high-profile, standard-issue bill in the modern era, and the first who the country, and indeed the whole world, will start seeing all the time. The only drawback? It could be a long while before you actually get to see one — it may be years before the new bills enter circulation.
Image: Fotolia