8 Best Nighttime Beauty Hacks For A Natural Glow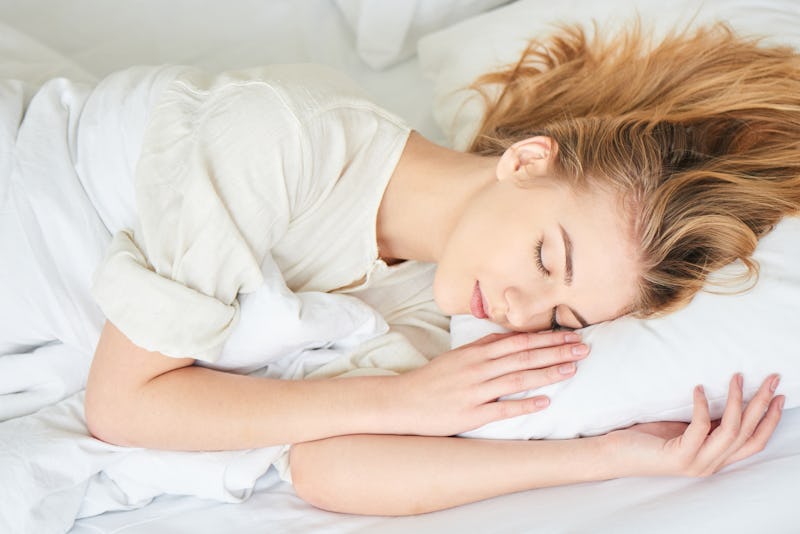 When I roll out of bed in the morning (after hitting snooze a dozen times), my eyes are usually still half-shut when I start my morning beauty routine. Waking up with a natural glow seems pretty unattainable some days, especially if you enjoy a late night Netflix binge every once in a while. That being said, there are a few nighttime beauty hacks you can put to work the night before, which can definitely make morning beauty routines easier.By switching from face scrubbing to soothing, fresh, and calming makeup remover towelettes before bed, you'll be able to more effectively cleanse every bit of makeup away from your face, giving your pores a chance to breathe while you sleep. (Otherwise, those excess oils and buildup can get trapped, resulting in unwanted breakouts by sunrise.) Before you lay down and set your morning alarm, apply a hydrating overnight cream with a few choice ingredients to your face, too. You'll wake up feeling and looking revitalized after your skin receives the moisture and vitamins it needs to glow — and all before you even drink your morning latte. Read on for eight easy ways you can wake up with a natural glow tomorrow morning.
Vitamin C Protects Skin Overnight For Brighter Morning Glow
Retseliney Revitalizing Vitamin C Night Cream, $17, Amazon
Your skin craves nourishment and hydration most when you're sleeping because that's actually when skin works hardest to repair itself. Take advantage of your natural skin cycle by enhancing the rejuvenation process using an organic overnight cream that's free of parabens. This one contains vitamins and natural oils that are easily absorbed into your skin. This formula also boosts collagen production, which means skin will look and feel invigorated when you wake up. One user gave this product top ratings because it feels lightweight, has a pleasant fragrance, and actually feels great on her face.
Remove Makeup & Revitalize Skin With Nourishing Essential Oils
Herban Essentials Towelettes, $16, Amazon
Sleeping with your makeup on is a major sin against your skin. Keep these extra soft, calming towelettes by your bed to be sure that you remove every trace of makeup (including your pesky waterproof products) before you fall asleep — even on the nights when you're too exhausted to cleanse your face at the sink. The pack comes with soothing lavender, invigorating lemon, and energizing peppermint, so you can switch up aromas depending on your needs. One fan even said, "These are great to have on hand, especially during the summer or when running around all day. Lavender is calming, peppermint is refreshing, and the lemon is perfect for cleaning hands on-the-go."
Dry Up Whiteheads By Morning With Calamine & Salicylic Acid
Mario Badescu Drying Lotion, $17, Amazon
The last thing you want to see when you look in the mirror is that one pimple that can't take a hint. Dry up pesky whiteheads overnight using a targeted spot treatment that combines powerful salicylic acid with calming calamine to shrink down your worst blemishes. Just dab onto your spot, and let it dry while you sleep. Users are thrilled with the evening acne treatment, saying it's an "insanely effective product," and one fan said, "Typically the pimple(s) are greatly reduced by morning, if not gone, which is why I love this product."
Beeswax & Hawaiian Honey Moisturize Skin Without Clogging Pores
Bee Friendly Skincare Night Cream, $25, Amazon
Skin loses moisture while you sleep, so it's important to incorporate some kind of hydrating treatment into your evening skincare routine. This beeswax and Hawaiian honey cream is handmade by beekeepers in Hawaii (no joking), and it's packed with moisturizing olive oil and vitamin E, which can help fortify your skin against sun damage. The formula is fairly concentrated so it just takes a little bit, meaning the cream will last you a while. Reviewers say skin isn't left feeling greasy, and one said, "Lush and silky with a faint scent of honey, it rolls onto my skin with the lightest touch of my fingers."
Mango Seed Butter & Algae Provide Lasting Next-Day Hydration
Los Angeles dermatologist Dr. Howard Murad told Beautylish that moisture is lost during the sleep process, "so it's very important to maintain healthy levels of cellular hydration topically." When you use this creamy, penetrating night mask before you lay down, you're setting yourself up for hydrated, radiant skin in the morning. Your skin will retain moisture for the next day, leaving you looking clear and feeling confident as you go through your daily routine.
Fight Dark Eye Circles With Brightening Rosehip
Spirit Naturals Dark Circle Under Eye Treatment, $22, Amazon
Whether your under-eye circles and puffiness are due to long hours at the office or they're genetic, a hydrating dark circle cream is a must-have for waking up with a natural glow. This powerful but gentle product will firm and sooth delicate skin around your eyes with shea butter, rosehip oil, and jojoba oil. One user uses this product in the morning and at night and calls it her "new fav" for going on easily and being "moisturizing but not greasy."
...Or Dab A Best-Selling Witch Hazel Toner To Lighten Dark Circles
Using a witch hazel toner with aloe vera before you head to bed will relieve under-eye bags and give your face a brighter look overall when you wake up in the morning. Users give this toner top ratings, saying it works wonders on both dark circles and acne. Bonus: This particular toner has a soft rose fragrance that's perfect for winding down at night before bed.
For Sensitive Skin, Cucumber Soothes & Cools Before Bed
Sensitive skin types can be hard to treat, as many cleaners cause redness and irritation that have lasting effects when you wake up. This gentle milk cleanser contains soothing cucumber, soy protein, and green tea to gently wash sensitive skin and leave it feeling fresh and dewy. A past winner of the Allure 'Best Of Beauty' Award, users give this cruelty-free product top ratings.
Bustle may receive a portion of sales from products purchased from this article, which was created independently from Bustle's editorial and sales departments.
Images: Fotolia (1); Amazon (8)