11 Platforms You Would Have Died For In The '90s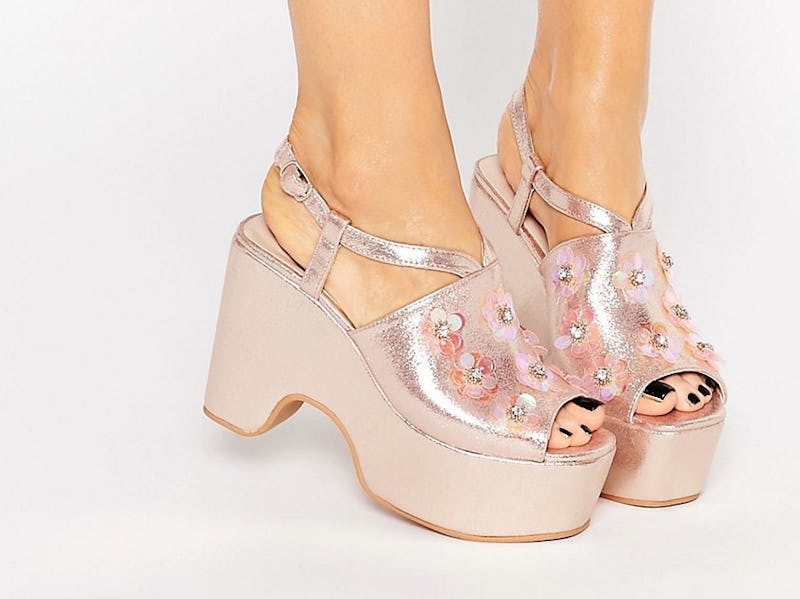 If you grew up in the '90s, chances are you love platform shoes. They were a wardrobe component of all the women we looked up to, after all: The Spice Girls, Sabrina, our cool big sisters, among others. Which is why it's exciting that there are so many '90s platform shoes in style this season. Whereas most of us were too young back then to rock a serious platform (I for one was just figuring out how not to roll an ankle in something that was higher than a flip flop), a lot of us are likely ready for those gravity defying heights now.
I remember watching my babysitter strap on her velvet platforms as she snapped her bubblegum and headed out the door — another shift done and pocket money achieved — as I'd sit there and dream of the day I would get to do the same. It took a decade, but now I'm ready. And it's awesome because this time around there are so many variations of the platform: You have your kitschy, nostalgic styles, and your sporty sandals. There are tough and metal studded versions, as well as polished Oxford shoe types. There's a style for everyone. So below are 11 '90s-inspired platform shoes you would have died for back in middle school.
1. Pink Metallic Platforms
Daisy Street Pink Metallic '90s Platform Sandal, $57, asos.com
These Clueless-inspired platforms look like a girl's childhood fantasy come to life. From the pink slash unicorn-y hue to the metal studded flowers, the shoe's got cool-girl written all over it. Gorg.
2. Velvet Platform Wedges
Platform Wedges, $25, zara.com
What's more '90s than velvet? These beauties look like something Phoebe might have rocked in one of the first seasons of Friends. And anything that's good enough for Phoebe is good enough for me (crystal necklaces and floral tent dresses not included, though).
3. Platform Strap Sandals
Platform Strap Sandals, $99.99, mango.com
They're sporty but minimalist but eye-grabbing. Honestly, what more can a shoe do?
4. Sporty Sandals
Platform Strap Sandals, $99.99, mango.com
Let me know if I'm going too far, but I honestly believe that Sporty Spice would absolutely have rocked these on a daily basis. Something about that racer stripe and the impressive height of the platform just has her name all over it. Now all you need is a pair of swishy track pants and you're golden.
5. Slider Flat Sandals
Whistles Haldi Platform Slider Flat Sandals, $112, asos.com
They're just like those Adidas pool shoes, but cooler. I remember in middle school I had a platform pair like this, just a lot less... in style. They were red and I wore them with white socks and it was a shameful time in my life.
Want more fashion and beauty? Check out the playlist below, and be sure to subscribe to Bustle's YouTube page for more hacks and tricks!
6. Mustard Platforms
Platform Strap Sandals, $119, mango.com
That wooden wedge. The contrast grips. That bold circle buckle. That fun mustard shade. Honestly, can you imagine a more perfect summer sandal than this one?
7. Contrast Platform Shoes
Contrast Platform Shoes, $130, mango.com
There's nothing more '90s than contrast soles: Whether they were on your platforms or your sneakers, those racing stripes bring back my childhood memories in waves. Today, you can wear that nostalgia in a grown-up, polished way in the form of platform Oxfords.
8. Chunky Heeled Sandals
Eight Valentina Black Chunky Heeled Sandals, $114, asos.com
They're like those granola Teva shoes, just badass. Anything that incorporates fastening belts is a winner in my book. Also, this pair is the perfect mix between ugly chic and sporty, promising to help you make some interesting outfits.
9. Studded Platforms
Platform Studded Sandals, $120, mango.com
All my angsty middle schoolers, this one's for you. A lot of us went through that fringe-in-my-eyes, eyeliner-dependent, Hot Topic phase, and these amazing platforms are here to commemorate those cringing years.
10. Ankle Platforms
Platform Sandals, $23.30, amazon.com
Having your straps tie around your ankles will create a new silhouette because it'll cut you off at the ankles, but the white platform is the real winner here. It reminds me of the platforms my cool babysitter would wear, along with her baggy denim jacket and giant hoop earrings. I can finally channel her.
11. Velcro Platforms
Velcro Platforms, $17, amazon.com
Seriously, though, this looks like something all the cool older sisters would have had in their closets circa 1998. Not only does it have that iconic cork sole, but the metallic color means you've got your raccoon eyeliner on, and you're ready to party. Or, you know, it would work while wearing a summer dress and getting coffee during the day, too. Whichever you'd like.
Whether you want sporty sandals or Oxford kicks, there's a '90s-inspired platform for everyone.
Images: Courtesy Brands