Will Prince's Memoir Be Released?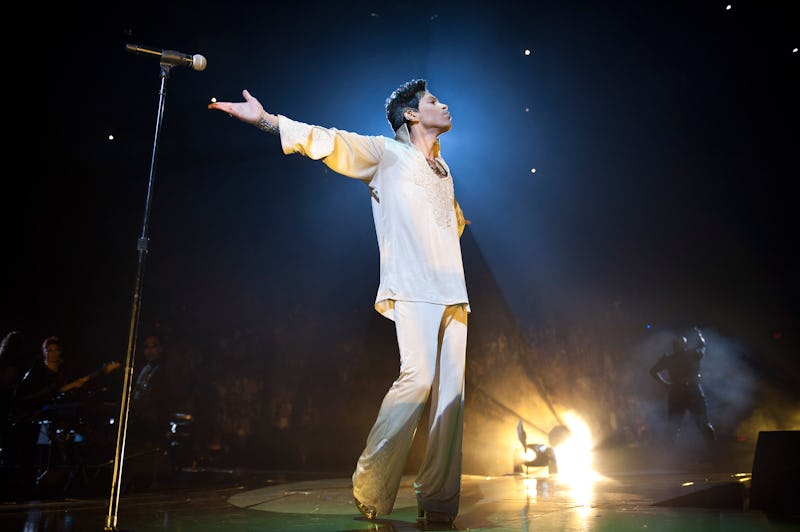 This year has not been kind to our entertainment legends. On Thursday morning, Prince was found dead in his Paisley Park compounds in Minnesota, his publicist confirms to Bustle. The iconic musician and entertainer was 57 years old.
No further details have been released about his death, but fans of the legend and book-lovers everywhere are surely wondering: will Prince's memoir be released?
In March, Prince announced that he was writing a memoir to be published by Random House imprint Spiegel & Grau. The memoir — working title: The Beautiful Ones — was intended to span his life and career from his first memory to his iconic Super Bowl performance in 2007. According to a statement from Spiegel & Grau at the time of the announcement, the memoir was going to "take readers on an unconventional and poetic journey through his life and creative work — from the family that shaped him and the people, places and ideas that fired his creative imagination, to the stories behind the music that changed the world."
The memoir was slated for a fall 2017 release, and was being helmed by Chris Jackson, who oversaw the development of Ta-Nehisi Coates' Between The World And Me and Jay Z's autobiography, Decoded. (It has since been announced that Jackson is the new vice president, publisher, and editor-in-chief of Random House's One World imprint.)
Between the World and Me , $15, Amazon | Decoded , $23, Amazon
Now, it's unclear whether Prince's memoir will come out next year as planned. In March 2016, Prince told fans that this was his first book, and he was receiving help from his "brother Dan" (believed to be Dan Piepenbring of The Paris Review ). "[Dan's] a good critic, and that's what I need," Prince said at the time. "He's not a 'yes' man at all, and he's really helping me through this."
Unfortunately, that statement makes it seem as though he was not yet finished writing the memoir, which is extremely disappointing, if true. Moreso, a report from TMZ says that Prince began writing his memoir a month ago, and he had just 50 pages completed at the time of this death.
I certainly hope Prince had a chance to finish writing a significant portion of the memoir before his passing, as I — and his fans — would be thrilled to hear about his unprecedented life and career in his own words.
Random House has no comment at this time.