Strangest and Scariest Moments Ever on 'Pretty Little Liars'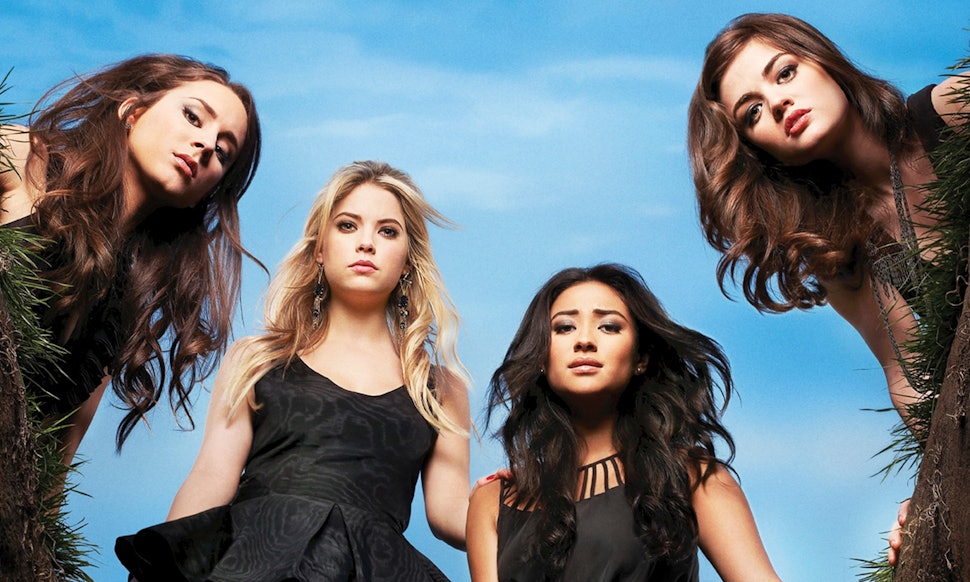 This week on Pretty Little Liars, we witnessed some seriously crazy bees attack Aria's mom. It was horrifying, but still nothing compared to other Pretty Little Liars moments. With the next episode boasting the "strangest moment in Liars history", we take a look back on some of the freakiest stuff to come out of our favorite ABC Family show. Images: ABC Family
'Pretty Little Liars' Pretty Terrifying Moments
This week on Pretty Little Liars, we witnessed some seriously crazy bees attack Aria's mom. It was horrifying, but still nothing compared to other Pretty Little Liars moments. With the next episode boasting the "strangest moment in Liars history", we take a look back on some of the freakiest stuff to come out of our favorite ABC Family show. Images: ABC Family
A. Plays Games in The Fun House of Doom
Fact: Clowns are terrifying, but being locked in a room full of clowns? Even MORE terrifying. A. locking Spencer into the funhouse gave us nightmares like we haven't had since It.
Snakes in a Dressing Room!
A.'s a snake metaphorically speaking, but she's a hell of a lot scarier when she unleashes an actual snake into Spencer's dressing room.
Creepy Little Ghost Girls
Alison told Hanna (and the little kid Hanna was babysitting for!) the story about twin girls who fought over a doll ... leading one to murder the other one. Scary, right? Well, two Halloween's later, Hanna's mom has a run-in with a possible ghost on Halloween, and she just happens to be the same little girl from the "evil twin" story. Coincidence? Either way, ghost girls are terrifying.
Any Interaction Emily Ever Had With Nate
"Nate" was Maya's fake cousin ... and also her murderer. Yikes. Too bad Emily didn't know that until he tried to kill her and her girlfriend Paige. The viewers said "Nate" was no good from the very beginning, though ... and then had to suffer through watching Emily get into a super-creepy flirtationship with Nate.
Danny From 'The Shining' Now Lives in Rosewood, We Guess
Pretty Little Liars has plenty of creepy moments to go around, but the creepiest moments always have to do with little kids who know WAY more than they should. Like this kid from the doll shop -- he's psychic and knows all about how Alison died. It's those scary eyes that keep us up at night.
Ian Attacks Spencer in the Bell Tower
Spencer finally confronts Ian at the bell tower about the videos that he has on the girls, which was probably a terrible idea, because he then tries to murder her. Luckily, someone (maybe A.? Melissa?) kills Ian, leaving him hanging up there. Literally.
The Baby-Face Mask
This baby-face mask is literally the scariest costume in the entire world. Even scarier? When the person inside the mask tries to kill you and your friends. Though Alison set the Liars up during the Halloween episode as a joke -- and a test of loyalty -- we're going to be staying away from anyone who wears this mask to our costume party.
The Reveal of A.'s Lair
If your lair isn't scaring the crap out of everyone, you're not doing lairs right. But A.'s (a.k.a. Mona's) evil lair was way creepier than we would've expected. That clown mask? Dear God. How did Mona ever stay there?!
Aria Gets Locked in a Box With a Corpse
Someone murders Garrett on the Halloween train right when he reveals information about the night that Ali went missing ... and then that same someone locks Aria in the box with is corpse. Oh, you crazy show... don't you know that Halloween is supposed to be fun? If I were these girls, I'd avoid this holiday like the plague.