Sundance's 'Rebellion' Won't Be A History Lesson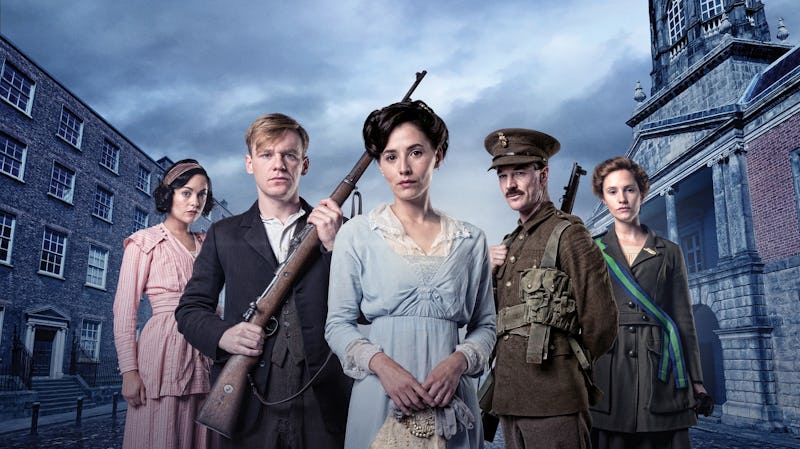 Many history buffs are undoubtedly excited for the premiere of Sundance's miniseries Rebellion . The five-episode series will air over the course of three consecutive nights, beginning on Sunday, April 24. The premiere date is symbolic — it's the 100th anniversary of when Ireland's Easter Rising began. According to Sundance's official website, the series will open with the outbreak of World War I and will depict the "tumultuous events that follow" as seen through the eyes of three young women and their friends, families, and lovers. It also teases that these characters will "play vital and conflicting roles in the narrative of Ireland's independence." The characters are fictional, but how accurate is Sundance's Rebellion?
April 24 won't be the first time critics and viewers watch Rebellion — in January, the miniseries aired in Ireland and it faced criticism for a number of historical inaccuracies. The Independent reported that, although the first episode received positive feedback, reviews went downhill by the second episode. The article pointed out factual inaccuracies in specific scenes and went on to state that history experts had a number of complaints, from the costumes to the depictions of the historical figures:
[G]ripes focused on everything from scenes of volunteers shooting dead ordinary Dubliners who were looting shops, to alleged misrepresentations of certain real-life characters' ideologies, to volunteers openly walking round Dublin in uniform with their rifles slung over their shoulders, to the colour of said uniforms, which some claimed were the wrong shade of green.
Shortly after these criticisms emerged, the show's director Aku Louhimies, responded to them and defended the depiction of the Rising. According to the The Journal.ie, he claimed that the historical facts aren't necessarily as black-and-white as we may assume: "This is definitely a period of history in Ireland that people have different emotions about, or strongly disagree over." Louhimies also noted that he strived to not romanticize the events — for example, the show depicts people lying in the streets suffering for prolonged periods after being shot. People "suffer for days before dying," he told the outlet, and this may be true, but it doesn't exactly make a strong argument that Rebellion is an accurate representation of the history it aims to depict.
While many social media users expressed frustration with the show's inaccuracies, others defended it for showing an important aspect of the Rising that may not be in the history books:
And, even Charlie Murphy, who stars as Elizabeth Butler, pointed out that the series isn't meant to be a history lesson. In an interview with The Irish Mirror, she explained how she approached her role:
Although the series is largely fictional, I felt there was a weight of responsibility as an Irish person to not do a disservice to the people who lived through this important part of our history... It was a privilege to be given the opportunity to depict this time that shaped our nation.
Rebellion is historical fiction and it sounds like we should take the show's historical aspects with a grain of salt. Because showrunners chose to focus on the development of fictional characters, it seems that detailed historical accuracy was not a top priority. Still, Murphy raises an important point — although many scenes we see will be purely fictional, they will reflect what it was like to live through an incredibly tumultuous and frightening era.
Images: SundanceTV (2)