Today's Bravest Woman On Facebook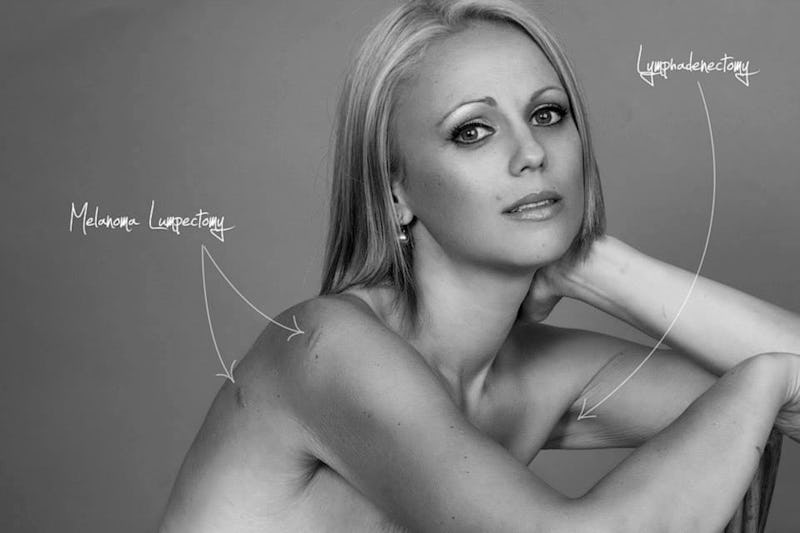 And now, a modern definition of bravery: risk losing your Facebook friends to help prevent cancer. This would make Australia's Beth Whaanga, a registered nurse, mother, breast cancer survivor, one of the bravest women on the Internet right now. She dared to post several photos of her breast cancer scars on Facebook, and as a result, lost over 100 "friends" on the social media outlet.
After being diagnosed with breast cancer and finding out she had the BRCA2 gene — a trait that increases the chance of getting it again — Whaanga had a double mastectomy and a total hysterectomy. In an effort to promote breast cancer awareness and encourage other women to take preventative measures, she joined forces with photographer Nadia Masot to produce images spotlighting her surgery scars. Then she posted them on Facebook, because it's 2014 and that's how you share ideas these days.
Though the photos are tastefully done and came with a powerful, positive message, her friends weren't exactly supportive. Some even reported them as inappropriate. Her message, however, was not lost. The images went viral and her Facebook group, Under The Red Dress Project, now has over 20,000 likes. Well worth the mass exodus of FB friends, if you ask me.
Whaanga is not the first to bear her scars online for the greater good. In 2012, Molly Ortwein, a breast cancer survivor who also had a double mastectomy, felt burdened by her scars so she "inked" them as a way of moving on. Eager to share her experience and help others, she teamed up with her brother in law Noel Franus, VP and director of experience design for advertising agency Crispin Porter & Bogusky, to create Personal Ink, an organization that brings together breast cancer survivors with tattoo artists. They chose Pinterest as their social media outlet of choice due to its visual nature and wide female audience. Kind of cool, right?
Considering images of Ortwein's and Whaanga's scars were probably wedged between selfies and cat memes, these women deserve medals. Trophies even. No, monuments! They were bold enough to use these sites to share their stories and promote awareness. Social media is, after all, a tool. Why not use it for a greater cause? You can see more photos here.
Image: Under the Red Dress Project