Felicity Hayward Made A Curve Latex Collection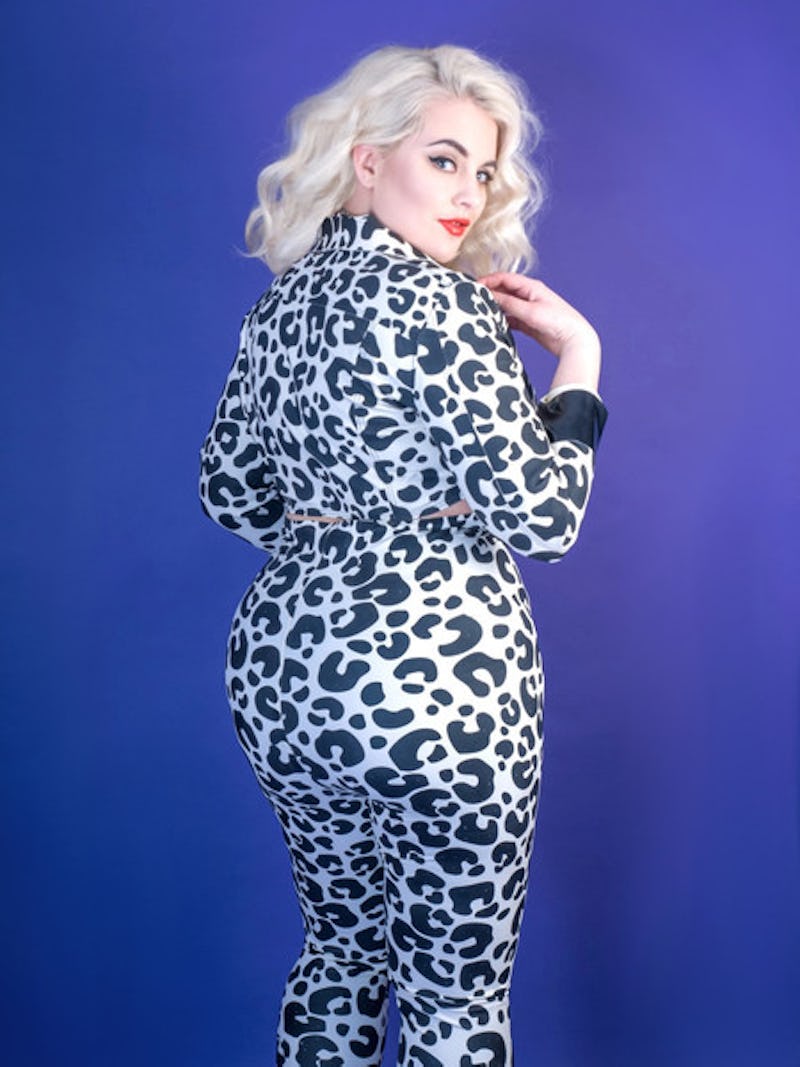 Always wanted to invest in some plus size latex, but been put off by the lack of choices? Worry no more: The Felicity Hayward x Kim West Latex collection has launched. A specifically "curve" line created to cater to size 10 to 20 babes and beyond who want more from their wardrobes, these garments are pieces of skintight magic. Other sizes need not feel left out, though, since these designs are available for custom order, too. Hayward and Kim West are ensuring that the whole plus spectrum is welcome in this curve line.
The collection features bold leopard prints and bright colors, as well as silhouettes not often seen in latex clothing at all. (White leopard print latex capri pants, anyone?) Curve model Felicity Hayward told ASOS that this was a totally deliberate move. "The aim was to make something fun for curve girls that you wouldn't expect. I feel like a lot of curve collections are quite safe so I wanted to make something that was really exciting and fun," she said. "I know it won't be for everybody but it just proves that you can be any size and wear any material."
Personally, I adore the collection and the risks taken for a plus size line. Not only is it pretty unheard of for a plus size woman to wear latex (if you consider so-called plus size fashion rules), but the patterns, prints, and hues take the line to an entirely new level of boldness. The kind of bold we should be encouraging plus size people to embrace more often.
Tartan Jean Jacket, $1224, kimwest.co.uk
Halter Top, $180, kimwest.co.uk
The latex clothing may come with a hefty price label — with most items falling between $180 and $1,200 — but to purchase from a brand that has perfected the latex craft while catering to plus size customers in a fashionable (and not gimmicky) way is something we arguably need to support in the fashion industry. Not to mention the fact that plus size fashion equality should mean equality at every price point.
Want more radical body positivity? Check out the playlist below, and be sure to subscribe to The BodCast for more self-love inspo!
Plus, this latex comes treated in the form of glyde-tex, meaning you don't need to mess around with baby powder or lube to get your new favorite outfit on.
Halter Top, $180, kimwest.co.uk
Of course, the styles and price points of this line won't be for everyone. But as for the plus size women who've always wanted to partake in such looks, I'm personally glad they now have the possibility.
So if you've been wanting latex, but weren't sure how to get it, how to style it, or whether it even existed in your size, here's your answer: A curve latex line designed by a curve model.
Jean Style Jacket, $648, kimwest.co.uk
Images: Courtesy Kim West Latex