Proof Vaseline Is The Most Versatile Product Ever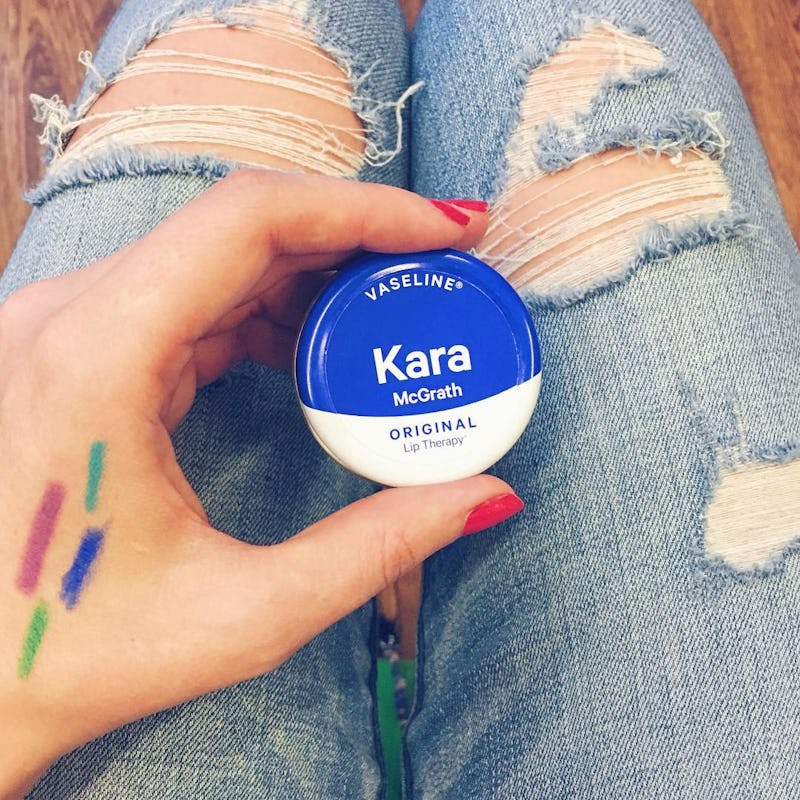 While petroleum jelly may not be one of the sexiest beauty products on the market, it is one of the most versatile. In fact, there are several Vaseline beauty hacks that can completely transform your makeup routine. From an instant lip salve to a DIY highlighter, petroleum jelly's intense hydrating properties makes it a must-have beauty essential. What other product do you know of that can heal cracked skin, fix makeup mistakes, and remove waterproof products? This all-in-one is all you need to revitalize your routine.
In fact, this product is almost essential for those who travel as it can easily replace half of the items in your makeup bag. As a makeup artist myself, I find that this multi-tasking salve is great for those who want to downsize while traveling without feeling like they are giving up their beauty necessities. One of my favorite tricks is to slather my feet in the jelly, and then put on a pair of socks before I fall asleep. By the next morning, all signs of dead skin or calluses are completely gone. It's an easy way to fake a pedicure. Wondering what else you can use Vaseline for? Here are 10 hacks that everyone needs to know about.
1. It Keeps Hair Dye Stains At Bay
Hair dye stains at your scalp are rarely a cute look. According to StyleCaster, you can keep your hairline stain-free by applying a thin coat of Vaseline to the area around your face.
2. Heal Chapped Lips
You might know this one already, but it's worth mentioning that you can heal dry, flaky lips with a simple swipe of petroleum jelly. The thick cream will work to soothe uncomfortable lips, and leave with a perfectly conditioned pout.
3. Remove Falsies Easily
Falsie glue can be so stubborn! Give your false lashes a little nudge by rubbing a small amount of Vaseline along your lash line. Seventeen.com reports that the salve will help to remove falsies, while keeping your actual lashes in place.
4. Make Your Eyes Sparkle
Give your traditional eyeshadows a bit of sheen by adding a thin layer of Vaseline across your lids for a glossy finish.
5. Transform Your Blush
Marie Claire notes that you can turn any powder blush into a cream by mixing in a small amount of vaseline. This can be done easily with either a mineral-based blush or even a broken powder compact.
6. Soothe Burns
Allure reports that you can heal small burns quickly by using a Vaseline. The creamy balm helps to lock in moisture, while preventing any peeling.
7. Seal In Your Brows
If you struggle with unruly brows, consider using Vaseline as a DIY brow tamer. Simply swipe a small amount of the balm across your brows to keep them in place.
8. Extend The Life Of Your Perfume
Cosmetic chemist Ron Robinson told Allure you can enhance the wear-time of your perfume by applying Vaseline to your pressure points. The balm will give your perfume something to stick too, and help your skin to lock in the smell.
9. Highlight The Skin
Boost your skin's natural glow by using Vaseline as a highlighter. Marie Claire recommends applying to the high points of your face for an instant dewy glow.
10. Prevent Self-Tanner Streaks
Self tanner tends to cling to dry patches on the skin. Prevent unwanted staining on cracked heels and elbows by applying a thin layer of Vaseline to these areas.
Basically, it's time to make Vaseline a staple in your beauty routine. Like, right now.
Images: @diosmioitskara/Instagram; Pixabay (6)