9 Weirdest Beauty Treatments To Try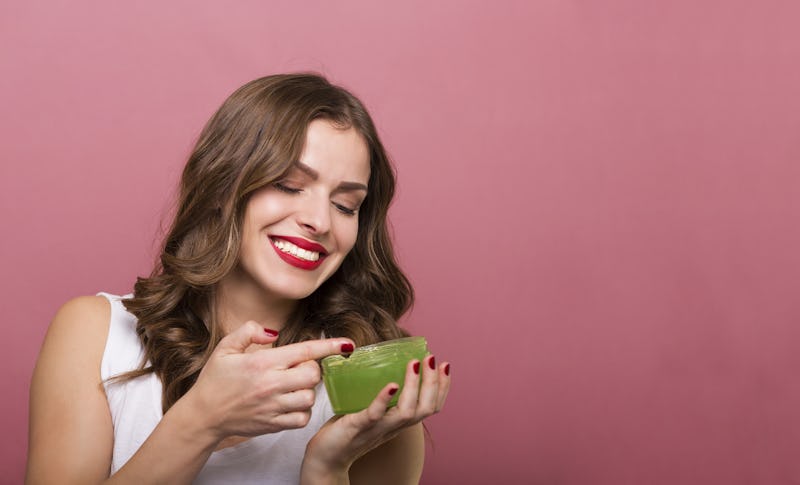 I dye my hair with a mixture of henna, coffee, olive oil, raw egg, and lemon. When it comes to putting weird stuff on my skin and in my hair, there are very few things I haven't tried. That being said, there are still a few bizarre beauty treatments out there that are so weird, even I have to raise an eyebrow at them. They're not necessarily for those who are squeamish or easily grossed out— but hey, if so many people are talking about them, there has to be a method to all that beauty-related madness.
Although it might take a little extra coaxing before you're ready to try them, there's an upside to these weird hair and skin treatments: Many of them are mostly natural, using animal and plant ingredients that can be found out in the world. This generally means fewer chemicals, additives, carcinogens, and toxins, and when it comes to creams, washes, and masks, that's a factor definitely worth considering. Here's a list of the most head-tilting trends for skin and haircare right now, as well as where you can find them if you're gutsy enough to give them a whirl.
Bee Venom For Radiant Skin
Wild Ferns New Zealand Bee Venom , $18, Amazon
Honey's a pretty common ingredient for beauty products, but this is a new one for most people. Wild Ferns New Zealand bee venom uses real bee venom to invigorate skin's natural activity for a radiant and more vibrant glow, as well as other natural ingredients like honey, shea butter, avocado oil, and lavender oil to moisturize and nourish. Reviewers say they love the feel, the smell, the look of their skin, and the slight tingle — so what's not to love?
A Soufflé For Your Skin
Ednae Body Butter Skin Soufflé , $18, Amazon
When someone says "soufflé," I think "eggy dessert," but this one's a game changer. Ednae's skin soufflé is one of the highest rated skin creams because it uses only the best natural ingredients (like mango butter, sea kelp, avocado butter, and aloe vera) to nourish, soften, and hydrate. The soufflé is ultra smooth, non-greasy, and absorbs right into skin, and it's got a fresh and subtle scent that reminds reviewers of spa day. Most people start to see a difference in a matter of days, so if skin care's your passion, it's definitely worth your time.
Brighten Under-Eye Circles With Salmon
Skin Food Salmon Dark Circle Corrector , $8, Amazon
Yes, salmon as in the fish. Skin Food's salmon dark circle corrector is loaded with fatty acids and omega 3s to plump up skin and reverse dark patches caused by tired blood vessels. It also covers while it heals, and because this cream is smooth and lightweight, it won't chalk up or settle into lines. It's great for using under foundation or all on its own, and because a little goes a long way, users say that the search for the perfect concealer is over.
Nourish Damaged Hair With Avocado & Olive Oil
Earth Science Olive And Avocado Hair Masque , $10, Amazon
If I were a stand-up comedian, I'd say something like, "Avocado and olive oil? Are you taking a shower or dressing a salad?" But I'm not, so instead I'll say, "This stuff works." Earth Science's hair mask has top ratings because it takes ultra dry, damaged, and treated hair, and makes it soft and healthy again with very minimal effort. These edible oils easily penetrate the hair shaft to strengthen and smooth from the inside out, and reviewers say that their hair is entirely transformed — soft, healthy, and lightweight without any greasy residue whatsoever.
Get A Hydrating Glow From Snail Mucus
Mizon Snail Repaire Intensive Cream, $14, Amazon
This one's probably the weirdest on the list today, but I added it because people swear backwards and forwards that it truly works. This skin cream uses an unbelievably rich formula, containing an 80 percent concentration of snail mucus, along with peptides and flower extracts to smooth your skin's surface, and some users say it even helps to reduce signs of acne. Despite the bizarre factor, reviewers love it because it actually smells great, it's not goopy or sticky, and it's convenient to apply and use. Your skin will definitely thank you.
Treat Oily, Acne-Prone Skin With An Egg White Mask
Egg White Pore Mask , $8, Amazon
Wakey wakey, eggs and…bentonite clay? This egg white pore mask seems a bit bizarre, but it's apparently awesome for anyone with oily or acne-prone skin. Simply apply it to your face, let it dry for 15-or-so minutes, and wash it off with warm water. You'll be left with pores that appear smaller, clearer skin, and less acne. Reviewers say it tightens and smooths while removing dead skin cells, and believe it or not, the smell is actually fresh and pleasant.
Cleanse Pores With Bubbling Mud
Milky Piggy Bubble Clay Mask , $11, Amazon
This one's all the rage on Youtube right now; people are doing video reviews left and right. The scientific explanation behind the Milky Piggy's bubble clay mask is that a mixture of natural ingredients (like green tea extract, matcha powder, charcoal, and pomegranate) interact with each other to cause carbonation that cleanses pores. The layman's explanation: You put a bunch of mud on your face and it bubbles. People love it. Reviewers say it's ridiculously fun to do, they love the refreshing tingly feeling, and skin is left feeling really soft and looking clear.
Stimulate Hair Growth With Mayonnaise
Organic Root Stimulating Hair Mayonnaise , $12, Amazon
If you're feeling like your hair needs some healing on a super deep level, this organic hair mayonnaise does the job. While it's probably not entirely safe on a sandwich, it does use olive oil, egg protein, herbs, and wheat germ oil to heal limp strands and hydrate roots for better growth. Reviewers say it's especially great for textured hair, but it can be used by anyone who wants to prevent breakage, and because it's so rich and nourishing, you only have to use it once a week to see significant results.
Clean Your Body With Beer
Swag Brewery Beer Soap , $10, Amazon
For use on any morning except the ones when you're hungover, Swag Brewery's beer soap utilizes craft beer as its main ingredient because it's naturally rich in vitamins, minerals, antioxidants, and amino acids. This soap also features other great ingredients like oats and orange peels, and because it comes in six different scents (made from six different brews), the beer connoisseur in you can expand your collection. Reviewers say their skin is left clean and smooth, and the smell is a definite plus.
Bustle may receive a portion of sales from products purchased from this article, which was created independently from Bustle's editorial and sales departments.
Images: Fotolia (1); Amazon (9)