The Glossier Pink Pouches Are Cute & Affordable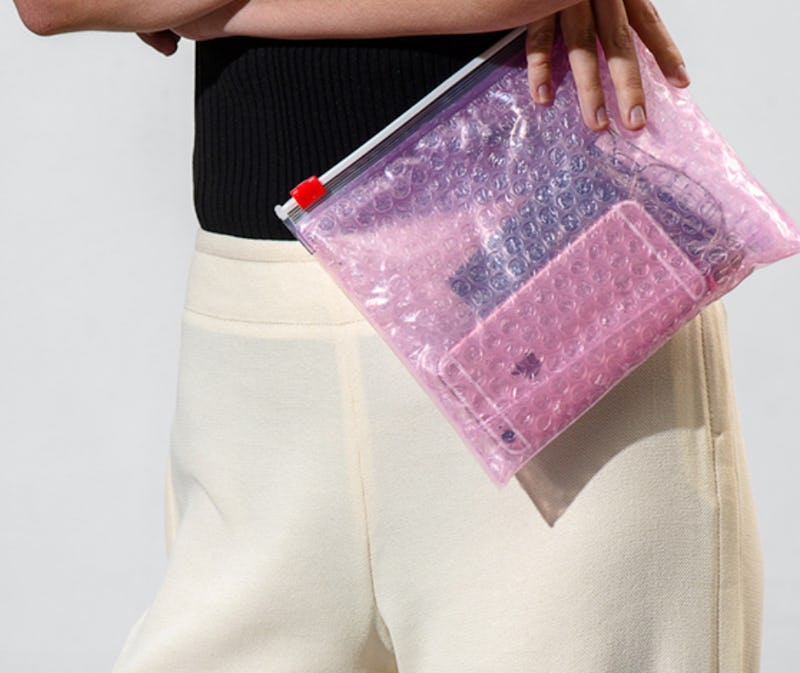 If you've shopped Glossier's skincare or makeup products, you're aware of the perfectly executed packaging. The brand ships its products in the Glossier Pink Pouch. The Pouch is crazy cute and reusable. They come in that DNA distinct, Glossier bubblegum pink shade, which is a pink hue that I don't think I've ever seen anywhere else. They are lined in bubblewrap and have a zip enclosure. The Pouches have become as recognizable as the products themselves. The accompanying Pink Pouches can be repurposed in infinite ways — as makeup bags, to store liquids while traveling, as an effortlessly easy clutch, for toting dog treats or human snacks, or for storing valuables in your larger handbag. They are so multi-purpose and function like an accessory. Glossier now sells its Pink Pouch as a separate piece of merch. How much do Glossier Pink Pouches cost?
You can purchase a pack of five Pink Pouches for $20, which shakes out to just $4 a pop, via the Glossier site. The Pink Pouches aren't sold as singles, but it ain't no thang. The Pink Pouches are versatile for multiple occasions, situations, and locations. Therefore, it's good to have more than one. In fact, having five is necessary.
The Pink Pouches are quart-sized, so they are TSA-ready. Forget trying to cram perfume, contact solution, body oil, and conditioner bottles into those boring, clear plastic sandwich baggies. Let everyone else do that while you travel in style.
That color, though. Plus, the bubblewrap will protect any valuables while traveling, like jewelry. Once your multi-purpose Pink Pouch has been used and abused, and is no longer viable, you can totally relieve tension by popping the bubbles. So. Many. Purposes.
As if that weren't enough, Glossier's Pink Pouch can totally double as a clutch when you are on the go and running errands. Sometimes, I just want to ditch my heavy and stuffed-to-the-brim Alexander Wang Rockie bag and just head out with my essentials. The Pink Pouch allows for that.
The zipper feature ensures that all your items will remain safely tucked inside. The red slider adds just the right pop of color. Because #Details.
Leave it to Glossier to have packaging that is so awesome and so cool that they can actually sell it separately. The Pink Pouch is perfectly sized for carrying essentials — your phone, ID, credit cards, cash, lip gloss, Boy Brow, keys, an eyeliner, whatever you deem fit. You can't overstuff it, so the shape and size forces you bring only what you need.
Don't you love when that happens?
Images: Courtesy Glossier (5)