Get Ready For Even More 'Fantastic Beasts', Guys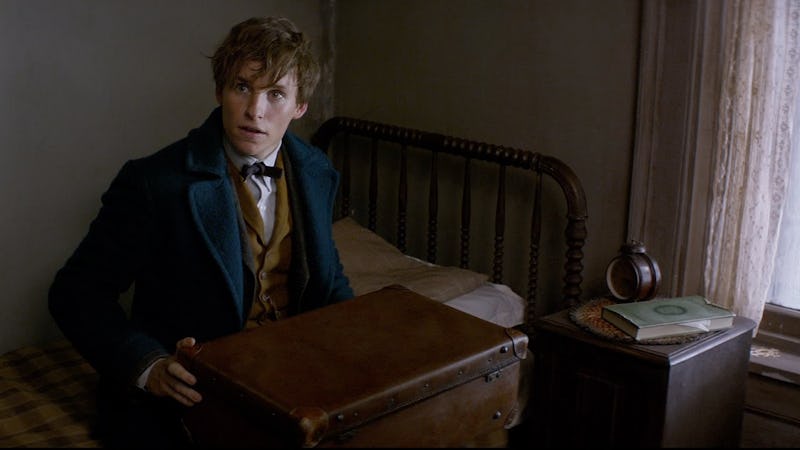 Harry Potter fans, get your wands ready. J.K. Rowling is about to send a whole lot more magic your way. As if the release of the latest wizarding world film wasn't already enough, now the Harry Potter author has announced through Pottermore that the Fantastic Beasts and Where To Find Them screenplay will be published into a book available for purchase directly following the release of the new film. The screenplay will hit bookstore shelves and will be available to purchase as an online ebook as of November 19, while the movie itself is set to be hit theaters on November 18.
The Fantastic Beasts and Where To Find Them published screenplay will be the exact journey fans will see 1920s New York-based wizard, Newt Scamander (played by Eddie Redmayne), as he tries to control a number of "fantastic beasts" traveling with him in his suitcase. This screenplay is best-selling author J.K. Rowling's very first screenplay and — aside from it getting immediately made into a film by Warner Brothers — it is going to be published by Little, Brown Publishing (located in the U.K.), Scholastic Publishing (for fans located in the U.S. and Canada), and on the wizarding world fan and short story-filled database itself, Pottermore.com. To get a better idea of what you can expect to read, you just have to check out the latest trailer for the Fantastic Beast and Where To Find Them feature film.
However, that's not all Harry Potter fans have to look forward to. In fact, the Fantastic Beasts and Where To Find Them screenplay will actually be somewhat of a ninth book coming from the best-selling author in relation to the wizarding world. Prior to the screenplay's November 19 release, fans can also expect the staged play written by Rowling, Harry Potter and The Cursed Child , to be released via Pottermore and Scholastic as well. That story — which follows Harry's son Albus Severus — will be released as of July 30, directly following the first showing of the staged performance at London's Palace Theatre.
Pottermore is said to have details on how fans can pre-order the Fantastic Beasts and Where To Find Them screenplay sometime soon. And, before you know it, the magical weekend that is November 18 will finally be here. Needless to say, this is a great year for wizards and Muggles alike.
Images: Warner Bros. Pictures