Where To Buy Essie's 35th Anniversary Color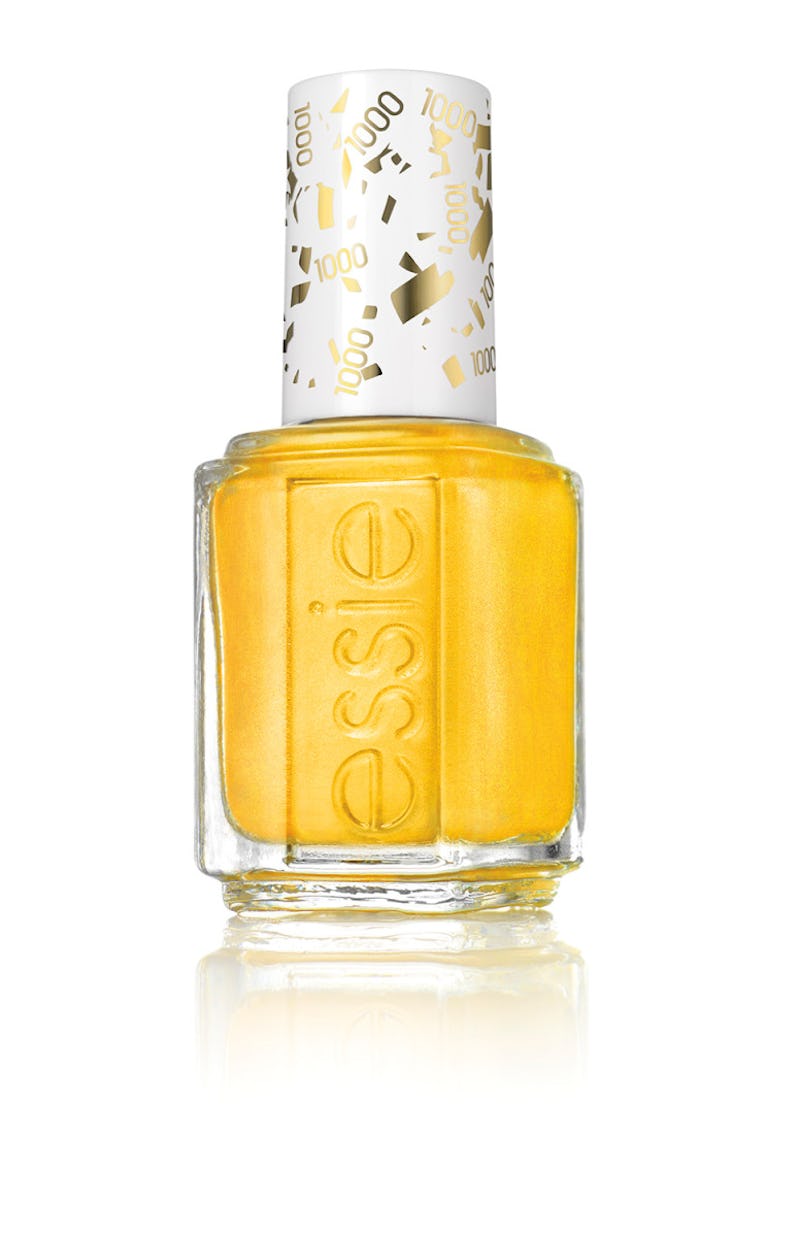 Birthday celebrations are kind of a big deal. I mean, they only come around once a year, after all. Leave it to this company to know just the right way to ring in the big 3-5. Find out where to buy Essie's 35th anniversary shade because you're not going to want to miss out on the fun this polish has to offer. No way!
Not only is this the company's 35th year creating some amazing products, this soon-to-launch shade is also the 1,000th color the brand has ever produced. This is way more than just a little bottle of lacquer, it's a way to celebrate. And being that it's a bright yellow-gold shade, I'd say this is quite a festive way to ring in such a huge milestone.
This bright color is fun and will go great with your summer sandals, dresses and not to mention, that tan of yours. With this polish on your nails, the only thing your hand will be missing is a glass of champagne, and surely keeping a flute in one hand it at all times is something that can be arranged, especially while on your summer vacay.
So, ring in your fav nail polish company's big day in the best way possible — by shopping this shade in stores and online. You can shop hues on Essie's website and/or find an Essie retailer near you.
"Aim To Misbehave" is a good motto to have (especially when turning 35) so this shade couldn't be more accurately named, IMO. This fabulous color launches May 2016. It's selling for $8.50 and is only around for a limited time, so you better shop while supplies last!
See some of the best shades Essie has to offer for spring/summer, because you might as well get your nail polish collection ready for the season.
1. Geranium
Geranium, $8.50, Essie
There's no going wrong with a bright orange-y red for a bold summer look, now is there?
2. Off Tropic
Off Tropic, $8.50, Essie
Got a tropical vacay planned? Get ready to feel like you've been whisked away.
3. Pool Side Service
Pool Side Service, $8.50, Essie
Oh, towel boy! We need some assistance over here!
4. Beach Bum Blu
Beach Bum Blu, $8.50, Essie
Get ready to feel like a beach bum, whether you're seaside or no.
Want more fashion and beauty tips? Check out the video below and subscribe to Bustle on YouTube!
5. California Coral
California Coral, $8.50, Essie
Feel like a California girl with this fun coral color that will accentuate those tan lines.
6. Cocktails & Coconuts
Cocktails & Coconuts, $8.50, Essie
A nude shade with slight sparkle seems like just the kind of thing to wear on your nails, coconut drink in hand.
7. Private Weekend
Private Weekend, $8.50, Essie
Bright white and subtle shimmer is a great lacquer to pair with all of the other bold colors you'll be wearing this season.
Happy 35th anniversary, Essie! Now, let's celebrate in the best way possible — with a polish perfectly suited for all of your summertime activities!
That seems about right.
Images: Courtesy Essie (8); Giphy (1)