My Fruity Faces Are Coming To 'Shark Tank'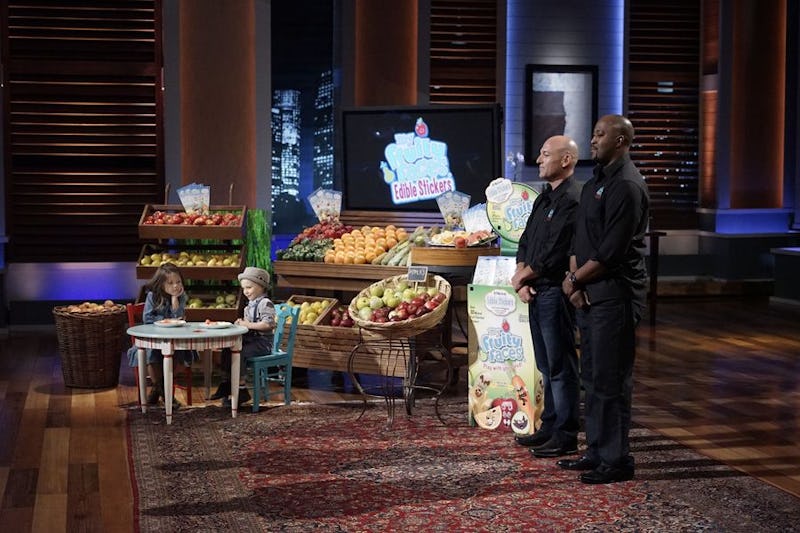 Ah, the age-old struggle of trying to coerce children into eating fruits and vegetables. Whether as a sibling, a babysitter, a parent, or other caregiver, it's something many people have encountered. It's often quite the conundrum, but Shark Tank contender My Fruity Faces might have the solution.
According to a press release, Adam Gerber and Bob Ntoya created My Fruity Faces somewhat out of necessity. Like many parents, they were having trouble getting their kids to eat their veggies. They put their heads together and soon devised a fun solution: Edible stickers. After all, if you have free reign to play with your food, it kind of makes the process more fun. An apple with a kooky face can beat a plain old apple every time.
At any rate, My Fruity Faces are made from an edible blend of sugar, cellulose and other natural ingredients, and dissolve when eaten, according to the website. With no calories and a mostly imperceptible flavor, they don't seem to have any drawbacks — all they do is improve the less-than-savory task that is eating fruits and vegetables. Gerber and Ntoya originally started off only with stickers featuring their own cast of colorful and whimsical characters (including themes like monsters and pets), but later scored a partnership with Nickelodeon, so kids can now enjoy familiar faces like Spongebob Squarepants and Dora the Explorer on their food.
Monster Munchies Edible Stickers, $4, My Fruity Faces
Interested in taking them out of a spin? Well, they're currently available on Amazon, as well as the My Fruity Faces website, and if you happen to be based in Southern California, you can also find them in certain Walmart stores. They're fairly reasonable, as you can score a pack of over 30 stickers for around $4.50.
Oh, and fun fact: fans of Nickelodeon's Victorious (perhaps now most famous for the fact that it launched super pop star Ariana Grande's career) might recognize their spokeswoman, Daniella Monet.
Semi-famous spokesperson aside, what do you think? Will the Sharks choose to invest? It's a fun, easily marketable product from a company that already has experience in licensing, so I'd say the odds are pretty good.
Images: Michael Desmond/ABC; My Fruity Faces