Get Schooled With This 'Shark Tank' Product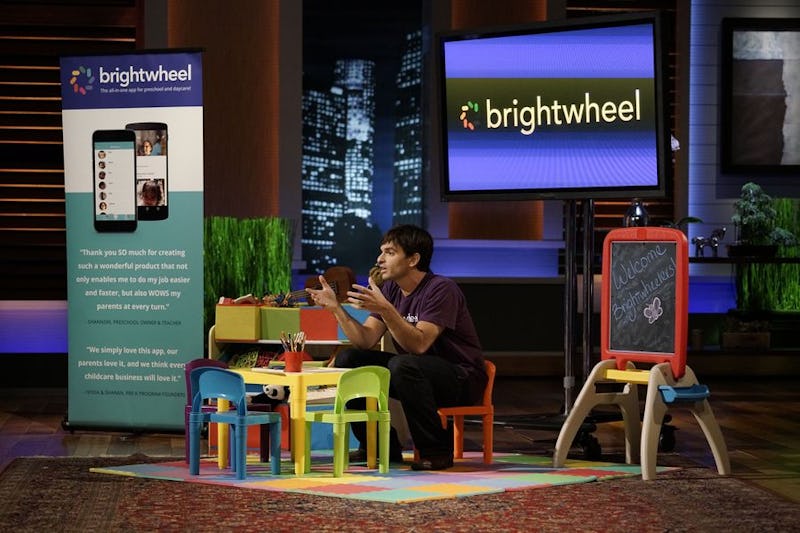 Go to your mobile app store of choice, and you'll be met with countless apps to help you get organized. However, they're usually not as specific as this one. But if you do find yourself in the target audience for the mobile app Brightwheel from Shark Tank , you'll wonder if it's available. Trust me.
Personally, there's a lot about Brightwheel that intrigued me right off the bat. The first image I saw of the company was the one above of founder Dave Vasen sitting at a table with colorful chairs that are hilariously too tiny for his adult-sized body. Brightwheel's simple, multicolored logo is also visually striking and probably one of the best I've seen from a company on Shark Tank.
All in all, I think the idea for Brightwheel is really clever, and it looks like its execution is going to make people's lives easier and maybe even happier. Those are definitely ingredients for a successful Shark Tank product.
However, Brightwheel is not necessarily going to be an easy sell for Vasen in the Tank. It's an app that does a lot, so he's going to need to make sure his pitch is clear, focused, and gets to the point. Mobile apps can also be a hard sell since competition is so steep and the way to make major money off of them is not always apparent.
But overall, I have faith in Vasen and Brightwheel. Though mobile apps have failed to snag a deal in the Tank before, they have also done extraordinarily well on the show.
Which category will Brightwheel fall into when Friday night's new episode of Shark Tank airs? We'll have to wait and see to find out. Until then, get yourself all nice and organized and get a background in Brightwheel below.
It's Here To Help In Early Education
Brightwheel is a mobile organization tool designed for use in early education, such as daycares and preschools, according to the company's website. It has A LOT of features, but some of the things that it helps administrators and parents with is paperless billing, a digital check-in and check-out to more easily and efficiently keep track of when children come and go, and automated daily reports personalized to each family that include activities, notes, and photos, Brightwheel's website describes. Say goodbye to all of those other programs and papers because it sounds like Brightwheel is all you really need.
With Brightwheel, Everyone Wins
Brightwheel's goal is to make managing early education more streamlined and enjoyable for parents and teachers alike. Brightwheel makes life a lot easier for teachers, who have to think about both education and business since early education is largely private in the United States. It does this by helping with managing calendars, family contact info, and invoicing families, according to the company's website. Parents can also benefit from this system by getting real-time updates on what their kids are up to throughout the day, easily sending messages to the school, and adding other loved ones to the community to share in witnessing their children's progress, the website said. And of course, when these two groups of people have an easier time at doing all of this, they can then focus on the most important thing: making sure the children receive the best care and education possible.
It's Got Some Major Backing
Even before it stepped into the Tank, Brightwheel had some experience wowing investors. The company raised $2.2 million in seed funding upon its launch in June 2015, TechCrunch reported at the time. These investors include CrossLink Capital, Eniac Ventures, Golden Venture Partners, Red Swan Ventures, RRE Ventures, and Sherpa Ventures, according to Brightwheel's website. Will the company soon be able to add a Shark to that list?
It's Almost Too Good To Be True
Not only is Brightwheel available now to download for iOS and Android devices, as well as access through the web, but you can use the app for free. That's right. It costs zero dollars to download.
The company explains the rationale for its pricing (or lack thereof) on its website: "We're a mission-driven company that's passionate about making an impact in early education, something we're already seeing and measuring today. That's why we're committed to always offering a free version for schools and daycares around the world."
However, Brightwheel is exploring a premium option that includes all of its usual features plus things like more customization, advanced reporting and analytics, and live 24/7 support, according to the company's website. You may want to shell out some dough for Brightwheel, after all.
The Founder Has A Wealth Of Experience In This Area
Vasen has worked in tech and education for years, so combining the two when he founded Brightwheel was kind of a no-brainer. He has worked for companies like Amazon, Teach for America, and AltSchool in the past, according to his LinkedIn page. It sounds like Vasen was always working toward something like Brightwheel, whether he realized it or not.
It's A Big Advocate For Early Education
I know what all of you cynics out there are thinking: Of course Brightwheel is committed to raising awareness of the importance of early education because without early education, there is no Brightwheel. However, if you could just check your jaded self at the door for a second and read some of what the company is promoting in regards to early education on its blog and on social media, you might just learn a thing or two for the better.
Here's hoping Brightwheel aces its appearance on Friday night's new episode of Shark Tank.
Images: Michael Desmond/ABC; Giphy