13 Sewing YouTube Channels To Follow Immediately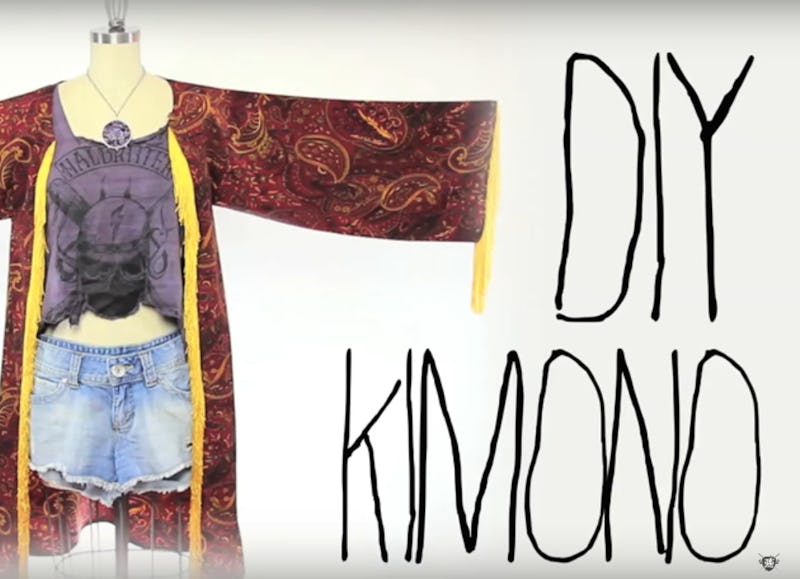 My New Year's resolution was to get into clothes-making. And, as with all New Year's resolutions, it's taken me until April to actually bother trying. The first stop in my learning journey: Finding the best YouTube sewing channels. Monkey see, monkey do; so by watching these seamstresses make clothes step by step, it's been way easier for me to learn how to sew than attempting to figure things out on my own.
Considering these vloggers are experts in their craft — self-taught or otherwise — their videos range from the extremely basic to the extremely profession. This suits me perfectly, seeing as I even had to watch a tutorial in order to work out how to set up my sewing machine. It may look easy, or seem like a fun hobby to get into, but sewing takes a lot of hard work and an equal amount of talent. (As well as more patience than a mother of three.)
These sewing YouTube channels work both as education and inspiration. Right now I'm focusing on simple skater skirts and dresses, but who knows? With these accounts in my arsenal, maybe I'll be making shirts and evening gowns by the end of the year. If you're at all interested in sewing, I highly reccomend stopping by these 13 pages.
1. Pink Chocolate Break
With her YouTube playlists split up by garment — as well as difficulty level — Jocelina of Pink Chocolate Break covers anything and everything you may want to make. All in bright prints and with a big smile, Jocy's videos will fill you with confidence in your abilities.
2. Q2HAN
The channel of two twin sisters, this YouTube page doesn't just cover clothing construction, but makeup tutorials, home DIYs, and accessory-making as well. It's a one-stop-shop for all your homemade needs.
3. Thread Banger
Sewing taken out of the realm of femininity, this DIY channel is full of fun experiments as well as more punk rock sewing tutorials. As they put it, this is "not yo' mama's DIY channel."
4. Boat People Vintage
Unfortunately, Boat People Vintage haven't uploaded anything for about a year, but that doesn't mean the tutorials they still have up aren't worth it. It's a more hipster take on the craft of clothes-making, but that means you can recreate styles you would've spent $75 for at that Brooklyn thrift store.
5. Sew Marm
The comforting casualness of these sewing tutorials makes me happy. It's like being taught how to sew by your best friend's mom. With a lack of flashy edits or graphics, you know this is all about the sewing itself. Although it's another forgotten channel, it's still one to check on when you need help with the basics.
6. Smarmy Clothes
Home to a heck of a lot of music videos as well, Smarmy Clothes has a playlist that's all about crafts; and within it, there are a lot of great sewing tutorial videos. It's totally worth a subscription, even if you aren't interested in their band, The Extreme Unicorns.
7. Professor Pincushion
Professor Pincushion updates every Tuesday, meaning if you want to set yourself the goal of a project a week, this channel is all you really need. Tackling harder sewing techniques like embroidering eyelets or creating tulip sleeves, Professor Pincushion takes things step by tiny step, so even a beginner won't get that confused.
Want more fashion and beauty? Check out the playlist below, and be sure to subscribe to Bustle's YouTube page for more hacks and tricks!
8. Stitchless TV
This British channel is all about teaching beginners how to sew. If you're going to start somewhere, start with these guys. Covering the basics and leading you into more complex territories, this is the perfect channel to get you started.
9. Threads
Coming from Threads Magazine, this channel is very professional, but in a way that is nowhere near as intimidating as you might think. From time to time, they may try to sell you something. But the free content is definitely worth the hard sell. Just beware: A lot of these videos are niche, or take a lot of experience and knowledge.
10. All Free Sewing
This channel does exactly what it says on the tin: Hundreds of free sewing tutorials from bloggers, designers, and sewing experts. From projects for kids, to recycling your original clothes, to sewing 101 classes, this channel really offers it all.
11. Angela Kane Sewing TV
Here's another channel representing different sewing courses that you can purchase online. But if you're not interested in paying, don't worry. Angela Kane's page is nothing if not meticulous, often dedicating more than one video to the construction of a garment — including a 17-part series on making your own coat. It's definitely a great channel for long-term projects.
12. Craftsy
Craftsy is all about crafts (clearly). From quilting, sewing, and knitting to cooking and baking, this channel has everything you could've dreamed on regarding DIY. Just try not to get caught up in all the other fun tutorials. You're here to learn to sew, remember?
13. The Crafty Gemini
The Crafty Gemini doesn't just upload DIY tutorials in English, but also has a channel entirely in Spanish: La Crafty Gemini. Another all-rounder for DIY projects but with weekly uploads, this channel posts sewing tutorials often enough that it's worth subscribing.
If you learn by watching, these tutorials should help see you through becoming the fashion designer you always wanted to be. OK, you might not be the next Vivienne Westwood, but think of the thrill you'll get when someone asks where you got that cute skirt and you can reply, "Well, I made it."
Image: Thread Banger/YouTube