21 Super Versatile Plus Size Skirts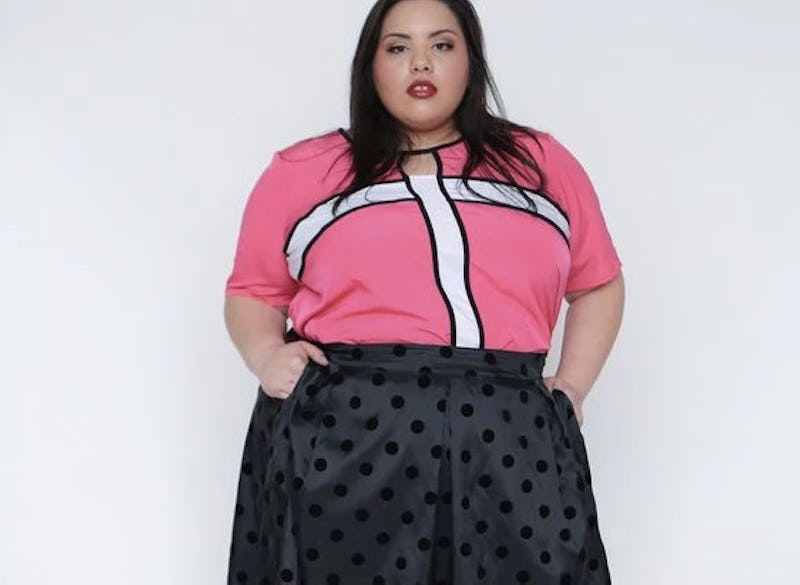 Skirts are such a fun and easy way to dress an outfit up a notch, and so many wonderful independent and contemporary brands are making fabulous plus size skirts for every occasion. With options ranging from pencil to A-line, mini to midi, there's a skirt out there that's bound to make you feel amazing.
Skirts are also a good way to work new trends into a plus size wardrobe, especially if you're just learning to break fashion rules. If you normally never wear fitted clothes but would like to try, a tailored pencil skirt in a midi length and neutral color might take you a step outside your comfort zone without making you feel too exposed. If you've been dying to show off your legs, but aren't used to revealing much skin, a longer skirt with a subtle side slit should help you experiment with a more daring look on your own terms.
Another thing I love about skirts is that they are so incredibly versatile. With a quick change of jackets or accessories, the same piece can take you from your nine to five, to a friend's art opening, to dinner and dancing. For all the busy women of today, this adaptability is often essential when you're juggling work, play, and everything in between. So if you're looking for a fun new item that you'll get a ton of use out of, check out these 21 gorgeous, wear-anywhere designs.
1. Twirl-Worthy
Lorri Skirt, Sizes S - 3XL, $64, Rue 107
This flirty skirt won't cramp your style, whether you wear it to a ballroom dance class or a day at the office. And with such a great combination of a radiant peach shade and breezy movement, you won't be able to resist a spin (or two).
2. Hit The Spot
Connect The Dots Skirt, Sizes 1X - 4X, $54, Re/Dress
Dress up basic black with a winning combination of pleats, pockets, and polka dots. If you work somewhere with a less-than-exciting office dress code, this skirt is a good way to bring a little fun into a neutral business wardrobe.
3. Easy Essential
Cinched Body-Con Skirt, Sizes 00X - 5X, $34.90, Lovesick
There are likely some pieces in your closet that you reach for over and over again because they work with absolutely everything in your wardrobe. This super-soft, ruched pencil skirt is sure to become your next go-to piece with a deep charcoal hue, body-loving fit, and below-the-knee hemline that can transition from office to cocktails with ease.
4. Prints Please
Cyrene Floral Stripe Pencil Skirt, Sizes 0X - 3X, $28.90, Fashion To Figure
If neutrals bore you, try a classic pencil skirt updated with a pastel pattern of sweet florals and dramatic stripes. Because taking care of business is more fun when you feel fresh and fabulous.
5. It's Black And White
High Waist Geometric Binding Pencil Skirt, Sizes 1X - 3X, $130, Jibri
If you love a graphic, minimalist statement, this black and white skirt from Jibri will knock your socks off. Balance your favorite crop top with the high waist, or tuck in an equally bold blouse for a pared-down take on a retro silhouette.
6. Marvelous Midi
Belted Colorblock Poplin Skirt, Sizes XS - 6X, $49.95, Eshakti
If you like a skirt with some extra coverage, or you just want to try out the ever-popular midi-length, give this color-blocked number by Eshakti a try. Made from a crisp, light cotton poplin, this skirt will keep you cool and comfortable all summer long.
7. Pink Perfection
Ribbed Knit Column Skirt, Sizes 14 - 24, $79.90, Eloquii
If Nicolette Mason is your style icon and you've never met a pastel you didn't like, then you'll adore this cream and candy-floss pink ribbed knit skirt. A ladylike office option with heels and a blazer, this piece would look just as amazing toughened up with a leather moto jacket, ripped tights, and Dr. Martens.
8. Flirty Florals
Pros And Convertibles Skirt, Sizes XS - 4X, $59.99 Modcloth
Easy enough for a lazy weekend, yet cute enough for date night, this navy and pink floral skirt is as cheerful as it is versatile. The balanced palette of bright and neutral shades means that it can be paired with a sharp navy blazer or a hot pink tee shirt with equal ease.
9. Sexy Staple
Didot Unzip Skirt, Sizes 10 - 28, $110, Universal Standard
The epitome of day-to-night flexibility, this knee length skirt can go from buttoned up to subtly sexy in seconds by unzipping the front slit. The substantial cotton stretch sateen construction adds a slightly dressy touch while remaining comfortable enough to wear all day long.
10. Dressed-Up Denim
Faux Button-Front Chambray Skirt, Sizes XS - 6X, $44.95, Eshakti
Try out the chambray trend with a work-ready midi skirt with all the right details. From faux button embellishment to a self-tie waist, this dressed-up denim essential will have you ready for whatever the day might bring.
For more body positivity, check out the podcast below, and be sure to subscribe to The Bodcast for more inspiration.
11. Not-So-Neutral Navy
The Allison Pencil Skirt, $40, Sizes XXS - 6X, Smart Glamour
Neutral color needn't be boring, especially when paired with a striking floral print. If navy isn't your shade, you can also get this design customized in a slew of gorgeous fabrics ranging from bright to pastel to metallic for all your wardrobe needs.
12. Shine On
Jessica Kane Silver/Gold Pleated Skirt, Sizes 14 - 32, $74.99, Society Plus
Dress up your favorite basics with this gorgeous metallic pleated skirt from Society Plus. With a white blouse, it can add a little excitement to workwear; with a sexy bodysuit, it'll be a party-worthy showstopper.
13. Do The Splits
Jordan Split-Front Skirt, Sizes 1X - 3X, $118, Monif C.
Get some sophisticated drama in your day with this vividly patterned, slit-front creation. Dress it down with leggings, a T-shirt, and white sneakers, or go all-out with a sexy, shoulder-baring top and strappy heels.
14. Citrus Shades
Box Pleat Neoprene Skirt, Sizes 12 - 26, $49.50, Ashley Stewart
Pretty box pleats and a bright, citrus shade combine in one flirty statement piece that you'll love for spring. Use the bold color to mix up an otherwise neutral outfit, or play up this highlighter hue with contrasting brights like cobalt blue or poppy pink.
15. Pale Pleats
Sunray Pleat Skirt, Sizes 12 - 22, $45.99, SimplyBe
Another office-to-going-out staple, this pleated white skirt is an on-trend essential with endless mix-and-match possibilities. The airy shape and elastic waist make it as comfortably easy as it is chic.
16. Athletic Appeal
So Smitten Skirt, Sizes 14 - 24, $69, City Chic
Add a sporty touch to any outfit with this swingy mesh skirt. Fully lined and hitting just below the knee, it's a work-friendly way to add a cool and casual trend to your daytime look.
17. Dressed-Down Details
Pocket Skirt, Sizes 8 - 28, $57.50, SimplyBe
Inject a little carefree cool into your look with a simple shape and functional details like an adjustable D-ring belt and patch pockets. The rich, rust shade is particularly popular this spring, which is great if pastels don't really rock your boat.
18. Luxe Lazercut
Neoprene Panel Skirt, Sizes 12 - 24, $203, Anna Scholz
You'll enjoy all the thoughtful details of this gorgeous neoprene midi skirt. From the lazercut floral pattern to the exposed back zipper, you'll likely find even more to love about this piece every time you wear it.
19. That's A Wrap
Cascade Drape Skirt, Sizes 12 - 26, $148, Mynt 1792
A military-inspired olive green hue is softened by draped details in this unique wrap skirt. With this flexible essential, staying on trend at your nine-to-five will be a snap.
20. Lipstick Love
Lola Skirt, Sizes 14 - 28, $165, Beth Ditto
When you need some intense yet wearable glamour, turn to this fitted, lipstick print skirt from singer and fashionista Beth Ditto. The bright, adorable print and back ruching are super sexy, but the length is long enough that you can wear this piece for almost every occasion.
21. Cool Convertible
Red Convertible Cupcake Dress/Maxi Skirt, Sizes S - 5X, Ready To Stare
What better solution to versatile dressing than one piece you can wear two ways? Wear this item as a quirky, high-fashion party dress, or as a fun and dramatic maxi skirt.
When you need maximum style and adaptability with minimum fuss, a great skirt will get you where you need to go every time. And, with all these fantastic styles to choose from, picking the perfect outfit for your busy day just got a little bit easier.
Images: Courtesy Brands