Kittens Were Rescued After Someone Colored Them In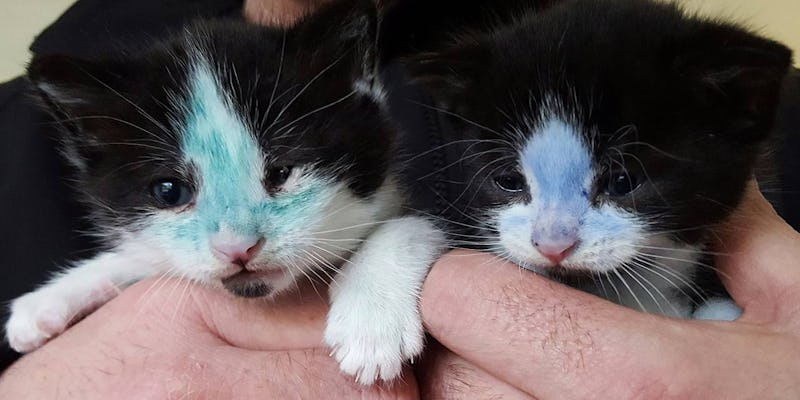 Too often we turn a blind eye to mistreatment of our furry friends, but hopefully that will soon change. Two kittens who were rescued after someone colored them in with marker have become the Facebook poster-cats for the fight against animal cruelty. The kittens were found by police and taken to the Bradford Cat Watch Rescue shelter in Bradford, West Yorkshire on April 25th. They were dubbed Shrek and Smurf by volunteers, as one was covered in green ink and the other blue. From the intense smell, they believed it to be permanent marker.
In a Facebook post Katie Jane, a volunteer at the charity, voiced her horror at the situation, writing, "Here at BCWR KITTENS we often consider ourselves to be unshockable..... we have dealt with most situations but this is a first."
Jane was concerned for the sensitive skin of the kittens, who are thought to be only four to five weeks old, writing, "This is a dreadful act of cruelty and who knows what untelling damage this may have caused." In a later Facebook post, Jane said that the police had no idea who was responsible, but they do not believe that any children are to blame. Jane writes that the police were on the scene responding to another "animal welfare issue involving a dog and drug related offenses" when they luckily discovered the cats.
The shelter contacted vets to find out the best course of action for removing the ink, settling on giving the kitties a gentle scrub. However, after bathing the impossibly cute kittens multiple times, the blue and green marker was still visible.
Katie Jane's Facebook posts quickly went viral; the online is community responding with shock and horror. Many have left comments voicing their disgust and outrage over this act of cruelty. One Facebook user wrote, "This has shocked me to the core. Vile disgusting specimens that call themselves human beings. Bless the kittens and they are safe and well looked after now." The original post has been shared over 5,000 times, and has raised awareness for animal rights and the BCWR shelter. Shrek and Smurf have gone from forgotten to instant Facebook celebrities.
Katie Jane has asked the community to donate to the charity shelter that saved them, "Many of you know that we are run entirely by volunteers and look after the most sick, injured and abused cats and kittens imaginable... We cannot provide this care without your support ... our vet bill this month stands at just over £4000."
Just like their namesakes, the story for these two kittens has a happy ending. Shrek and Smurf, while having to endure more baths than any cat would like, are on the mend, and the ink is almost faded away. Jane writes in her most recent post, "Well this little pair are doing really well. We have been nursing these kittens for the last 36 hours and they are now much brighter... in personality." Soon the kitties will be back to normal and ready to go to a happy home.
With an adorable meow like that, these cats will surely have potential parents queuing up to adopt them.
Images: TylerSmith/Unsplash, BCWRKittens/Facebook