7 Expert Tips On Arm Bumps From Keratosis Pilaris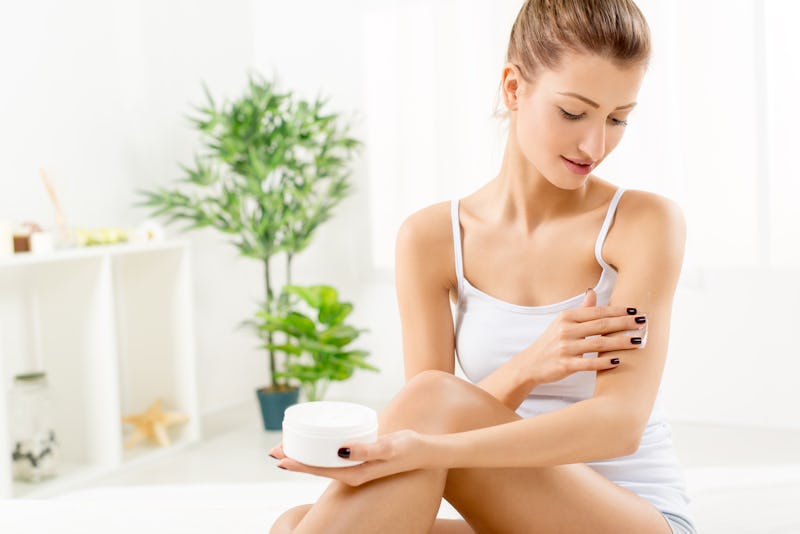 I've had keratosis pilaris for as long as I can remember, but up until about two years ago, I had no idea what it was, what caused it, or how to treat keratosis pilaris. It was annoying, sure, but since it seemed harmless and didn't cause any other health problems, I lived with it for a really long time. Rather than attempting to explain it, I told people that they were goosebumps (which worked wonderfully from October to April, and not so well from May to September), and put it to rest.
Now I know that keratosis pilaris (also known as chicken skin) is a common problem that affects a lot of people, but it's totally manageable. I also know from personal experience that it's heavily influenced by your diet and getting the right vitamins, but I didn't know too much about topical solutions. That's why I enlisted the help of Dr. Amy Wechsler, a NYC dermatologist and psychiatrist, to shed a little light on the matter. "About 54 percent of people have keratosis pilaris," she told me. "It's caused by thick plugs of skin in the hair follicles." She also provided me with a whole lot of insights as to what someone can do in order to fix it, and with her help, I was able to put together a few tips and tricks for dealing with keratosis pilaris.
Use A Cream With Urea In It
Topix Urix 40 Urea Cream, $33, Amazon
When I asked Dr. Wechsler which topical solutions work best, one of her main suggestions was, "Urea creams!" Urea is a compound that helps to soften and dissolve buildup of skin, and that's why Topix Urix's cream makes a great addition to anyone's anti-KP routine. It's a lightweight formula, but it's deeply moisturizing, and because it's made with 40 percent active Urea, it's an awesome way to loosen up all that extra keratin buildup. Reviewers love it because it's odorless, easy to apply, non-greasy, absorbs quickly into the skin, and actually works.
Utilize The 10-And-2 Proportion
Glycolix Elite Pads, $18, Amazon
Another suggestion from the expert herself: "[The combination of] glycolic and salicylic acid is best," and Dr. Wechsler suggests the proportion, "10 percent glycolic and 2 percent salicylic." Glycolix Elite provides just that in an easy-to-use pad, along with other healing and toning ingredients like witch hazel. They're unscented, great for use on any affected body part, and because the saturated pads come in a convenient jar, they're wonderful for on-the-go. One reviewer in particular commented, "They'll have to pry these out of my cold, dead hands," and other users are just as attached.
Find A Facewash That Targets Chicken Skin
Glycolic Acid Exfoliating Cleanser, $17, Amazon
For stubborn KP on your cheeks and jawline, this exfoliating cleanser provides the miracle mixture of glycolic acid and salicylic acid that Dr. Wechsler talked about, along with other ultra-healing ingredients like olive oil, rosehip oil, jojoba oil, and tea tree — all this in the form of a convenient face wash. It also has jojoba beads, which are natural and biodegradable exfoliants that help to gently unplug stubborn pores. This one brightens your complexion as it cleanses, and is great for everything from age spots to acne scars.
Harsh Exfoliation Can Do More Harm Than Good
Pure Body Naturals Tea Tree Oil Scrub, $15, Amazon
Most people turn to exfoliation when it comes to removing those stubborn plugs of keratin. However, when I asked Dr. Wechsler about it, she said, "It really depends on the severity of the keratosis pilaris. Aggressive exfoliation can actually make it worse." That's why it's imperative to find a gentle, natural exfoliator that won't irritate skin. This Pure Body Naturals tea tree oil scrub uses dead sea salt and essential oils like chamomile, spearmint, and tea tree to buff away old skin while gently nourishing the new skin underneath. Because of the nature of tea tree oil, this scrub also works to fight bacteria, and reviewers say that, after trying everything else, their skin is finally smooth to the touch.
Use Urea In The Form Of A Spray
Nu Skin Napca Moisture Mist, $11, Amazon
For the convenience of urea in a simple spray, there's Nu Skin Napca mist. It's lightweight, fragrance-free, absorbs quickly, and won't leave a sticky residue behind, and it still softens and moisturizes skin in a matter of seconds. Reviewers say its results last way longer than other creams and moisturizers, so arms and legs stay soft, hydrated, and bump-free for hours on end. Plus, because it's "wonderfully calming," it's great on any type of skin — even the extra-sensitive kind.
Try A Best-Selling Skin Lotion With Salicylic Acid
Cerave Renewing Skin Lotion, $11, Amazon
This is one of the highest-rated solutions for topical keratosis pilaris treatments, so it's no wonder that salicylic acid is one of its main ingredients. Cerave Renewing lotion is a lightweight formula that was developed by dermatologists to help ease dried out skin. It includes vitamin D and antioxidants, which are known to help reduce the effects of KP, and because it's smooth and non-greasy, it absorbs right into the skin instead of sitting there on top of it. Most importantly, reviewers are astounded by how effective this cream is. "I am in such disbelief," one reviewer says, "but when I look in the mirror the proof is right there.
Consider An All-Natural Approach, Too
Hello Cider Wipes, $17, Amazon
For anyone looking for a more natural remedy, apple cider vinegar is chemically related to the same glycolic acid that we've been talking about. These Hello Cider wipes make an awesome and convenient treatment for redness, bumps, and blocked pores because they contain a mixture of organic apple cider vinegar, tea tree, and rose water. They're especially great for people who have ultra-sensitive skin, and reviewers say that they're both hydrating and tough on breakouts at the same time. A pack of 15 comes in a cute canvas bag that's great for travel, so your KP treatments don't have to stop when you're on the go.
Bustle may receive a portion of sales from products purchased from this article, which was created independently from Bustle's editorial and sales departments.
Images: Fotolia (1); Amazon (7)