11 Ways To Step Out Of Your Beauty Comfort Zone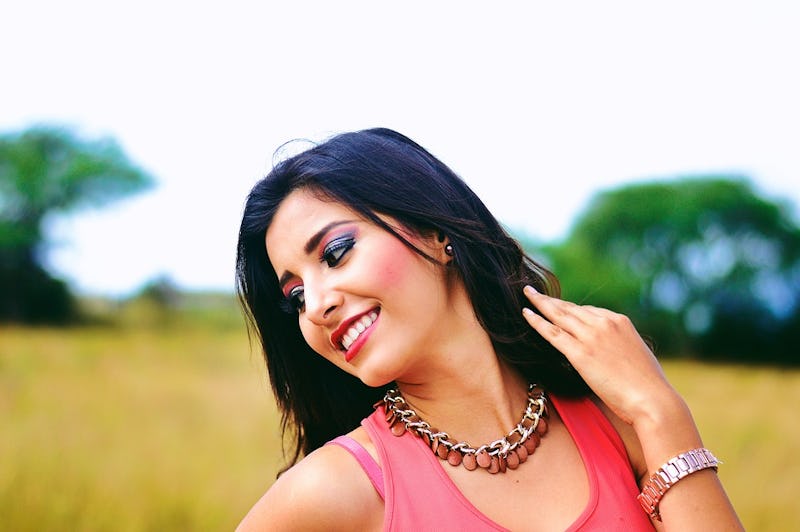 Neutral eyes and boring lip colors are both great, but sometimes it's fun to mix it up a little. It's time to break out of our beauty comfort zones, and explore all that the world of beauty has to offer. Trust me, there's so much more to makeup than your standard smoky eye. Give yourself more range for self expression by pushing your own beauty boundaries. Whether it's choose a bold lip color or using sequins as body art, there is no limit to what you can do with the power of makeup.
Personally, I understand how easy it is to get stuck in a makeup rut. Whether you're constantly on-the-go or simply lacking inspiration, it's easy to get caught up in a routine with your beauty look. However, it's time to change all that. Why not take a risk with your hair and makeup? It will wash off, after all. Makeup is a fun form of artwork, and something you can change daily. So, go ahead, and buy that new purple liner that you've been eyeing. Who knows? That small change may do wonders for your own self image. Here are 11 easy ways to break out of your own beauty comfort zone.
1. Start With Bold Eyeliner
Sometimes we all need to start out with baby steps.
2. Bump It Up To Colored Eyeliner
Nothing says, "Hello, I'm fierce" quite like magenta eyeliner.
3. Go Bright All Over
Brightly colored makeup looks good on practically everyone.
4. Embrace Your Dark Side
Because darkly hued makeup is hot.
5. Try A Different Technique
You don't always need to contour.
6. Try Out New Formulas
Makeup is all about having fun, after all.
7. Embrace Your Wild Side
Sequins, bold lips, and a killer eye look? Sign me up!
8. Try Self Tanner
Glowing skin is always in.
9. Play Around With Hair Chalk
Experiment with different looks and colors by using hair chalk. It's an easy way to try out that purple ombre you've always wanted.
10. Or Dye It Yourself
Mermaid hair, don't care.
11. Even Dye Your Armpits
Because why not?
No matter what you do to break out of your beauty rut, just do it. It's a fun, simple way to rediscover you love of all things beauty.
Images: Pixabay (1)