Erasable Tattoo Ink Is Happening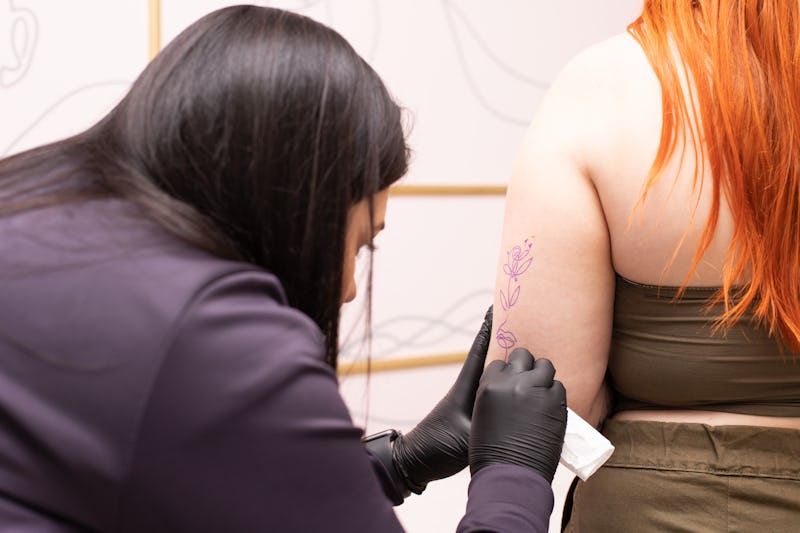 Thais Ceneviva/E+/Getty Images
Love tattoos but always been hesitant to make that kind of body ink commitment? With new erasable tattoo ink, getting (and getting rid of) tattoos just got much, much easier. The ink itself is still under development, but scientists are reportedly making serious headway in successfully pulling this off.
As shared on POPSUGAR, a team of NYU scientists are behind the magic that is Ephemeral Tattoo. Ephemeral's site breaks down exactly what they're crafting, and explained that you would get tattooed specifically with ink designed by Ephemeral, rock the tattoo for as long as you wanted, and then be able to easily remove it with a follow up solution. But what's extra exciting is that, beyond removal, Ephemeral Ink would make it super easy to erase only small pieces of your tattoo, or tweak the ink to create a new tattoo look entirely. It's an indecisive ink commitment-phobe's dream come true!
No one has details on when exactly this ink will be released, nor is there much about what the ink is made of, but you can subscribe to the website for email updates on how the product is evolving. I, for one, know I'll be adding my email...
In the meantime, get inspired for your next permanent (or easily removable!) summer tattoo below.
1. Palm Trees
Summer vibes to the max.
2. Moon Sliver
For those long, dreamy nights.
3. Infinity Symbol
Can we stop and appreciate this magic?
4. Rainbow Waves
YAS ocean.
5. Floral Bliss
#Swoon. Yes, these are temporary too, but aren't you always so sad when those gorgeous designs wash off in the shower? I personally can't wait to start getting seasonal tattoos that last for months.
Images: Thais Ceneviva/E+/Getty Images