What Movies About Disabilities Get Wrong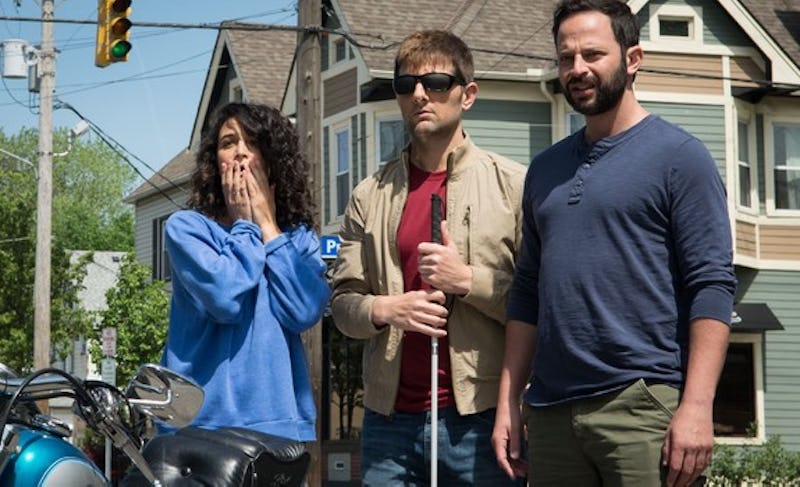 For most directors, making a movie about a person with a physical disability would seem like a risky move, due to how easily even the most well-meaning films can turn offensive. And making a comedy about a person with a physical disability? Many wouldn't even tempt it — yet that's exactly what director Sophie Goodhart did with her new film My Blind Brother . The movie, starring Adam Scott as a blind athlete, Nick Kroll as his resentful brother, and Jenny Slate as the guilt-ridden woman who gets between them, screened at the Tribeca Film Festival to rave reviews, with many critics actually praising Goodhart for taking on a subject that's rarely portrayed as fodder for humor, which the director tells me she's proud to have done.
"There's something really patronizing about how disabled, or differently abled people are portrayed in film," she says, "in that it's kinda like, 'ah, they're amazing, aren't they wonderful?'"
Instead, Goodhart, who was inspired to make My Blind Brother by the anger and jealousy she felt towards her sister, who has MS, says that those individuals deserve to be fully-formed characters — which is why she made Scott's Robbie mean, selfish, and a total narcissist.
"Anyone has as much right to be a d*ck as anyone else," Goodhart says. "Just because you're blind doesn't make you kind and perfect. You still can be just as much of an egotistical maniac as anyone else."
Goodhart says that she "never really worried" about offending audiences through her portrayal of a less-than-perfect disabled character, but quickly adds with a laugh that "it's not that I don't give a sh*t" — she just felt that it was important to show that a person's physical disability doesn't give them a free pass on being a good human being, and that their loved ones, like Kroll's Bill, are allowed to struggle with their feelings about them.
"I really didn't want to portray anyone with disabilities in an uninteresting way, but I also thought that it was important to portray Bill's resentment and his irritation with his brother's disability," explains Goodhart. She recalls that when learning her sister was diagnosed with MS, she was surprised by the complexity of her emotions; although she felt, of course, that her sister's condition was sad and unjust, she also found herself feeling something unexpected — envy.
"If we're both sitting on the sofa reading Danielle Steel, she's the more impressive one, and I'm just being a lazy sh*t," says Goodhart. "That was something that I found surprising and original, and a thing I hadn't seen filmed."
So, in 2003, Goodhart made My Blind Brother as a short film, a move that would earn her a Palme D'Or nomination at Cannes and get her shortlisted for an Academy Award. 13 years later, it's a feature film starring three of Hollywood's most in-demand comic stars, something Goodhart says she couldn't be happier about. "They're so perfect for the roles," she says, noting how, as Robbie, Scott nimbly switches from being "selfish and self-aggrandizing" to "vulnerable and disappointed," giving his character an affecting complexity. Slate, meanwhile, is "clever and courageous," Goodhart says, in the role of Rose, a woman who ends a romance with Bill before befriending, and eventually dating, Robbie. All together, the three lead actors show off an easy chemistry that made My Blind Brother a must-see at Tribeca, and afterwards; Starz will release the film in theaters and on VOD later this year.
So if you choose to check it out (and you should), just be warned — My Blind Brother is not your typical film about living with a disability. But in Goodhart's hands, that might just be a very good thing.
Images: Starz