11 Ways To Rock A Backless Dress With Big Boobs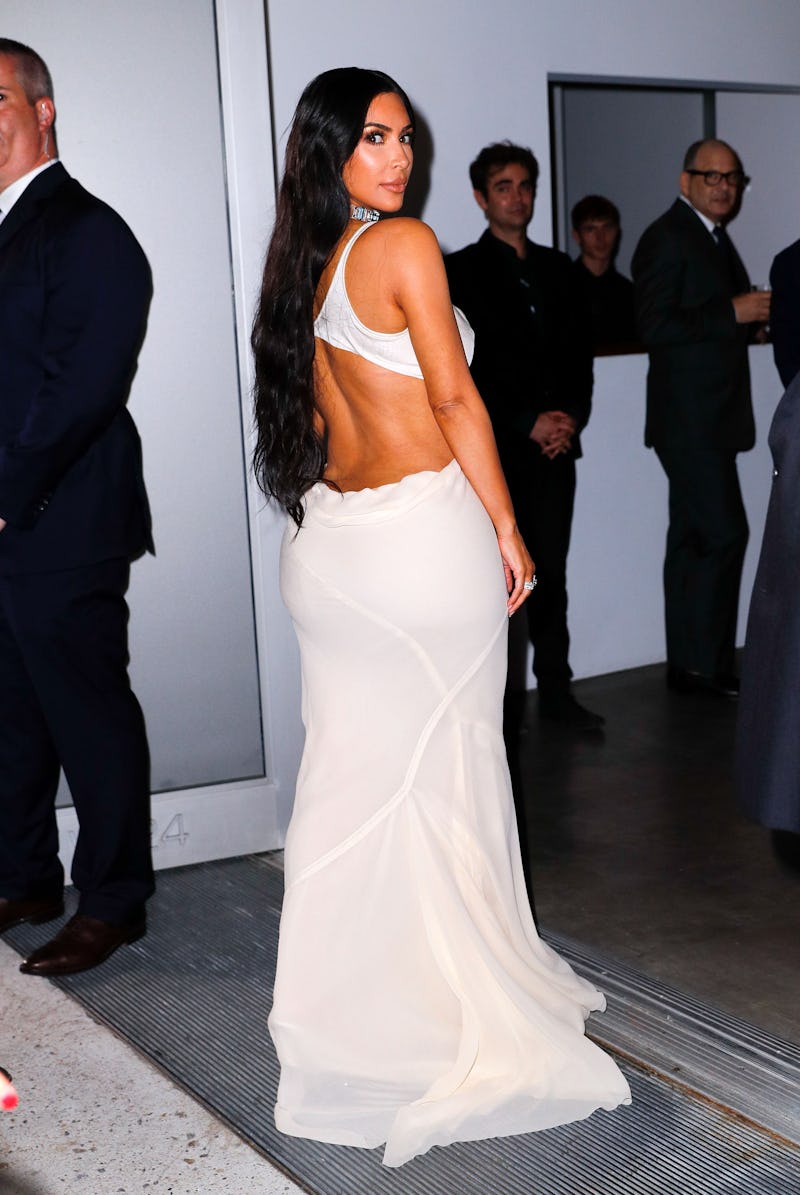 Gotham/GC Images/Getty Images
Having big boobs is both a blessing and a curse: Others sometimes wish they had them, your back definitely wishes you didn't, and your clothing just wants to make things difficult for you. The worst offender? Wearing a backless dress with big boobs, no doubt. Do you bra or do you not bra? Do you Kim Kardashian tape your boobies under your chin or just let them swing free? Or do you solemnly accept that backless dresses weren't made with your G cups in mind and choose something else — something super supportive — to wear to that party?
Not to worry, though. I've got your back (literally). Wearing any item of clothing can be a struggle when you have big breasts, IMO. No longer are we in an era of Baywatch, Pamela Anderson-esque booby trends, when every other shirt and dress out there seemed to cater to a fuller bust. But until big boobs come back into fashion, there are ways to navigate through a sartorial period that's seemingly leaving those of us with bigger breasts at the wayside.
The main way to rock the backless look is to stop caring about what others might think. It's hard, I know, but it'll definitely make wearing whatever the heck you want much easier. Until you reach this level of self love enlightenment, consider some of these tips and tricks for wearing beautiful backless dresses, regardless of your cup size.
1. Embrace Those Breasts
Just to reiterate, the easiest way to look good in something backless when you have big boobs is to stop thinking about what society and mainstream media might perceive as "looking good." Whatever your boob shape, and no matter which direction your nipples may be pointing in, the only person truly stressing over the bit of sag on your breasts is usually you.
2. Rock The Bra Strap
You know what? Showing off a bit of bra can be totally sexy. I definitely wear a bra with some of my backless dresses if I'm not comfortable without the support. Nobody's likely to call you out, and if they do, just call it a "look" and sneer like they don't understand fashion.
3. Opt For Sew-In Cups
Braza Sew In Cups, $10, Amazon
This is bit old school, but if you're really dedicated to wearing a particular backless dress, then consider purchasing some sew-in cups and place your own support into said dress.
4. Pull A Kim Kardashian
Even my mom was impressed by Kim Kardashian's boob tape trick, where you place duct tape on your shoulders and down to your under-boob so that nothing moves or slides beneath your clothing. But be sure to follow my mother's advice: Cover your nipples with adhesive pads first, so they don't get ripped off when you remove that tape.
5. Get A Matching Bra
If your bra is fancy AF, then it'll amp up the sexiness of your outfit when you reveal it! Plus, if you spent $50 on something, why would you want to hide it away?
6. Try Some Nipple Pasties
Glitter Pink Seashell Pasties , $10, Amazon
I know that a big concern people have with going braless is those pesky nipples. So consider covering them up, and nobody will be any wiser as to where your nips may or may not be located. You can even liven things up with some super cute pasties, so you don't feel like a nipple-less ghoul when it comes to getting undressed.
7. Go For A Halter Dress
Halter Chiffon Maxi Dress, $73, asos.com
My favorite thing about wearing a halter is not having to wear a bra. If you're going to get a backless dress, consider investing in such a style. It'll offer you support and all the backless beautifulness you ever wanted.
8. Opt For An Invisible Back Bra
Women's Strapless Clear Back Bra, $10, Amazon
The see-through plastic back of one of these bras will be a good enough illusion of braless-ness from a distance.
9. Go For Built-In Cups
Dress With Harness Detail, $78, asos.com
Similar to opting for sewing in some bra cups, you can buy a backless dress with built-in cups or a really tight front that will give you all the support your ta-tas need.
10. Consider An Adhesive Bra
Boost Adhesive Body Bra, $15, Amazon
I'm skeptical about these bras for bigger cup sizes, but I have friends who swear by them. These sticky wonders should support your breasts without the burden of having straps anywhere.
11. Make A Bold Statement With A Multiway Bra
Racerback Lightly Lined Bra, $35, ae.com
Although a traditional bra will make it obvious that you just wanted to wear something with your backless outfit, bra straps moved into a halter shape or meeting in the middle should make it look like the bra is an integral part of your look in and of itself. And you'll still be supported!
There are a whole host of ways to rock the backless look when you have big breasts — from channeling self love, to converting your clothing, to finding the right bra. So get ready to have all your backless dreams come true.
Images: Courtesy Brands
Bustle may receive a portion of sales from products purchased from this article, which was created independently of Bustle's editorial and sales departments.