Electric Facials Are Getting Hotter Than Ever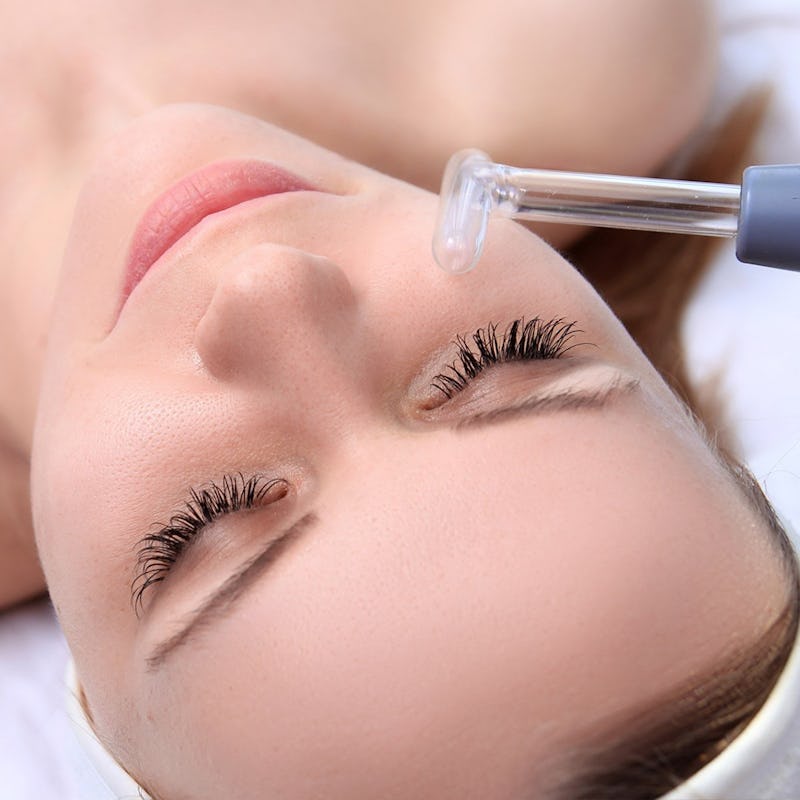 Always out to try the latest beauty craze? Well, this is one is pretty wild. Spotted on Into The Gloss, electric facials are apparently the hippest new treatment trend, and can have some serious skin-nourishing benefits. But don't worry: They sound a bit scarier than they actually are.
Dermal Institute broke down exactly what a microcurrent facial is and explained, "Microcurrent, a popular treatment for aging skin, uses low level electrical current to trigger the body's natural skin enhancement chemicals at a cellular level, giving skin therapists an effective tool against the signs of skin aging. While alternative medicine practitioners use it for injury recovery, skin therapists note that it provides firming and toning benefits that continue to improve with subsequent treatments."
Stars like Madonna and Julianne Moore are fans of the treatment which, celebrity facialist Mila Morgan told Allure, can make "dark circles and swelling under the eyes improve, fine and deep lines diminish, pores get smaller, eyes and brows lift, [and] cheeks sculpt." Dang, that's a fairly impressive list...
Given how well this electric facial works, it's not surprising that it doesn't come cheap. SB Skin NYC lists their microcurrent facials at $190 per 50 minute session, which isn't exactly a bargain.
Luckily, if you're wanting to get the electric feels for less, there are at-home options you can purchase! They all still probably cost more than your favorite sheet mask, but the amount of use you'll get out of them makes the price feel more worth it.
1. Trinity Facial Toning Kit
Trinity Facial Toning Kit, $325, NuFace
This award-winning kit recommends daily use for the most noticeable benefits.
2. ZIIP Device
ZIIP Device, $495, ZIIP Beauty
This pricey gadget is so popular it's currently out of stock!
3. High Frequency D'arsonval Home Use Device
High Frequency D'arsonval Home Use Device, $79, NEW SPA High Frequency Facials
This is, by far, the most affordable option out there! Get shocking, my friends.
Images: Courtesy of Brands