Team USA Unveils New Closing Ceremony Uniform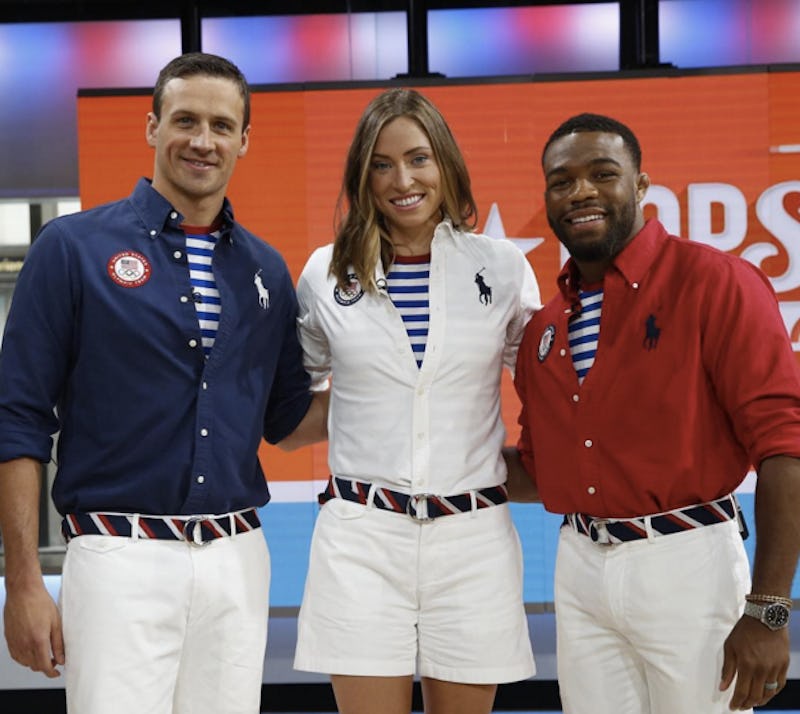 With the 2016 Rio games drawing closer by the day, Team USA has given us our first glimpse of their closing ceremony uniforms: It looks like they'll be walking tall this year in some spiffy new Polo Ralph Lauren-designed Olympic closing ceremony garb. The all-American sportswear brand went for broke with this design — it's somehow all at once part Kennebunkport sailor, part casual garden party, and part prep school.
The uniform itself comes in three variations — red, white, and blue, as you might expect. Team USA members can wear one of the three colors of button down (each bearing an oversized polo decal on one side, and a team USA insignia on the other) though the rest of the uniform is the same. It consists of a patriotic blue and white striped shirt with a red collar, and bright white shorts (Bermuda-length for men, mid-thigh length for women), all topped off with a royal blue belt garnished with red and white diagonal stripes. Taken together, it's an outfit that wouldn't look out of place on a picturesque midcentury yacht, so it's safe to say that this year's Olympians will have panache to spare at the closing ceremony.
Pretty much preppy to the max, right? At any rate, it's a Ralph Lauren look through and through, and it'll be exciting to see the uniforms alongside South Korea's zika-proof garb, and France's ultra-chic Lacoste sportswear. Interestingly enough, Ralph Lauren has outfitted the closing ceremony for five Olympics in a row now — let's take a look at their uniforms from throughout the years.
1. Winter Olympics, 2010 — Vancouver
2010's look included berets, chunky sweaters, and snazzy white jeans.
2. Summer Olympics, 2012 — London
2012's summer uniforms actually shared a few elements in common with this year's — perhaps most notably the diagonally-striped red, white, and blue ribbon belt.
3. Winter Olympics, 2014 — Sochi
Last winter's Team USA closing ceremony outfits may have just been most stylish of all, what with their mix of patriotic intarsia hats and pullovers, colorblocked coats, and fashion-forward sweatshirts.
It will be exciting to see the athletes, prepped out to the max, make their way across our television screens this summer.
Image: ralphlauren/Instagram