15 Unique Lemonade-Inspired Recipes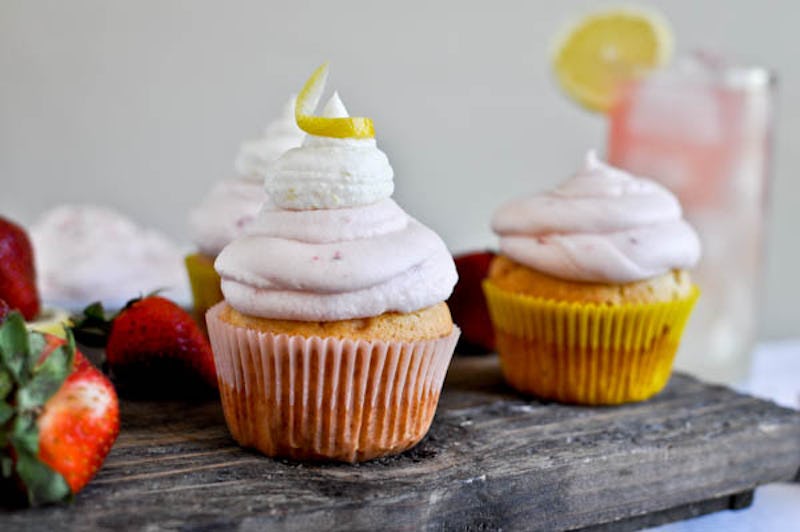 Forget smoothies, cocktails, or fancy brew beers — if there is any drink that best captures the effortless vibes of springtime, it's lemonade. And while this citrusy drink may be refreshing in a tall glass with a couple ice cubes, that's not the only way to enjoy it — you can also have lemonade-inspired recipes. That means plenty of cupcakes, bars, and yes, even Jell-O shots.
With the release of Beyoncé's latest album, now is the time to indulge in all things lemonade. What better way to watch all the Lemonade music videos than with a glass of boozy lemonade in your hand? Or maybe you'd prefer mixing things up with some unique lemonade recipes. However your beverage situation pans out, things can only get better once you throw in some sweet and citrusy desserts. Who doesn't love a good cupcake? This brightly colored fruit can easily find its way into plenty of sweet treats that are perfect for lazy days.
So, as summer 2016 comes nearer and nearer, there's only one thing to do: enjoy this citrusy fruit while it's in season. And if that means eating a whole lot more desserts, then it's a win-win situation for everyone.
1. Strawberry Lemonade Bars
Nothing says spring like a dessert bar that's a little sweet, a little sour, and all around colorful. Averie Cooks does it right.
2. Cherry Lemonade Doughnuts
Lemonade concentrate makes sure these doughnuts by Inside BruCrew Life come out super citrusy, while chopped maraschino cherries sweeten the deal.
3. Strawberry Lemonade Fudge
With tiny bits of freeze-dried strawberries, A Spicy Perspective's four-ingredient fudge is positively delightful.
4. Layered Jell-O Shots
Raspberry lemonade Jell-O shots may be the perfect party starter for a spring night. Thank The Kitchn for this one.
5. Pink Lemonade Angel Food Cupcakes
These lighter-than-air cupcakes by Table for Two are a dessert worth dreaming about — especially when they're covered in marshmallow frosting.
6. Raspberry Lemonade Mini Cupcakes
Your Cup Of Cake knows this simple truth about dessert: anything miniature is bound to be a hit. The more you can eat!
7. Lemon Raspberry Cream Scones
Not only are these scones by I Am A Food Blog easy to mix — they taste just like raspberry lemonade, in irresistible carb form.
8. Lemon Pie With Animal Cracker Crust
Instead of making a traditional graham cracker crust, Domestic Fits mixes things up with a childhood favorite — animal crackers.
9. Strawberry Lemonade Cupcakes
What could be prettier than these cupcakes by How Sweet Eats? A strawberry-lemon buttercream that melts in your mouth makes them completely delectable.
10. Pink Lemonade Freezer Bars
The most unexpected ingredient of Averie Cooks' freezer bars? Ritz crackers! Eat them when they're just a little bit melty.
11. Pink Lemonade Ice Cream
Four ingredients, no ice cream maker needed — why wouldn't you whip up House of Yumm's frozen treat?
12. Pink Lemonade Cupcakes
Fresh lemon juice and lemon zest makes A Spicy Perspective's cupcakes super aromatic. Topping them off with a candy lemon doesn't hurt either.
13. Lemonade Tarts
When you combine condensed milk, lemon juice, and zest, The Kitchn shows that magical things can happen.
14. Strawberry Lemonade Bars
These treats by The Crepes of Wrath are filled with plenty of fresh fruit, and a buttery crust makes them easy to eat. Serve them cold for a refreshing bite.
15. Blackberry Lemonade Cupcakes
Strawberries and raspberries are popular lemonade pairings, but blackberries add a different, unexpected touch. Your Cup of Cake creates a cupcake that isn't too sweet.
Images: How Sweet Eats (2): Averie Cooks (2); Inside BruCrew Life; A Spicy Perspective (2); The Kitchn (2): Table For Two; Your Cup Of Cake (2); I Am A Food Blog; Domestic Fits