Amy Schumer Grapples With Gun Control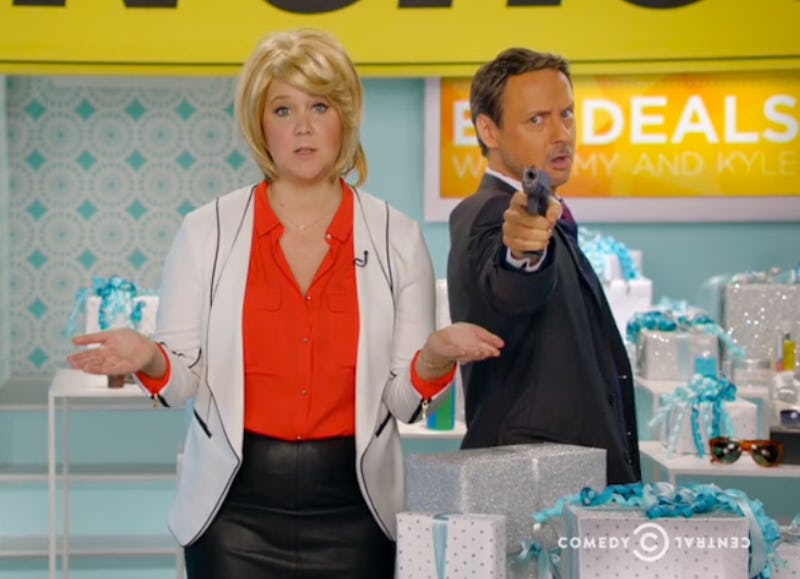 Amy Schumer hasn't abandoned her gun control activism, and wants to showcase how easy it is to get a gun in America. In a skit on Thursday's Inside Amy Schumer titled "Welcome to the Gun Show!," Schumer attacks gun control loopholes and the gun lobby in a satirical home shopping show selling weapons to everyone from convicted felons to a suspected terrorist. "Here is what's great about this," Schumer says while playing with a handgun. "Now pretty much anyone can purchase this."
Since a mass shooting in a Louisiana theater showing Schumer's movie Trainwreck last summer left two dead and many more injured, the comedian has called for universal background checks and stricter gun control laws overall. "Unless something is done and done soon, dangerous people will continue to get their hands on guns," she said in a press conference alongside her second cousin Senator Chuck Schumer last year. "We know what can happen when they do. I was heartbroken when I heard about Columbine, and Sandy Hook, and Aurora, and so many other names of places that are seared into our memories. And I was heartbroken, again, when I heard about Lafayette — I still am."
Continuing efforts to raise awareness about gun violence and persuade politicians to take action, Schumer started using her own show to comment on the issue.
In her "Welcome to the Gun Show!" sketch, Schumer and a fellow home shopping network host explain why "just your regular, run-of-the-mill, meat-and-potatoes handgun" is the perfect gift for anyone — they're even in the shape of a stocking, making them a fitting stocking stuffer for people of any age. "It's like a toy, but it's extremely real," her TV co-host says.
When a caller asks about his multiple felonies keeping him from buying a firearm, Schumer assures him there are plenty of loopholes, saying: "You can absolutely get a gun if you have several felonies, as long as you buy it on the Internet or at a gun show." The next viewer to call in is a suspected terrorist on America's no-fly list, but the hosts tell him there's nothing stopping him from buying as many weapons as he wants. "You're fine, sweet potato fries," Schumer tells him. "No one can tell you you don't have the right to buy a gun in this country you're trying to destroy!"
As she talks to the suspected terrorist, a mass shooting alert goes off as a sign that people should buy even more guns because "the government could be coming for your guns soon, like they never have, but always might."
Schumer implores people to jump on the killer $39.95 deal because there are only have 65 million handguns left, and they'll go fast. Not long after, her co-host accidentally shoots himself in the foot while playing with the display gun. "It was his foot's time," Schumer says to the audience, unfazed.
The skit ends by asking viewers to text "join" to 64433 in order to become a part of Everytown For Gun Safety, a real group working to end gun violence in communities across the country.
Images: Comedy Central