Hacks For Opening Up A Small Space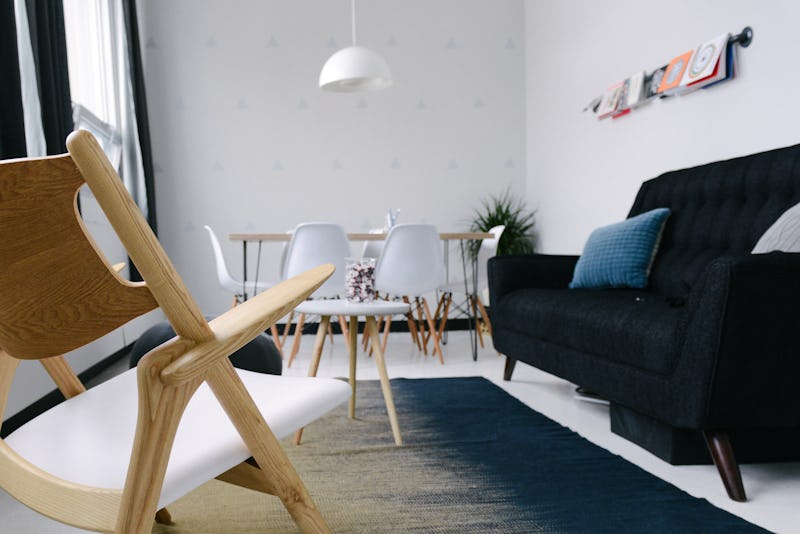 Small living spaces are a reality for a lot of us (apartment dwellers, raise your hands!). But we should never feel completely confined by our square footage. There are a ton of tips for making a small room look bigger that can seriously revolutionize the way we perceive a space. It's genuinely just about knowing a few key design dos and don'ts.
Feeling like we have enough space isn't just a purely aesthetic concern — in a piece for Psychology Today, psychologist Sherrie Bourg Carter noted that clutter — which is often a result of a small living space —can serve as a significant source of stress in our lives. "Clutter can play a significant role in how we feel about our homes, our workplaces, and ourselves. Messy homes and work spaces leave us feeling anxious, helpless, and overwhelmed," Carter wrote.
This means that maximizing the use of a small space and creating the feel that it's larger and more open may genuinely make us feel better on a daily basis. If you're looking for ways to make a small room seem bigger, here are 11 tips that will seriously help.
1. Utilize Mirrors
Reclaimed Barn Wood 12-Pane Window Wall Mirror, $165, Ebay
A compilation piece for HGTV on maximizing small spaces listed large, floor-length mirrors as one of their absolute top tips, "Designers often use oversized mirrors in small spaces to help reflect light and make the spaces feel larger than they actually are. A twist on this idea is to choose architectural-style mirrors which create the illusion of an extra window or door."
2. Keep It Neutral
That same HGTV piece noted the importance of sticking to a neutral color scheme. Plus, they noted that, "an excellent way to tie smaller spaces, such as hallways and entryways, into the common areas is to use one neutral tone throughout," which helps to create the illusion of more openness.
3. Invest In Multi-Purpose Furniture
Green Bi-Cast Vinyl Storage Cube Ottoman with a Smaller Ottoman Inside, $69, Home Depot
This is a personal tip that I've learned from years of apartment-dwelling. Instead of getting an ottoman, get an ottoman with storage space. Or instead of getting a coffee table on four legs, get one that rests on drawers.
4. And Multi-Purpose Decorations
Multi-Color Wood Trunks (Set of 3), $140, Overstock
Speaking of multi-purpose furniture, also consider multi-purpose decorations. For example, you can buy little stacking boxes that double as drawer space, or decorative travel trunks that double as storage.
5. Blend The Curtains
In a piece for Houzz.com, interior designer Kerrie Kelly recommended blending your curtains to match your wall color. This way the space will look less segmented and more open overall.
6. The Higher The Furniture, The Better
Kelly also noted that furniture on high legs, as opposed to furniture that's low to the ground, creates a lighter and airier feeling overall. Consider high top tables and chairs in a dining area, or invest in end tables with some height.
7. Scale Things Down
In a piece for Remodalista, design blogger Justine Hand said it's always good to opt for smaller furniture pieces when decorating a small space. "To create a sense of roominess, always leave a little air in between the sides of your furniture and the walls," she wrote.
8. Think About Going Rugless
Hand also said that decorating small spaces is all about tricking the eye, and rugs (as well as drapes for that matter) instantly shifts the focus of the room inward and downward. If you have a space that can do without a rug, you may want to consider ditching it completely.
9. Opt For A Wall-Mounted TV
This is another practical tip that has totally changed my small living room space. If you can opt for a flat screened, wall-mounted TV it will completely eliminate the need for a TV stand and instantly create more open space.
10. Get A Statement Couch
OK, I know I had said to keep furniture small, but sometimes rules are made to be broken. The editorial team over at The Nest noted that often times you can get away with one large statement piece in a small room, like a larger couch, and have that be the focal point. If everything else remains minimal and small, you can maintain the feeling of spaciousness.
11. White It Out
And finally, if you haven't done it already, think about painting your walls white. According to The Nest team, white walls reflect natural light better than any other color and will just instantly brighten a small space.
A small space doesn't have to mean eternally feeling cramped. Just make sure you stick to a few basic interior design tenants, and get ready to feel the roominess.
Images: Pexels (7); Breather, Tracy Thomas, Breather/Unsplash