11 Nonfiction Kids' Books Featuring Great Stories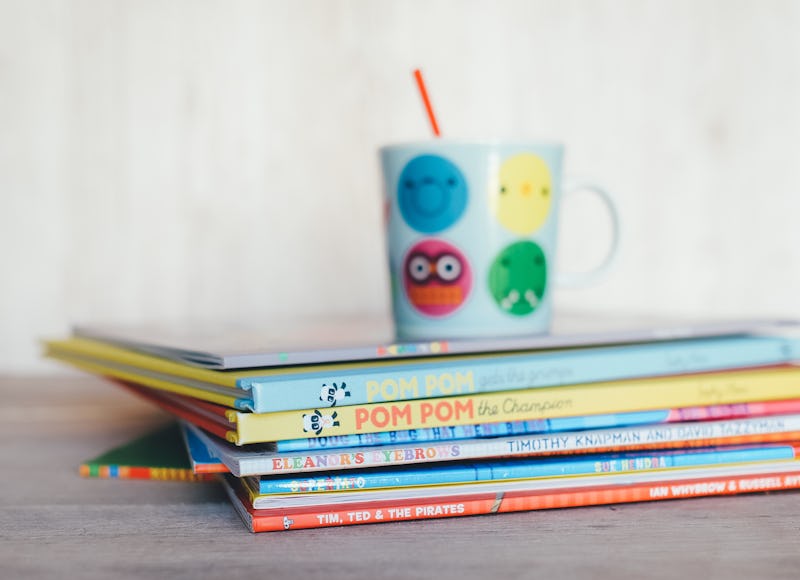 When you look at a child's bookshelf, you expect to see colorful picture books with imaginary animals, classic chapter books about mice riding off on motorcycles, and age-old fairy tales retold in new ways. What you might not expect to see, however, are historical texts, important biographies, and other true stories, but there are so many nonfiction books for kids that should be added to the library, because there is more to story time than make believe.
No matter what kind of book a child reads, fiction or nonfiction, it will have an impact on them. Fiction books help shape a child's imagination and creativity, and inspire kids to reach for the stars. Talking animals, space adventures, fantastical school yard stories — they all have earned a rightful place on kids' bookshelves, and nonfiction books should be saved a spot right next to them. From illustrated biographies to historical picture books, nonfiction books for kids are more than just educational tools meant to trick children into learning during their bedtime story. They're written to enlighten as well as entertain, to teach and to tantalize the imagination, and to become childhood classics, just like the picture books.
Children learn so much about their world through the books they interact with, so to help teach them a few facts along with all the make believe, here are 11 nonfiction books for kids, from picture books to middle grade reads, that will entertain them as much as their favorite fiction.
Start the nonfiction reading off young with Innosanto Nagara's A is for Activit board book. Featuring topics such as LGBTQ rights, environmental activism, and civil rights, this alphabet book has the typical pictures and rhymes, but with an activist twist. Unlike anything you've ever seen, A is for Activist is an essential nonfiction book for progressive parents.
The "definitive nonfiction title about human and animal bones," Caldecott honor winner Steve Jenkins' picture book about our bodies beneath the flesh is a fascinating read that children will enjoy as much as they would any picture book. Comprehensive and well-researched, Bones gives kids a visual-heavy lesson on skeletons, animal and human, in a way that will keep them more interested and entertained with each read.
In this nonfiction narrative picture books, young readers get to learn about the real life struggles of Nobel Peace Prize recipient Malala Yousafzai, whose activism has changed the lives of girls and women everywhere. For the Right to Learn follows Malala's story, from her life at home to her real life terror with the Taliban, and proves to children reading along with it that one person can not only overcome every obstacle, but can truly change the world.
Kids who love animal stories will adore Elizabeth, Queen of the Seas, the true story of an elephant seal who refuses to leave her home in New Zealand, no matter how many people try and find her a new place to live. With illustrations by Caldecott Medal winner Brian Floca, the only thing more charming about this book than the inspiring story is the gorgeous illustrations.
Speaking of animal stories, you can't talk about nonfiction picture books starring furry friends without mentioning Katherine Applegate's Ivan. The incredible true story of a baby gorilla who was capured in the wild, then raised in captivity in the mall in Tacoma before finding a better home at Zoo Atlanta, Ivan is a moving picture book than covers more than just the primate's life, but also animal welfare, fair treatment, and kindness. A touching story that reads like fiction, Ivan will become a bedtime favorite.
No subject is off limits when it comes to nonfiction books for kids, including science and math. In Fractions in Disguise, readers go on an adventure alongside George Cornelius Factor as he tries to track down a missing fraction, and along the way, they encounter plenty of math problems in need of solving. A fun and interactive read, Fractions in Disguise will sway even the biggest math haters.
Talking to children about sex is no simple task, but Cory Silverberg's nonfiction book aimed at middle grade readers, Sex is a Funny Work, makes it a lot easier. An inclusive comic book featuring characters of all races, genders, and sexual orientations, Silverberg's book covers topic of body, gender, and sexuality in a way that children can understand and relate to. A wonderful nonfiction selection for starting a larger conversation, Sex is a Funny Word is the perfect book to give kids before talking about the birds and the bees.
Children all over the world will learn about the life and art of Frida Kahlo at some point in their formal education, but Yuyi Morales Viva Frida can get them interested early on. Featuring everything from stop-motion puppets to digital illustrations to paintings it is a stunning visual adventure reading experience unlike any other. An exciting yet educational bilingual picture book, Viva Frida is the kind of children's book that bursts with life and art and magic.
9. Smile by Raina Telgemeier
Not all memoirs and biographies have to be about famous people to matter, especially when they're aimed at kids. Raina Telgemeier's childhood memoir Smile tells the story of an all too relatable experiences of growing up. Featuring bickering family members, embarrassing moments at school, boy trouble, and friend drama, Smile is a nonfiction book every middle grade reader will not only relate to, but fall in love with.
Forget the animated Anastasia film, because there's a new history of the Romanov family for kids to fall for. Candace Femling's The Family Romanov is a thouroughly researched account of the tumultuous true story of the Romanov family in Russia — their family history, their rise to power, and their downfall — that will have young readers flipping the pages to find out what happens. An exciting and compelling read, The Family Romanov is the kind of book that gets children hooked on nonfiction for life.
History is so much more than the dates and figures kids learn in school, and with Howard Zinn's essential A Young People's History of the United States, children can get what they're missing. From Christopher Columbus to the Civil Rights Movement and beyond, Zinn's history has all of the essential lessons and so much more, adapted with young readers in mind. An inspiring collection of stories from the generations that built this country, A Young People's History of the United States will change the way kids see history, and America, forever.
Images: Annie Spratt/Unsplash