Jimmy Fallon's Television Firsts
The wait is finally over, tonight Jimmy Fallon will take over as host of The Tonight Show and all our waiting and speculation over what the show will be like will finally be answered. But based on some of Fallon's other television firsts, we know he'll have a few things in store for tonight like boundless energy and contagious laughter. He often broke on set of Saturday Night Live but no one minded much because it was clear he was having a great time and as a result the viewers also had a good time. He also brings with him a likable nervousness that's sure to be at its height tonight as he starts his new hosting duties. Fallon moves around a lot during his monologues shifting back and forth and he nervously giggles at his own jokes and checks to see if the audience is feeling the comedy. We'll also probably see some fast talking, something he's also known for and comes with his nervous and excited energy.
Basically Jimmy Fallon is a like a cross between a highly excitable chihuahua and a highly excitable labrador retriever that somebody let loose on the set of The Tonight Show and we're all just going to have to tune in to see how things go. But to get you prepped for Fallon's big night, watch these other Fallon firsts:
1. HIS FIRST EVER TV SPOT
In 1994 Fallon had his first television appearance on a show called Metroland's Loose Camera, which was a comedy show produced by Don Metzner in Albany, where Fallon had attended college. In this skit he's so young you can hardly recognize him as one of the car's passengers but his gleeful smile and yes... a quick break of character, give him away.
2. HIS FIRST AUDITION FOR SATURDAY NIGHT LIVE
Here we see just how nervous the young Fallon is in 1998, but also how well he operates under pressure as he smoothly moves through his routines without letting his nerves overcome him.
3. HIS FIRST LATE NIGHT MONOLOGUE
In 2009 we saw Fallon's first ever monologue and while he started off a little shaky and slow, (we don't blame him) he wrapped things up excellently as he slow jammed the news to the delight of the audience.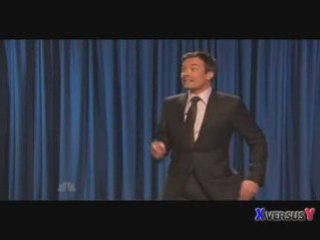 And whatever tonight may bring for Fallon, it's exciting to watch him move up from small town actor to big time show host. Good luck tonight, Jimmy!
Image: Tumblr/workislifeiswork