New NSFW Coloring Book Promises Hours Of Enjoyment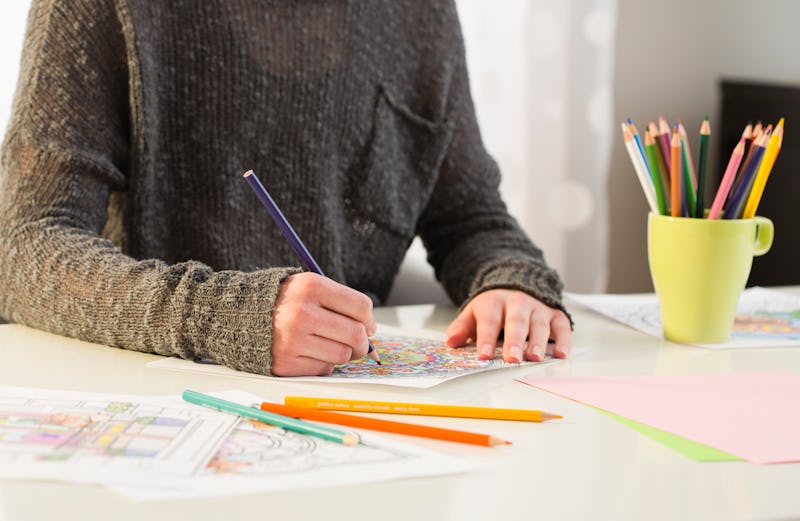 Greg Vote, VStock LLC/VStock/Getty Images
For months now, the adult coloring book trend has swept the nation — so much so, that we're currently in the midst of a colored pencil shortage. But no coloring book thus far has brought the NSFW goods like this latest offering: a penis coloring book.
Pen15 Club: Members Only Coloring Book capitalizes upon the creators' love of adult coloring books, and, well, penises. In a promotional video, they describe Pen15 (get it?) as "the coloring book you didn't know you needed." Each hand-drawn page promises hours of enjoyment.
The dream is real.
The project was created by two self-described "lady architects" who attended college together in New Orleans. While in school, the two women — who go by Jen and Mira, but would like to remain semi-anonymous — discovered that most everyday objects look like penises. Thus, they used the drawing skills they learned while studying architecture to craft something truly unique.
"We wanted a great penis coloring book that's creative, intricate, and fun to color," the creators wrote on Indiegogo. "What the world really needs is a beautifully-crafted piece of literary art that is also full of dicks. So we decided to erect it ourselves."
Pen15 is still being crowdfunded on Indiegogo, so you have the chance to support the coloring book project in its infancy. As of publication, the project was 24% funded, and there were 23 days left to reach the creators' $7,750 goal.
The good news is you can donate as little as $4 on Indiegogo to reap the immediate benefits. A $4 donation — in addition to a share on Facebook, Twitter, or Instagram — will earn you a PDF download of a drawing titled "Trumped Up Dick."
For $20 plus shipping, you can get one copy of Pen15 Club plus a printable download of "Trumped Up Dick." They also offer a variety of package deals that include the book, PDF downloads, koozies, and member cards at different price points.
The creators have also collaborated with DicksByMail.com to offer a special "Double Feature" that includes the book and a gift certificate for one "bag of dicks" — literally, a bag full of gummy bears shaped like penises. You can get all that for $30, and it probably makes a great bachelorette present.
Before you buy, the creators want you to know this is about more than just penis-themed enjoyment. Once they move into online and physical sales, they plan to donate a portion of their profits to promote comprehensive sexual education through Siecus, the Sexuality Information and Education Council of the United States.
Here are a few NSFW illustrations featured in the coloring book to whet your appetite:
Pea-Cock
A sublime take on the majestic fowl.
Family Jewels
This whimsical drawing is almost subtle enough to pass in a regular adult coloring book.
If you like what you see and want to make the project a reality, support the Pen15 book on Indiegogo.
Images: Greg Vote, VStock LLC/VStock/Getty Images; YouTube (3)