The Best T-Swift Met Gala Memes & Jokes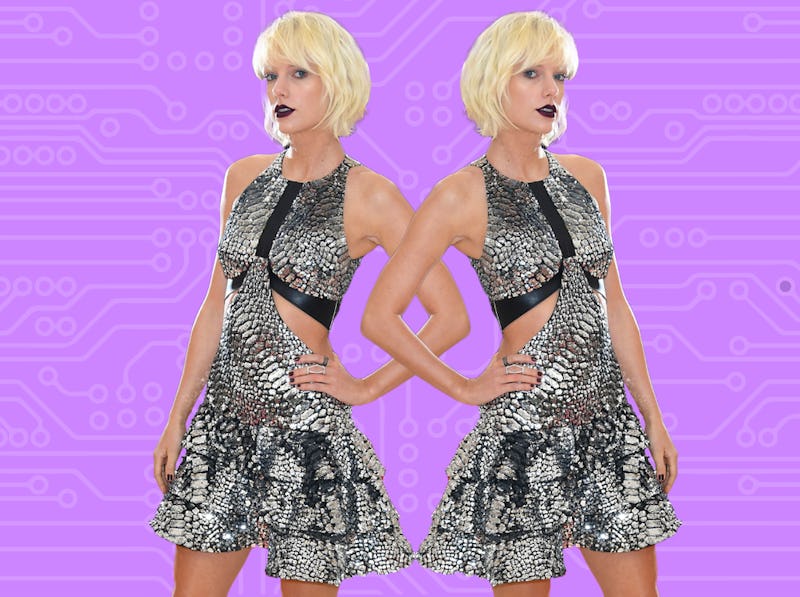 There's absolutely no denying that at the 2016 Met Gala red carpet, Taylor Swift certainly turned heads in an incredibly bold metallic snakeskin cutout dress and an extremely platinum blonde bob — not to mention a fierce pair of strappy black boots and black lipstick. It's safe to say the adorable girl-next-door we all know and love has officially grown up into a fashionably fearless woman — and I'm not mad about it.
Swift's look is pitch perfect for this year's Met Gala theme, "Manus x Machina: Fashion in the Age of Technology," with its stark colors and textures, and proves beyond a doubt that she's deliciously game for playing dress up (not to mention, explore her dark side).
And as you might expect, the internet is abuzz with talk of her futuristic ensemble, already inspiring a virtual bevy of Twitter jokes and memes about all the things our beloved Tay Tay looks like in her getup. Here are the best of them for your pleasure. Whether you love the look or hate it, you have to admit, these Tweets are pretty funny.
OK, but this makeup is fierce on both of them, so.
The dress did a cool, scale-like quality.
Delicious.
A girl can't stick with the same style forever, right?
Classic movie, classic look.