Twitter Is Obsessing Over Shalyah Fearing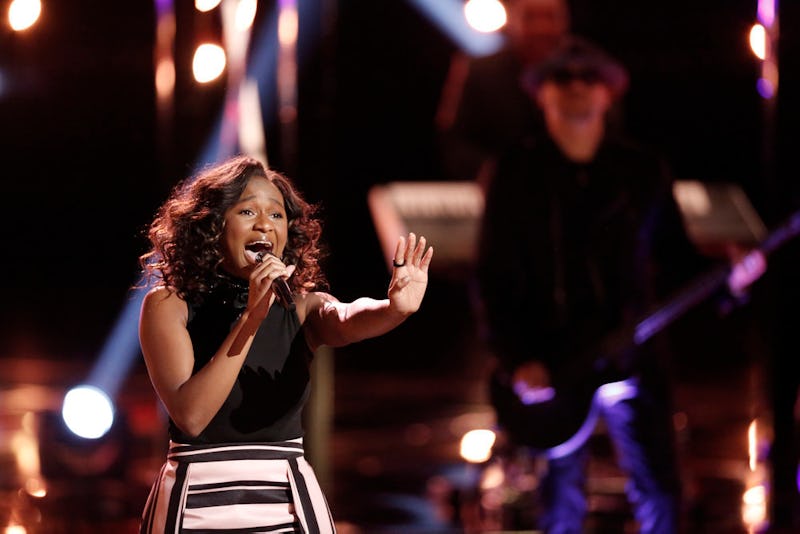 There are some artists who slay every single time they sing and The Voice 's Shalyah Fearing is one of them. The youngest artist in the competition took the Top 10 stage with a beautiful tribute to her mother in honor of Mother's Day. Fearing performed Emeli Sande's "My Kind Of Love" and completely blew the coaches away with her powerful showing. While the Team Adam singer's voice is not what we're used to hearing on the show, it's certainly winning over viewers. After seeing the response Fearing got on Twitter after her Top 10 performance, it's clear that the 15-year-old isn't leaving this competition any time soon.
Fearing's voice is unlike anything that's ever been heard on The Voice. It's gritty, strong, versatile and completely original. She has the ability to transform any song into something unique thanks to her incredible tone, which is a trait that's extremely remarkable in this competition. Because it's so different, though, I was unsure if America would love her performance as much as the coaches' did. Naturally, I took to Twitter to investigate and it seems that the opinion is pretty unanimous:
.@adamlevine #VoiceTop10 Shalyah is amazing and really the frontrunner...great current song..love this!!!!— Evangelina Joyce (@evangethearcher) May 3, 2016
Shalyah is flawless! Seriously loved this performance!👌🏼 #VoiceTop10 @ShalyahFearing— Maroussia♡ (@MarouXDallas) May 3, 2016
Shalyah could bomb the rest of this song and still sail through to next week. #Slay #VoiceTop10— Olivia Truffaut-Wong (@iWatchiAm) May 3, 2016
.@adamlevine #VoiceTop10 Winner...Winner....stronger and stronger....love her— Disa Bailey (@edwardisa0913) May 3, 2016
.@adamlevine #VoiceTop10 wow Adam she is ass kickin. That's your ticket— mark grant (@mddgrant88) May 3, 2016
Fearing has clearly won over the hearts of voters everywhere. She has them craving her every performance, which is a great thing to have at this point in the game. While other contestants are worrying about their fate week after week, Fearing can rest easy knowing that she has a dedicated fan base voting her through. And she can certainly rest easy tonight because after the response she's gotten on social media, it's obvious that Fearing will make it through to the Top 9 with no problem.
Image: Tyler Golden/NBC