This Handy Hair Tool Is Coming To 'Shark Tank'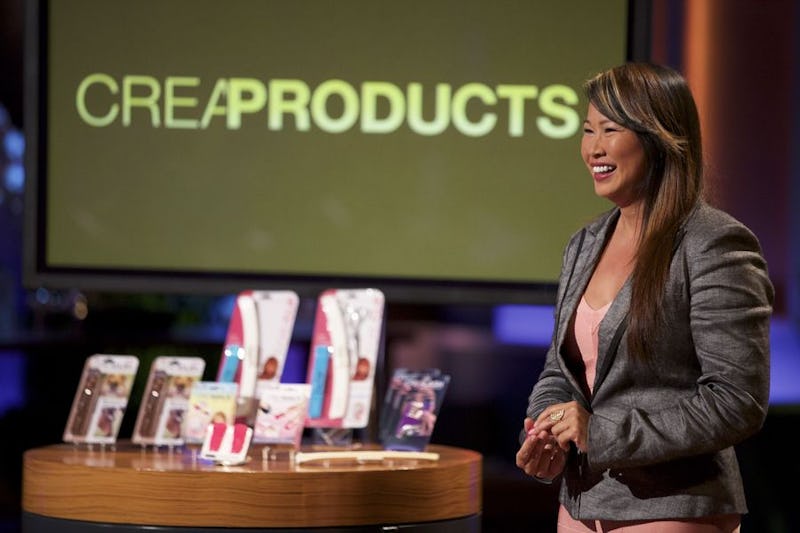 First established in 2012 by Mai Lieu, CreaProducts are heading to Shark Tank . The Hawaii-based CreaProducts is home to many innovative products, but its most famous is the CreaClip — a handy device that can help you trim your bangs at home. In fact, according to Pacific Business News, the CreaClip was a major hit on the Home Shopping Network — it sold out 5,000 units in a scant 13 minutes.
Lieu has an interesting story of her own — at age 4, she escaped Vietnam as a refugee with her family. Watching her parents rebuild their lives through their business inspired her into entrepreneurship herself — and after working as a hairstylist for several years, she soon came up with the idea for the CreaClip. Her inspiration struck after watching one too many of her customers come in with botched self-trimmed bangs — she wanted to keep them safe from the Hannah Horvath-style home haircutting experience that most of us have experienced at least once.
The CreaClips are available on the CreaProducts website, as well as online retailers like Amazon. But what the heck are these things, anyway?
The Original CreaClip Set
The Original CreaClip Set, $30, Amazon
So, what the hell are CreaProducts? Well, there's a CreaClip for pets; CreaNails, which are little guides you can put on your fingers to help paint in the lines; and CreaLash, which promises to somehow prevent smeared mascara.
CreaClip Pet, $20, Amazon; CreaNails, $23, Amazon; CreaLash, $25, Amazon
But will the Sharks invest? CreaProducts has a proven track record with HSN, which may bode well with Lori Greiner and her partnership with QVC — though it's worth noting that the company's other products don't seem to be nearly as popular as the CreaClip. Whether or not the Sharks decide to invest, Lieu is about as excited as you'd expect for her upcoming appearance on the show — as she explained to Pacific Business News, "About three years ago I set a goal that I wanted to be on Shark Tank... This is a dream of mine. It's amazing this is happening — it's every entrepreneur's dream to be on Shark Tank."
Fingers crossed, right?
Images: Tyler Golden/ABC; CreaClip