'Madam Secretary' Should Up The Ante In Season 3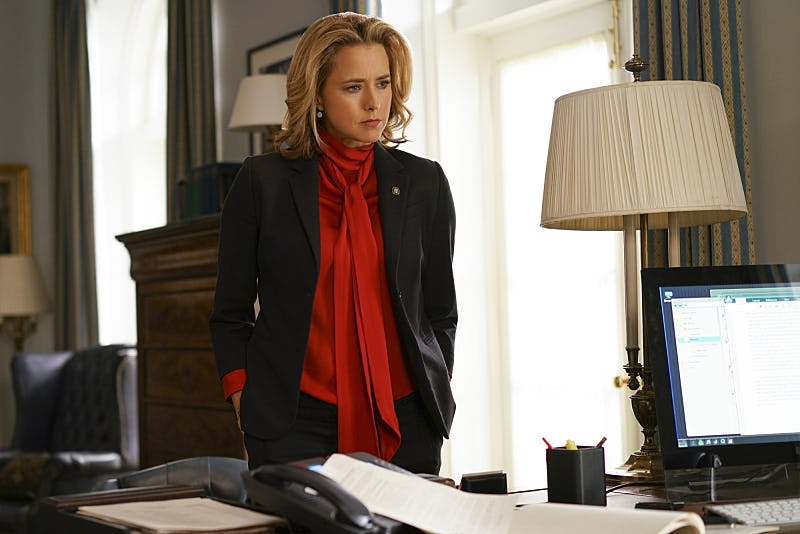 It's time to say goodbye to Bess and the rest of her team at the State Department, but don't worry Madam Secretary will return for Season 3. CBS renewed Madam Secretary in March, though the network did not announce a premiere date. However, based on the last two seasons, it's safe to predict that Season 3 will air at the end of September or the very beginning of October. Until then, fans can marathon the first two seasons and talk about that major plot twist from the May 1 episode.
At the very end of "Render Safe," the Russian Foreign Minister revealed that Dmitri Petrov, Henry's former spy, may still be alive after he was captured by the Russian government earlier in the year. It's pretty good news, since Bess will likely be able to make a trade for him in the final episode. Russia wants the U.S. to hand over a former Russian spy named Peter Buckley in return for Dmitri and his sister Talia, who they've also got locked away.
Needless to say, Madam Secretary Season 2 really upped the drama, and I hope Season 3 will turn the dial up even further. Here are some plot points I'd like to see when the series returns.
A McCord Wedding
I like Jareth. He's cute, he's got an accent, and he buys Bess breakfast pastries. Considering Stevie's past with terrible men, I'm on board for this marriage. Plus, it might help get Stevie some more interesting plot lines.
Dmitri Returns To The U.S.
I want Dmitri to be a major character in Season 3. He was great and just wanted to help his sister. Dmitri deserves to come back to the U.S.
Bess & Henry's Relationship Goes Back To Normal
There's been so much tension between Bess and Henry this season after Dmitri's "death." It's time they get back to the amazing relationship fans admire so much. Honestly, they are the best couple on TV and deserve some happiness next season.
An Election
Russell Jackson kept mentioning the election coming up, which means it could be the focal point of Season 3. I kind of hate Dalton, so if another candidate comes along willing to keep Bess in her spot, I will probably be rooting against him. Maybe Bess will run! President McCord sounds awesome to me.
Stories For Secondary Characters
I love that Madam Secretary revolves around the McCords, but I think larger storylines for the other characters who work in the State Department characters could make it even better. Nadine and her son could bring some really interesting plotlines, or Daisy's relationship with Oliver.
More Blake
On that note, let's just have a whole episode dedicated to the magic that is Blake. He deserves the spotlight.
Hopefully, we'll get to see all of this and more when Madam Secretary returns for Season 3, most likely in the fall of 2016.
Images: Sarah Shatz/CBS; Madamsecretary-gifs/Tumblr (6); Giphy