Blind Boy Sees His Mother For The Very First Time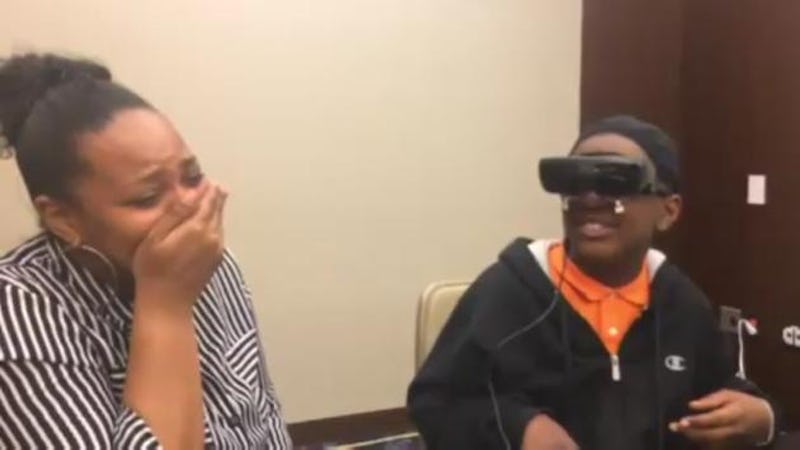 Helping the blind to see is usually something reserved for miracles, but what if that could be accomplished with a pair of electronic glasses? Christopher Ward, a legally blind 12-year-old boy, saw his mother for the first time when testing an eSight headset, the latest advanced technology on the market to aid the visually impaired. Christopher was born with optic nerve hypoplasia, a rare congenital disease that is estimated to affect one in every 10,000 children. According to his mother Marquita Hackley, the under-developed optic nerve leaves him with extremely low vision allowing him to see no further than five inches beyond his nose.
In a touching video featured on ABC News, Christopher could see his mother clearly for the very first time — and in high-res detail. Facing her, eSight headset in place, Christopher exclaimed, "I can see mommy's hair and her eyes... I can see her eyes!" Marquita Hackley described the moving experience, "The very first thing he did was turn to me and say, 'Oh, Mommy! There you are! And then to hear him say, 'I saw my mom, and she was very pretty,' was so heartwarming," Hackley told ABC News. "Just the fact he could even see me meant the whole world to me."
The remarkable eSight headset contains a high-speed camera that captures live video stream of whatever is in the wearer's field of vision. The video is processed through a computer and sent back to be displayed on LED screens, where the user may tweak it for brightness, contrast, or even zoom in on words or objects by adjusting the settings on an attached controller. The eSight website explains that these electronic glasses eliminate a wide range of visual issues that cause blindness and the "full color video images can be clearly seen by the eSight user with unprecedented visual clarity." The headset also attaches to the wearer's prescription glasses and can be tilted up when peripheral vision is needed.
Besides allowing Christopher to see the faces of friends and family, and watch his favorite show Spongebob Squarepants, these electronic glasses could have an even greater impact on Christopher's school experience. Though he can read braille, there is a delay of two months to translate his textbooks. With the specialty glasses, he will be able to learn along side his peers, finally able to see everything from the blackboard, to the handouts, and computer screens.
This technology costs $15,000, which for most is a financial burden since it is not covered by insurance. But through the crowd-sourcing platform YouCaring, the family was able to meet the goal. The support was so overwhelming that the campaign closed at $10,000 over the original goal. Marquita Hackney thanked her donors on the fund-raising page, writing, "you guys are nothing short of amazing!!! I can't express how all of your encouraging words, well wishes, and support mean to us!! I never expected for this story to get so big, or for this page to help us raise this amount of money!" All the additional donations are going to a trust fund for Christopher.
eSight gives free personal trails across the country. If you or someone you know is visually impaired and would like to test the product, you can request a demonstration here.
Images: ABCNews/YouTube, eSightEyewear/YouTube