'Shark Tank' Will Attempt To Help Your Balance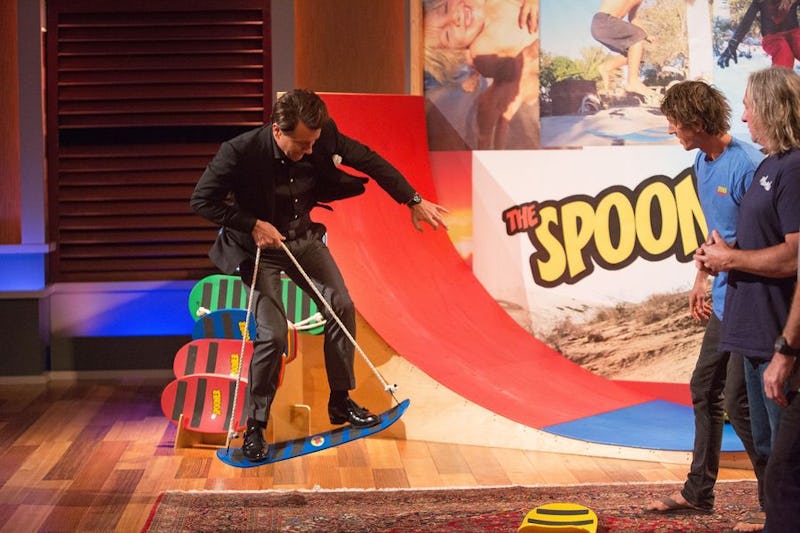 If learning how to skateboard or snowboard is on your bucket list, but you're scared of the whole falling down on your butt part of the process, maybe Shark Tank is a good option your Friday night TV selection. The Sharks will debate the merits of Spooner Boards, wheel-less boards made for kids and adults and if you're into boarding, but aren't very good, you'll want to know where to buy Spooner Boards from Shark Tank . (The product is available on the company website, as well as various toy stores located all over the United States, according to the Spooner Board website.) But this thing looks kinda goofy — will it catch the Sharks' attention?
Well, the Spooner Board guys will surely give it the old college try. Their website promises that theirs is one board that'll enhance your skills for those other sports in the snow and on wheels. "The Spooner is great active toy for balancing but is also an incredible confidence builder for all board sports. The shape allows the rider to safely figure out the basics of boarding i.e.; balance, stance, carves and turns," founder Randy Putland told the website Your Neighborhood Toy Store. "The Spooner can also be used a sled on all kinds of surfaces including snow and grass. Basically there is no wrong way to use the Spooner Board, just jump on and have fun."
But how invested should you get as a Shark Tank fan? Here's what we're working with.
It Was Invented Accidentally
According to KGTV San Diego, Putland invented the Spooner board while he was cutting up a plastic dog igloo he was getting ready to throw away, but he and business partner, Bernie Miller, noticed that the kids loved playing with it. "Some kids in the shop began to rock back and forth on it and after some adjustments the Spooner Board was born," he told Your Neighborhood Toy Store.
It Has Won Many Awards
According to the official website, the Spooner Board was voted Astra's Best Toys for Kids, Creative Child's Toy of the Year, and Learning Express's Best New Vendor and Most Innovative Product.
It's Used In Schools
The Spooner has been popular with kids from the start, but now it's also being used to in more than 5,000 physical education programs across the country, according to the company website. "We believe that encouraging kids to develop a love for the outdoors is the key to keeping them active," Putland told Your Neighborhood Toy Store in the same interview.
It Has Many Varieties
The official website has the following boards available for purchase: Freestyle, Pro, and Yardboard.
It's Made In The States
KGTV San Diego reported that the Spooner is manufactured in a warehouse in National City, Calif., which is south of San Diego.
You Can Do So Many Tricks With It
It seems like the list of tricks you can do with the Spooner is endless. "Kids have all kinds of fun just being creative and making up cool tricks — for example: in the spin category we have the bat spin, superman spin, super spin, sit n spin and stargazer," Putland told Your Neighborhood Toy Store in an interview. "For skateboard tricks there are shuv-its, 360's, flippers, the famous caveman and the list goes on."
That's quite a set of perks — will it be enough for the Sharks?
Images: Michael Desmond (4)/ABC