Shooting In Katy, Texas — REPORT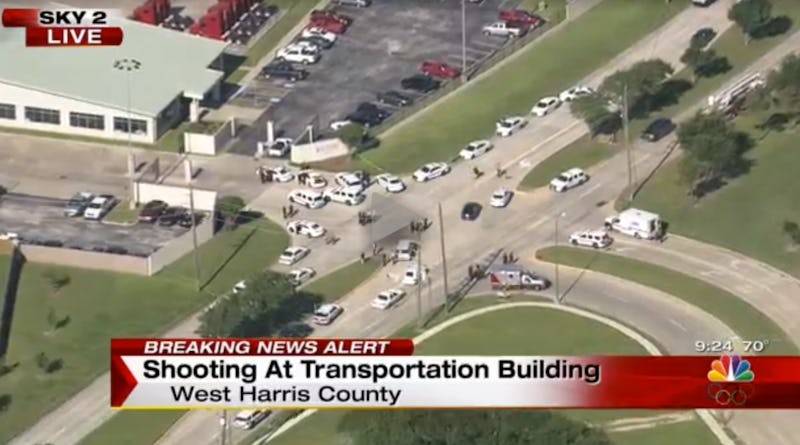 Multiple people were shot Wednesday morning by a single shooter in Katy, Texas. Local news station KPRC 2 reported that a disgruntled employee opened fire at the Knight Transportation Building in the southeastern Texas suburb. The Harris County Sheriff's Office confirmed on Twitter that the shooter and one other person were dead, and two people were injured. Because the building is close to an elementary and high school, both were on lockdown as the authorities responded to the situation.
An unidentified man entered the building with a shotgun and pistol and opened fire on his co-workers, killing one Knight employee and injuring another. The authorities were contacted about the shooting at 8:43 a.m. local time, and heavily armed sheriff's deputies overtook the building in response. The sheriff's office tweeted that it believes the shooter took his own life with a gun, and confirmed that one of the two people injured was a sheriff's deputy who was taken to the hospital with a knee injury. The condition of those injured is unknown, but KPRC 2's Sara Donchey reported that the deputy's injury wasn't from a gunshot.
The shooter and victims have not been identified yet, though the disgruntled employee was reportedly fired this morning, returning to the building later with two guns.
Knight Transportation is a truck transportation service based out of Phoenix, Arizona with locations across the country. The Katy service center is one of three in Texas, and the company website says it has a "fleet of over 4,000 tractors and more than 8,800 trailers from our nationwide service center network." Located 30 miles west of Houston, Katy has a population of about 14,000. The surrounding area is home to many big companies, including BP, Academy Sports and Outdoors, and Igloo Corporation.
Congressman Michael McCaul, who represents Texas' 10th district, tweeted Wednesday: "Praying for Katy right now. Thanks to the @HCSOTexas for the quick actions and response to the shooting."
Images: KPRC 2