The Best Recipes For New Couples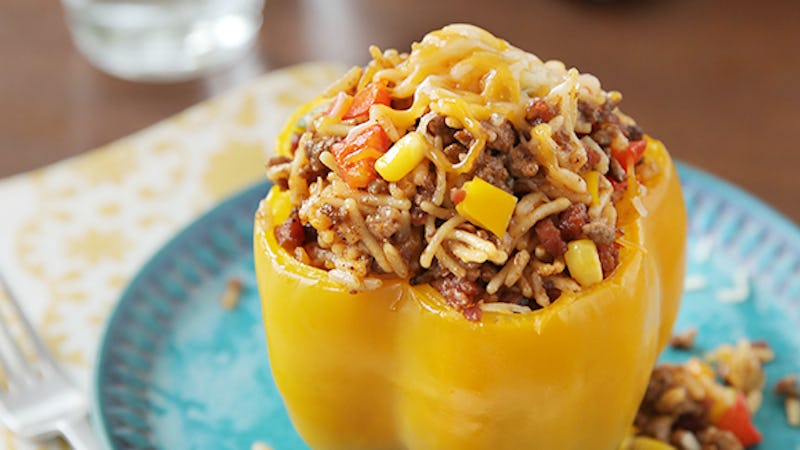 As the old proverb goes, "The way to a man's heart is through his stomach." But it's 2016, and it's time to update this saying. After all, isn't the way to everyone's heart through their stomach?
If food is your love language, you're not alone. Bonding over the dinner table is a proven way to get closer to a romantic partner. In fact, a shared meal is often where the sparks first fly! But as we grow more comfortable with our significant others, the time comes to take the next step in our culinary adventures. And I don't mean trying out that new Vietnamese joint that just opened in your neighborhood (though you should definitely go there at some point). I'm talking about taking the romance to the kitchen, where you'll prepare your first meal as a couple.
Cooking together should be an intimate act you can bond over — after all, 56 percent of people believe that trying new flavors is sexy.* Plus, it's a big step in any relationship. But factors like a hot stove, sharp objects, and complicated recipes can make things stressful. That's why we partnered with Knorr to ensure your first time cooking with your S.O. is an enjoyable activity that brings you closer together (instead of nagging each other about who forgot to buy the onions). Together, we're bringing you simple, yet delicious recipes that are perfect for new couples trying their luck in the kitchen.
1. Slow Cooker Chicken Salsa
Image: Gimme Some Oven
If you want your first bout as chefs to be as simple as possible, this two-ingredient chicken salsa recipe lets your slow-cooker do 90 percent of the work for you. It requires little to no labor, minimal time spent at the grocery store, and plenty of downtime between prep and when you actually sit down to eat (i.e., more time to make out). Add corn, cheese, and sour cream for extra flavor, and put on the finishing touch with a lime garnish!
2. Spanish Rice Stuffed Bell Peppers
Image: Knorr
One major perk to cooking with your SO is that you can opt for healthier dishes than you might find at a restaurant. For a fresh, herb-filled meal that doesn't skimp on flavor (thanks to Knorr® Fiesta Sides' Spanish Rice seasoning), try this stuffed bell pepper recipe. With just 20 minutes of prep time and six ingredients total, it'll taste better than restaurant food, too — because you'll have made it together.
3. Grilled Salmon With Mango Salsa
Image: Creme de la Crumb
This meal may look seriously sophisticated, but don't get intimidated by the thought of cooking seafood. Instead, get inspired: This recipe takes just 30 minutes from start to completion, and calls for surprisingly simple ingredients. Topped with tropical mango salsa, it's the perfect finale to a warm weather day. Oh, and there's a bonus — it's Whole30-approved!
4. Fajita Chili Con Carne
Image: Knorr
If you love meat as much as you love your partner (and they feel the same way as you do), this fajita chili con carne recipe should be your next meal. Featuring Knorr® Rice Sides' Steak Fajitas flavor, this recipe packs a punch of savory seasoning that will satisfy carnivores everywhere. And not that your relationship needs spicing up, but feel free to turn up the heat by adding hot pepper sauce and chopped jalapeño peppers to the finished product.
5. Baked Lemon Chicken
Image: Le Creme de la Crumb
While garlic may require you to pop a couple extra breath mints before cuddling up on the couch, don't write off this recipe just yet: According to a 2015 study, men who eat garlic have a more pleasant body odor and smell more attractive to the opposite sex. Yes, really. Hetero couples aren't the only ones who can reap the benefits of this recipe: Citrus fruits (like lemon) and garlic are both known for their libido-boosting effects. AKA, after you bond over your newfound cooking skills, you can take things straight from the dinner table to the bedroom.
6. Bacon, Broccoli, Chicken, and Rice
Image: Knorr
Just the pure combination of bacon with broccoli in this recipe is making my mouth water, so imagine what it could do for your night at home with your S.O. While bacon can warm nearly all of our hearts, broccoli is also rich in antioxidants, which can help promote a healthy sex life. For a little extra goodness, top the final product with sour cream and shredded cheddar cheese.
7. Pan Seared Steak with Balsamic and Basil Cherry Tomatoes
Image: Keys to the Cucina
Nothing says "I love you" like attempting to cook your first steak together. Or at least that's what you'll believe after clearing your plate of this delectable dish. The balsamic cherry tomato sauce really transforms this recipe from a standard steak into a meal you and your partner won't stop talking about -- until you can cook it again.
8. Guac And Black Bean Burritos
Image: Naturally Ella
For many people, the only thing they love more than burritos is their partner. If this is true for you, this guac and black bean burrito recipe might be the best thing to happen to your relationship — especially if you or your bae is a vegetarian.
9. Roasted Sweet Potato and Black Bean Salad
Image: Naturally Ella
While it may look too delicious to be simple, I can promise that pulling off this recipe won't be any more difficult than having the talk about whether or not you should be Facebook official. And since the whole ordeal takes just under an hour, it probably won't last as long. This versatile meal can be enjoyed as is, over grains, mixed into an omelette, or even stuffed into a taco. If you're up for the challenge, know this: You'll be so enamored with you and your partner's teamwork, the final product will taste even better than it looks!
*Love at First Taste Study, Knorr and Edelman Berland (Dec. 2015)
This post is sponsored by Knorr, which is helping you — and your partner — discover your Flavor Profile.