'The Shallows' Trailer Is Absolutely Terrifying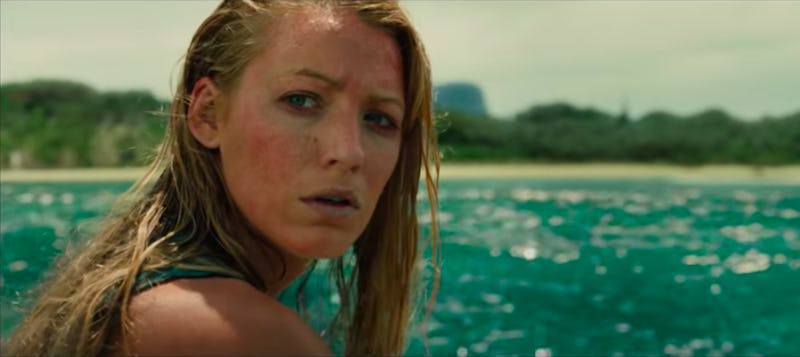 I don't list sharks as one of my bigger phobias (I prefer to stay dry at the beach) but that doesn't mean that I'm not sufficiently freaked out by the new trailer for The Shallows . Blake Lively's upcoming drama will make even the bravest swimmer a bit apprehensive of the ocean, and it all has to do with yet another pesky movie shark. In the film, Lively's character Nancy is surfing on a gorgeous beach when, out of nowhere, a huge shark bites her leg. Nancy is able to swim to a rock before the shark can make a full meal out of her, but it's not an ideal situation: the beach is totally deserted, and it's up to her to take down the shark and swim to shore. If that already has you sufficiently scared, you may also want to know if The Shallows is based on a true story before your next trip to the beach. Don't worry, you can breathe easy.
Though The Shallows certainly sounds like a crazy survival story you would see on the news, it's the work of writer Anthony Jaswinski. According to Deadline, the script that would become The Shallows, then known as In The Deep, actually incited a bidding war, with Sony eventually winning the script. Though The Shallows isn't based on any specific event, tonally Deadline describes the script as a cross between 127 Hours and Jaws, the former of which is based on the true story of rock climber Aron Ralston, so it may still feel very realistic. Watch the trailer below and before you vow to never go in the ocean again, remember, this is a work of fiction.
Though there's no real inspiration behind The Shallows, it seems to follow in the footsteps of other action-packed survival stories, such as this year's Best Picture nominee The Revenant. While it's great that we don't have to be horrified by the tale of a very scary shark attack, the fact that The Shallows isn't a true story does bring up one scary notion: we have no idea if Nancy wins her battle with the shark, or if she becomes fish food. Gulp.
Image: Sony Pictures Entertainment/YouTube